Meet the Women Who #ChoosetoChallenge with Crypto [Part 2]
2021-03-09
In the second article in a two-part series on how women #ChoosetoChallenge with crypto and Binance, read and be inspired by the stories of our female ambassadors, who in their own ways strive to help women to join the crypto revolution and close the gender gap in the industry.
If you would like to read Part 1, you can find it here.
1. Silvia Bossio
Silvia, one of the first and few women in Europe to have perceived and experienced the technological wave of the Blockchain and Bitcoin market, got involved in the industry a few years ago. She keeps studying to develop ideas and disseminate as if it were a philanthropic thing.
In 2014, Silvia first started writing about cutting-edge technologies on her blog as a hobby, which was the start of her involvement in the crypto industry. Now, she is one of the Founders of Crypto Bar, a digital bar created to inform the public about the potential of cryptocurrencies and blockchain and to help users better understand the technology in a disruptive way. She is also the Director of Bmine Group, the parent company of their mining farms.
Silvia has known about Binance since its inception, and even remembers talking about it in the community and many people participated in the ICO. She has been part of the Binance community since January 2018, and she says, "I think it's one of the most reliable exchanges in the whole ecosystem and as time has passed Binance has improved the user experience a lot by offering a lot more services and products than competitors."
She said, "In this market, it is very important to study, meet people and compare notes. It is not easy, the mistakes can be many, quick examples can be about wallet security, understanding the differences between BEP20/ERC20, etc. Also, it is a macro market that is expanding. I advise you not to get on a runaway train if you are not equipped with the proper knowledge; else, it would be like the famous FOMO phase of 2017 and the carnage that followed in 2018. The crypto world is new, it has to be understood, we have to study it. Bitcoin is open and gives you access to the best bank in the world: yourself."
2. Ina
Ina, a lawyer and psychologist by profession, works in the crypto industry. Her former job was in blockchain development, and her salary was in Bitcoin. This is how she became a crypto user.
She became aware of Binance in 2017, and since then, has been a loyal user, attributed to Binance's qualities such as convenience, good functionality, many trading pairs, and various products. To help crypto novices, Ina recommends a few Binance products: she especially suggests that new users go through Binance Academy to learn about Binance and the crypto industry. Also, she recommended Launchpad as a good opportunity to increase capital.
"There are no victories without losses. We all should understand this: no patience, no money. It is necessary to stock up on patience, calmness, and certain knowledge in the crypto industry," Ina shared.
3. Celestina
Celestina, who was a former nurse and now a mother of two children, got interested in crypto while she was searching for some work while living at home. She knew about Bitcoin in 2010, but she just thought it was a scam. She warmed up to crypto in 2016, when she started doing her own research and thought Bitcoin was very interesting. She first became a crypto user by bounty hunting and writing articles.
As a mother, she had to spend her time wisely for cooking, taking care of children, and studying crypto. She thinks that women are natural multitaskers, so she could manage all of these at the same time. It just took dedication and determination. 
For those who think they don't have time to get involved in the crypto industry, she says "Multitasking is not a new thing for women. You just need 20-30 minutes a day to be a crypto user. Don't let anybody influence you to stop learning, your friend or friend might discourage you that crypto is a scam. Believe me, I once thought that way as well but I have made quite a small fortune from the crypto industry and I am still learning and earning."
She added, "There are many scammers in the industry and this is why I decided to help people learn about the crypto world through the Binance Angel program and I will assist any female in the crypto industry who needs help."
4. Fatma
Fatma, a passionate working mom who loves numbers and mathematics, is also a crypto user from Turkey.  As an economist, she says that it was easier for her to accept crypto, because she considers it as a very interesting area of the economy. 
Fatma's husband introduced her to Binance when he invested their savings in BNB even before the product Binance Savings appeared on the platform. As their earnings grew from this investment, she witnessed Binance's growth into a global blockchain ecosystem. This is why she is happy to be in the Binance community.
She says, "I think women are more cautious than men usually so it takes time for women to study and start something initially. With Binance, there are various products with different levels of risk, so users can choose products that suit them the most. Now for my family, cryptocurrency has become a very interesting hobby, which has helped us unite even more."
5. Caterina Ferrara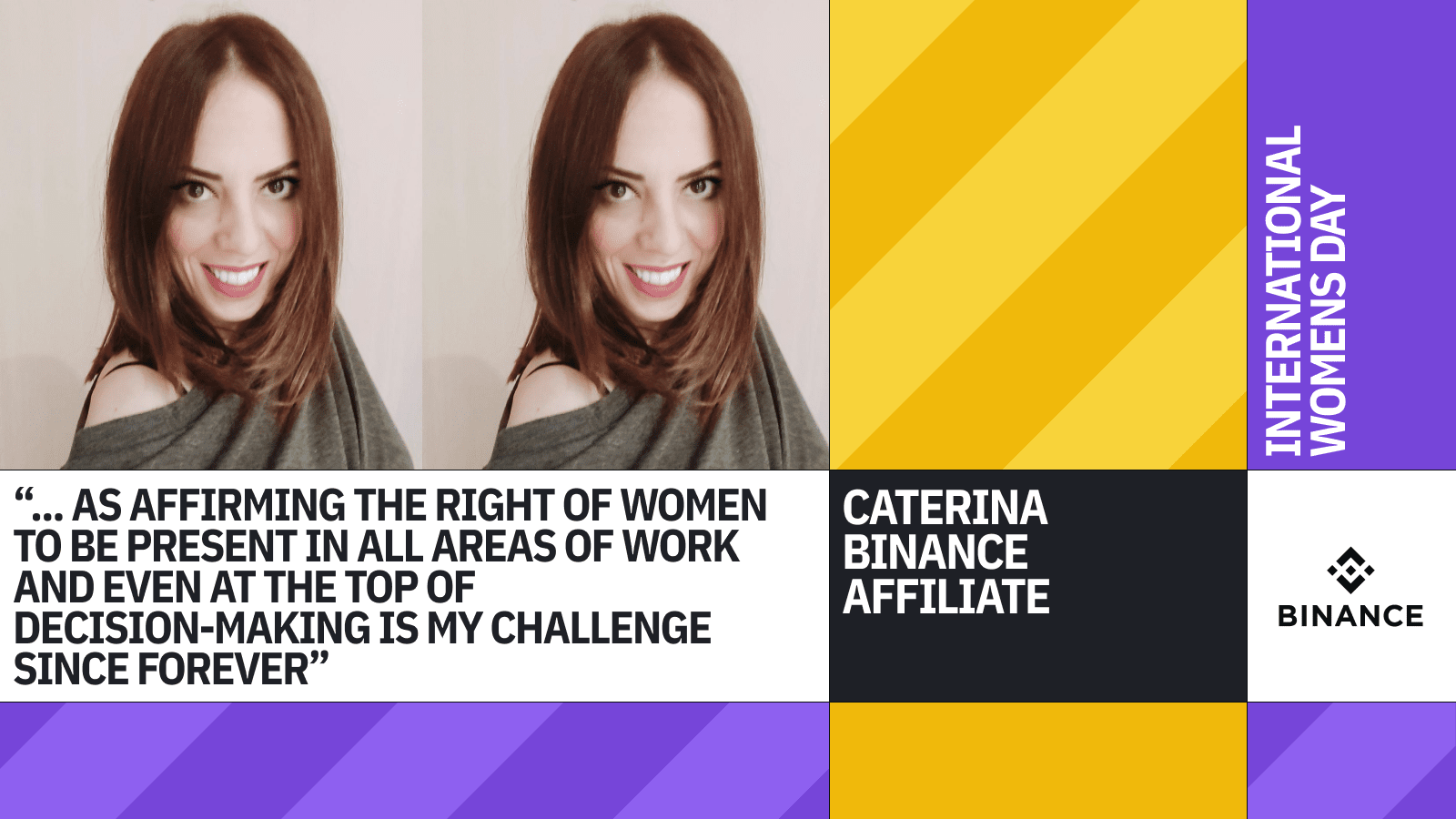 Caterina is a senior blockchain consultant, an experienced science and technology communication officer, digital health expert, and tech startup mentors, with 15 years of experience as a professional. Currently, she transforms clients' business goals and challenges into technology roadmaps and blockchain architecture projects.
Even though she had years of experience as a professional, she was new to crypto in 2016, when her colleague told her about diversifying investment portfolios with Bitcoin. Then a few weeks later, another colleague talked about Bitcoin, and she was surprised that she can have two totally different perspectives on a topic from two people. In that moment, she realized that blockchain was a technology that can change fundamental aspects of our lives economically and socially. By then, she thought she couldn't afford to waste another day without working in the industry.
Her personal commitment is "to use blockchain to drive social impact and in particular, financial inclusion." In 2017, she founded Blockchain Ladies, an international community that connects all female professionals in the industry. The group aims to foster aggregation to overcome the gender and salary gap in the blockchain industry.
One of the things they did in the Blockchain Ladies was to launch a merchandise campaign, putting their gadgets for sale on TheCryptoMerch. They also fund training activities for very young girls on cryptocurrency and blockchain with the Lego Serious Play method. Until now, Caterina has committed herself to connect over 6,200 women around the world and is about to announce an important partnership agreement with an Italian institution.
A woman leader who is continuously committing herself to the industry, Caterina says, "Small and medium investors are not frightened by the risk but by the purely digital aspect, the intangibility of the new digital and decentralized money. They are afraid that it is all about IT and that it is too difficult to manage. To these people, I suggest trying to start moderately, buying some crypto, and opening a wallet to start, to be familiar with these tools. In the case of big investors (institutional investors), there is a fear related to the big amount of money invested and the attacks of hackers. In this case, it is necessary to educate users on the proper storage and management of crypto and tokens and advise them to always rely only on established players."
She loves her experience as a woman in the crypto industry. "Since I approached the world of crypto and blockchain, nothing has discouraged me, as affirming the right of women to be present in all areas of work and even at the top of decision-making is my challenge since forever," she shared.
#ChoosetoChallenge with Crypto. Download the Binance App.
6. Yara
Yara from Southeast Asia initially felt like males were more involved in the crypto industry than females. Despite this, and amid her stable job as a pharmacist, she still chose to be a crypto user. She says that she can be out of her mundane routine and be more lively with the services that Binance provides, such as Liquidity Swap, Earn, Vault, and more. 
"Both Binance and the whole crypto industry have grown exponentially over the past few months. This is an assurance that there is a lot more that we can do and explore in the blockchain ecosystem. It is something real and there will be bigger mass adoption."
She expects more women to join the crypto community. It just takes everybody to take a small step at a time, getting to know this industry gradually. 
7. Fortune
Fortune is a young entrepreneur and trader who first knew about Binance when it launched in 2017. She shared that she was impressed with the transaction volume of such a young platform.
She thinks that helping Africans will be possible through crypto and blockchain. She wants to share some of her stories using Binance. "To those who still doubt that this technology can make up for the great void that has been created between certain countries, governments must be able to take measures in time to supervise this sector, the nascent companies and not fall behind once again and thus slow down the emergence of this new form of finance which will ultimately benefit everyone," she noted.
Fortune thinks that Binance has developed services that meet specific needs and that every individual and institution in the crypto space will have a niche within the Binance ecosystem. She emphasized that Binance has made money transfers very flexible whether it is crypto-to-crypto or fiat-to-crypto. 
"This industry has literally changed my life. Thanks to crypto, I understand what money really is and all that implies. This is the greatest wealth I have had in this universe and it is through these findings that I fight to develop solutions adapted to the African context, mainly for countries that do not issue their own currencies."
8. Martina
Martina, who is currently at home taking care of her son and beginning to study her second university major, is a crypto user for the past several years. Since 2017, she has been a loyal Binance user, saying that the exchange is reliable and that there are opportunities to make profits while studying without trading.
As a busy person, mother, and student, Martina says, "The crypto world is not exclusive to a certain gender, social and financial status. Opportunities are made by us and we can make them if we want to be part of this revolution. This will also be leaving a legacy to our children and that legacy will be better financial education and freedom for them."
She then tells potential crypto users, "When you are just getting started, you can lose because of inexperience and greed. Still, if you study and prepare for what is coming up, you will become more powerful."
9. Patry
Patry is currently unemployed due to the COVID-19 pandemic. She knew about Bitcoin for the past 10 years, since she first heard it from one of her colleagues calling it "new internet money". At that time, she found it interesting and even thought of buying some Bitcoin. However, she hesitated because it was too new and she was uncertain. Now, she is earning from trading on Binance.
She recalled that her first experience of using the Binance platform was not easy. However, Binance provided much educational information through Binance Academy and Telegram channels. As a result, she is now capable of helping other users with questions on the platform. 
For those who are hesitant about choosing the new challenge, she says, "Stop doubting and go ahead! It has been a life-changing adventure for me so far. Crypto will make you free! But always remember to search for information before doing anything because there can be scams."
She also highlighted some Binance products that newbies can use. When someone is new to the platform, she tells them to trade on spot markets and hold onto the assets while they learn more about the industry. Binance Earn is something she recommends too because users can hold the assets they bought from the spot market.
"My experience in the crypto industry has been a life-changing adventure. I can now choose how I want my money to work for me and make the most out of it," added Patry.
10. Jazmín
Jazmín, who became a partner in a firm and ran her own business since 2019, first found out about Binance while looking for ways to earn extra income. She chose to learn about crypto at first because she wanted something more than the passive income that she has been getting from her own business.
She thought that crypto trading is something that she can do any day, at any time, and that she can continue to make profits with crypto without being too hands-on with it, unlike running an established business. This is why she thought that having extra income through crypto trading was "the beginning of a great future".
She said, "Without sacrifice, there is no success. No one is born with the knowledge of anything and everybody starts the same. Even the crypto experts that we read about everyday were also new to the industry in the beginning."
Share your #ChoosetoChallenge Story with Us on Twitter.
The article has been edited on June 27, 2022.