Bitcoin vs. Stocks: Comparing Price Movements and Traits
2020-08-15
Bitcoin's meteoric rise over the past decade has put traders in mainstream markets on notice. It's easy to draw comparisons between BTC's stellar performance versus traditional stock indexes.
Oftentimes, given crypto's reputation of being an "evolution" of money, we see widespread comparisons of crypto to fiat, such as Bitcoin being compared to assets such as the U.S. dollar and gold.  Plus, many traders think of their gains and losses in fiat terms. 
However, when it comes to market movements, Bitcoin more closely resembles traditional stocks. Before Bitcoin's rise, the stock market had been the platform of choice for people who want to grow their asset portfolios . So understandably, when Bitcoin emerged as a fast-rising substitute with comparable potential and volatility, the conversation shifted towards cryptocurrencies.
Let's compare Bitcoin's year-to-date performance over the S&P 500 (an index that reflects the stock performance of 500 top U.S. companies), or the NASDAQ 100 (an index tracking the 100 top U.S. companies).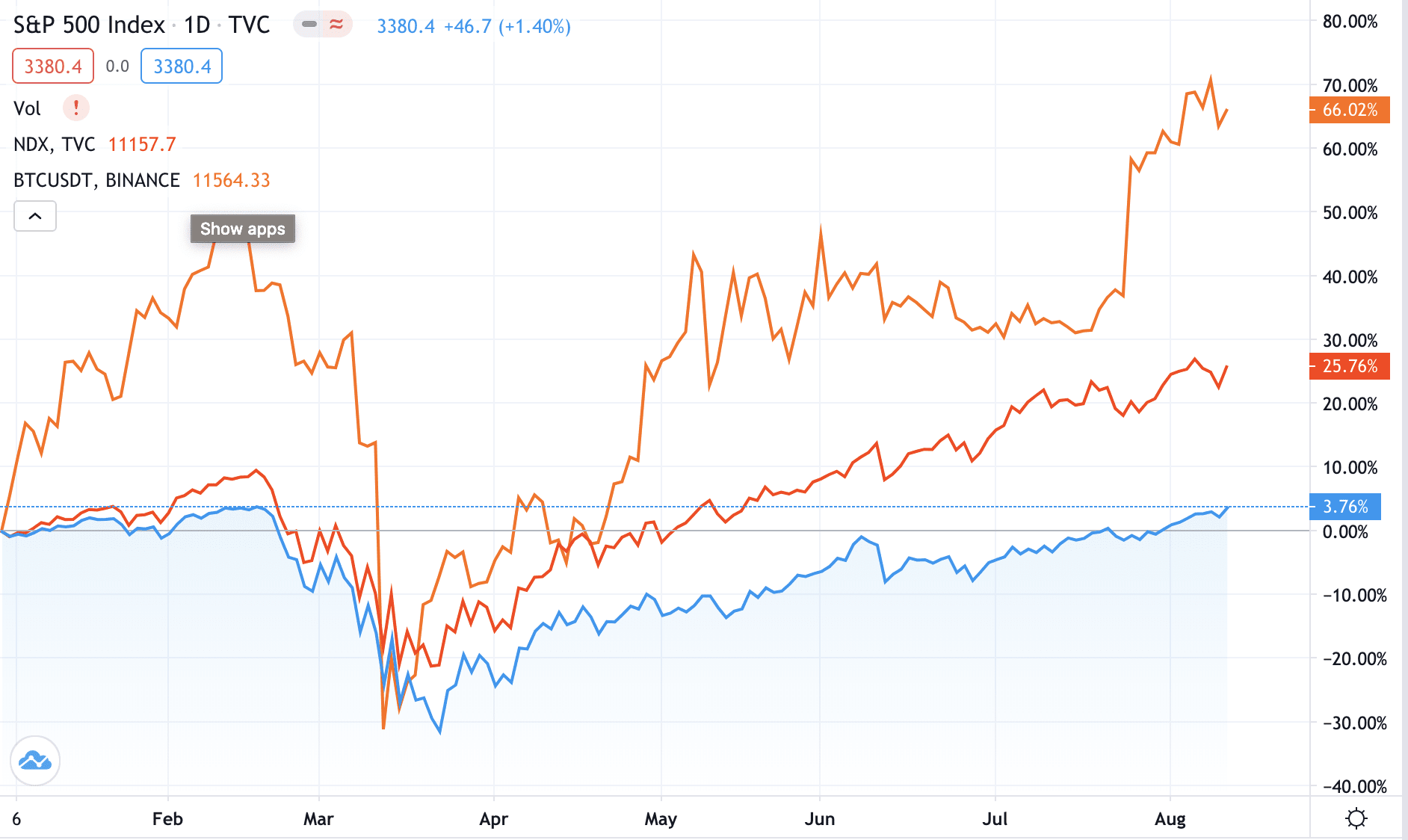 Source: TradingView
Based on the chart above, your $1,000 invested in Bitcoin (BTC) at the start of 2020 would have grown to $1,660 (shown in orange), compared to $1,265 if you chose NASDAQ (shown in red) or just $1,029 for S&P 500 (shown in blue). Of course, prices fluctuate on a day-to-day basis, but this is just one of the many instances that show Bitcoin's competitiveness as an asset class.
The results are similar for blue-chip stocks. In 2017, when Bitcoin's rally entered the public's consciousness, stock analysts classified five tech companies as standard-bearers for blue-chip stock. These companies — Facebook Inc. (FB), Apple Inc. (AAPL), Amazon.com Inc. (AMZN), Netflix Inc. (NFLX), and Alphabet Inc.'s Google (GOOGL), exhibited great performances in the stock market in the recent decade. 
Let's compare these FAANG stocks to Bitcoin and two other popular cryptocurrencies: Ethereum (ETH) and BNB. 
This table shows that in 2020 alone, crypto can stand head to head against some of the best blue-chip stocks on the market.
Comparing Bitcoin to Stocks
In a previous article, we did a side-by-side comparison between Bitcoin and gold. This time, let's extend this comparison to stocks so that we can better understand the pros and cons of the two asset classes.
We should also point out that you can earn Bitcoin without having to buy it in the market, by participating in a bitcoin mining pool like Binance Pool. he only way you can get additional stocks in a company is if they initiate a stock split on your holdings. And while Bitcoin doesn't have a system similar to stock dividends on certain companies, other cryptocurrencies have introduced staking mechanisms where holders of certain tokens can earn additional crypto. 
Regardless of how you decide to diversify your assets, considering Bitcoin as an option doesn't hurt, if at least to be aware of this digital asset as an option for you. After all, previous studies have shown that portfolios containing Bitcoin and other cryptocurrencies generally outperform crypto-free portfolios. And if you decide to add Bitcoin to your portfolio, Binance is here to give you a convenient experience when it comes to buying your first Bitcoin.
* All figures were as of August 13, 7 AM UTC.