Binance Weekly Report: Welcome Swipe, Hello Card
In this weekly report (July 6 to 12, 2020): We have acquired Swipe and given a sneak peek of the Binance Card.
1 . Binance acquires Swipe. We will work with Swipe, a leading multi-asset digital wallet and Visa debit card platform, to bridge the gap between fiat and digital payments.
From the Binance Team
2. CZ tests the Binance Card. Binance CEO Changpeng (CZ) Zhao shares a beta test of the Binance Card, through which he was able to pay for his purchases with BNB directly from his Binance account. "I think I can finally go from 99% to 100% crypto," he said.
3. Coming to You Live on July 14: "Off the Charts!" Virtual Conference: We're introducing more speakers and the Binance Awards. See you at the virtual event.
Binance Exchange Updates
4. NEW LISTINGS: Synthetix (SNX) and Swipe (SXP). Binance opened SXP/BTC, SXP/BNB, and SXP/BUSD trading pairs on July 7, while SNX/BTC, SNX/BNB, SNX/BUSD, and SNX/USDT trading pairs opened on June 9.
5. Binance app adds Mining Pool wallet. Users can now use the Mining Pool Wallet on their Binance app to check daily earnings, asset balances and more.
6. Isolated Margin enabled for six tokens: REN, ICX, COMP, NULS, LRC, and LEND.
7. New Flexible Deposits for KNC and ZIL.
8. Beta testing for a new version of the Binance desktop app.
9. Supported blockchain activities: BNB Chain's Nightingale upgrade affecting BNB and all BEP2 tokens, NerveNetwork (NVT) airdrop to NULS (NULS) holders, and Kava (KAVA) network upgrade.
Binance Futures and Options Updates
10. NEW PERPETUAL CONTRACT: DOGE/USDT. Trading opened on July 10. Users can select between 1-50x leverage. 
11. EXTENDED: Maker fee rebate promo for Quarterly Futures Contracts. The promo is now extended to July 16. Meanwhile, the fee structure for Quarterly Futures will be adjusted starting July 17.
12. June Trading Report: What's Next for Boring Bitcoin? Bitcoin's 30-day volatility was down to its lowest level since October 2019, indicating the lack of directional bias, according to a new report from Binance Futures.
BNB, Fiat, and Stablecoin Updates
13. New fiat gateway via Etana Custody. This gateway provides deposit services for 15 fiat currencies, without needing to leave the Binance website. From July 7 to August 5, all custody fees for deposits of 1,000 USD or higher are waived.
14. P2P Merchants: Facilitating Freedom of Money in Southeast Asia. Our local P2P merchants play a key role in providing liquidity and trading services for our users and facilitate crypto adoption in Southeast Asia.
15. Peer-to-Peer Pioneer Program for Indian rupee traders. P2P pioneers in India can earn up to $10,000 by referring new merchants and trading with new users on the platform.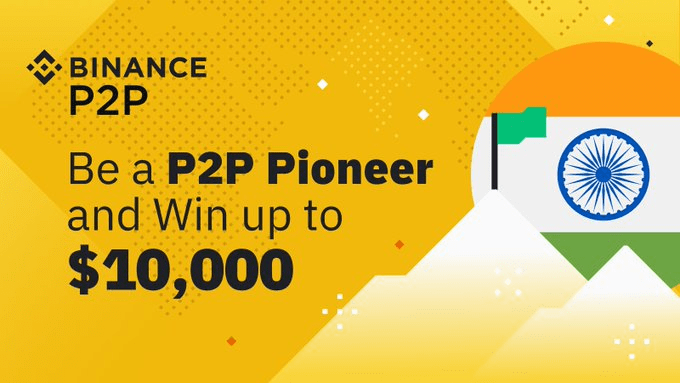 16. Zero bank fee promo for Clear Junction. Euro (EUR) and British pound (GBP) deposits are now free when making bank transfers with SEPA or Faster Payments using Clear Junction until August 8, 2020.
17. Use BNB, BUSD for BitTorrent Classic Pro discount. Get 25% off when you use crypto to buy this software.
Binance Ecosystem Updates
18. Binance Labs invests in HOPR. Binance Labs led a strategic $1 million investment round for privacy and data protection platform HOPR ahead of the company's token sale.
Know more about the latest news on Binance Labs' portfolio, in this recent roundup.
19. Binance Smart Chain launches Chapel testnet. The new testnet enables native cross-chain transfer of BEP8 tokens, features an upgraded cross-chain communication framework, and more.
20. Binance.US supports VeChain staking. The exchange has started supporting the distribution of VTHO to VET holders.
21. Binance.US system upgrade (July 8).
22. Binance Charity donates 27,000 masks to the UK. We support the National Health Service and its King's College Hospital Foundation Trust to aid the fight against COVID-19.
23. Binance Academy's newest articles: 
* An Introduction to Bitcoin Script. We take a closer look at Script, the programming language interpreted by nodes on the Bitcoin network.
* What do Schnorr Signatures Mean for Bitcoin? The Schnorr signature algorithm is an alternative to ECDSA that could bring some exciting changes in Bitcoin.
* Merkle Trees and Merkle Roots Explained. A Merkle tree, which is used in Bitcoin, is a structure used to efficiently verify the integrity of data in a set.
24. Binance Research's latest reports: 
* Is the Crypto Market Turning into a Kangaroo Market? This report offers an in-depth look at crypto markets in the second quarter of 2020.
* Cryptocurrency analysis reports on Synthetix (SNX) and Swipe (SWP).
25. DappReview releases its 2020 Q2 Dapp Market Report. The Dapp market hits an all-time quarterly high of $16.73 billion in volume, according to this latest report.
Promos and Community
26. ONGOING: 250,000 USD gift program. We are giving away a total of 10,000 BNB, 1,800,000 CHR, and 75,000 PNT tokens, as part of Binance's three-year anniversary celebration. Promo runs until July 10.
27. ONGOING: #BinanceQuarterlyFutures Twitter Promo. Get a chance to be one of the 10 winners of $50 Binance Futures vouchers. Promo runs until July 15.
28. DONE: #MyBinance. Win up to 300 USD in BNB by recreating the Binance logo in a creative manner. Promo ended on June 13.
29. DONE: Ultra Rare Limited Edition Binance NFT Giveaway. Only nine lucky participants are able to get this NFT (see below). Promo ended on July 13.
30. DONE: ALGO and FET trading activities. Both promos ended on July 10. Congratulations to 10 winners for each promo.
31. DONE: LINK trading activity. Promo ended on July 8. 
32. DONE/UPCOMING: Binance French AMAs for Pundi X (July 9) and Harmony (July 16).
33. DONE: Binance Spanish Webinar on crypto in Panama (July 11).
34. DONE: Binance Portuguese Webinar on Binance P2P (July 11).
35. Binance Masterclass: Educating Nigeria and the rest of Africa about Crypto. What started as a live community seminar event in January has evolved into a wide-reaching webinar as of June.
That's a wrap for last week! Follow us on Twitter, Instagram, Facebook, and YouTube, and join our official Binance Telegram group to talk more with our community.