Binance Weekly Report: Welcome, Euro, Ruble, and More!
2019-11-11
In this weekly report: We welcome 4 new currencies, open-source our security know-how, launch Futures and Margin trading for sub-accounts, and more!
Binance Fiat Updates
1. Binance adds 4 more fiat currencies. Now, you can deposit and withdraw the following currencies: Euro (EUR), Russian ruble (RUB), Ukrainian hryvnia (UAH), and Kazakhstani tenge (KZT) on Binance. Through a partnership with Advcash, you can use credit cards, bank cards, and the Advcash Wallet to use any of the four currencies on Binance to buy and sell BTC, ETH, and XRP through our One-Click Buy/Sell page.
You can also use the US Dollar (USD) and Nigerian naira (NGN) on Binance's Once-Click Buy/Sell page. 
Binance Exchange Updates
2 ARPA wins Community Coin Vote Round 2. We have listed ARPA and open trading for ARPA/BNB, ARPA/BTC, and ARPA/USDT trading pairs. Congratulations to the voters of the winning token, as well as the winners of the Share Your Vote promo.
3. New spot trading pairs: TRX/BUSD and EOS/BUSD
4. Binance open-sources Threshold Signature Scheme (TSS) library. We're sharing our security know-how to improve the security of funds and information for BNB Chain, Bitcoin networks, and more.
"I believe TSS (threshold signatures scheme) will reshape the landscape for wallets and custodian services. It is far superior to multi-sig," said CZ.
5. Binance Staking update: We have completed the distribution of all GAS, ONG, VTHO, XLM, KMD, ALGO, QTUM and STRAT staking rewards for October 2019.
6. New user sign-up bonus. Join Binance, trade until November 17, and win up to 100 BNB. 
7. QTUM trading competition. Promo runs until November 12.
Binance Futures Updates
8. Binance Futures Market Maker Program: If your 30-day trading volumes exceed 1,000 BTC on Binance or other exchanges, join us to get zero maker fees, higher API limits, and more benefits. Email us at mmprogram@binance.com to join.
9. Futures and Margin trading for sub-account, now open. This functionality can be enabled directly from each user's User Center. 
10. New order types: Take Profit Market order and Stop Market order
11. New Milestone: 24-hour Futures trade volume (1.359 billion USD) exceeds the entire spot exchange (1.277 billion USD).
Binance Margin Trading Updates
12. Pay with BNB, get 5% discount on borrowing interest. 
13. New margin trading pair: BNB/ETH
Binance Ecosystem Updates
14. Binance, Ukraine cooperate on implementing crypto. We will work with the Ministry of Digital Transformation of Ukraine to develop a strategy for implementing blockchain technology and creating new virtual assets in the country.
15. BNB Chain, CipherTrace work on AML on-chain analytics. With support from CipherTrace, BNB Chain will provide institutional-grade anti-money laundering (AML) controls and transparency.
16. Binance DEX announces "Heisenberg" testnet upgrade. This is projected to launch on November 15.
17. Binance Charity to work with Women's World Banking, AID:Tech on microinsurance. They signed an MOU to design a new technology platform to spread Caregiver microinsurance product to two million uninsured/underinsured women in emerging markets.
18. Binance Academy releases The Ultimate Guide to Trading on Binance Futures
Also, new content on Binance Academy: A Beginners Guide to Understanding Risk Management and A Brief Guide to the Parabolic SAR Indicator
19. New Binance Research reports: NANO and Global Markets for October 2019.
20. Binance Singapore lists NEO. 
21. Binance.US lists VeChain.
Watch these informative guides on how to open a Binance.US account and how to add a debit card.
22. Binance DEX, now supported on Trezor wallet.
Binance Team
23. Communication Tips from CZ. Let CZ share some personal tips on how to communicate your ideas well. 
Also, listen to CZ's guesting on the Market Update podcast.
24. Binance Futures AMA #1 with Aaron Gong. We launched our first AMA with Binance Futures Director Aaron Gong to address the public's questions about the fast-growing Binance Futures
25. Strategy Officer Gin Chao at the Web Summit 2019: "Short-term applications include native currencies for digital content and services, high friction transactions like remittances and trade finance, and a lifeline to the billions of un- and under-banked."
26. Binance CFO Wei Zhou at the Asia Technology Entrepreneurship Conference in Hong Kong.
Binance Meetups
27. Binance in Singapore. Catch CZ and the Binance team at Singapore Fintech Festival, our first Binance Super Meetup in Singapore, and several blockchain events from November 11-14. 
28. Watch out for these upcoming Binance meetups: Milano, Italy (November 14), Nur-Sultan, Kazakhstan (November 14), Istanbul, Turkey (with CZ, November 20), and Katowice, Poland (November 29)
Fun Corner
USE THIS INSTAGRAM FILTER RIGHT NOW! (Pikachu headband not included)
BNB going big… literally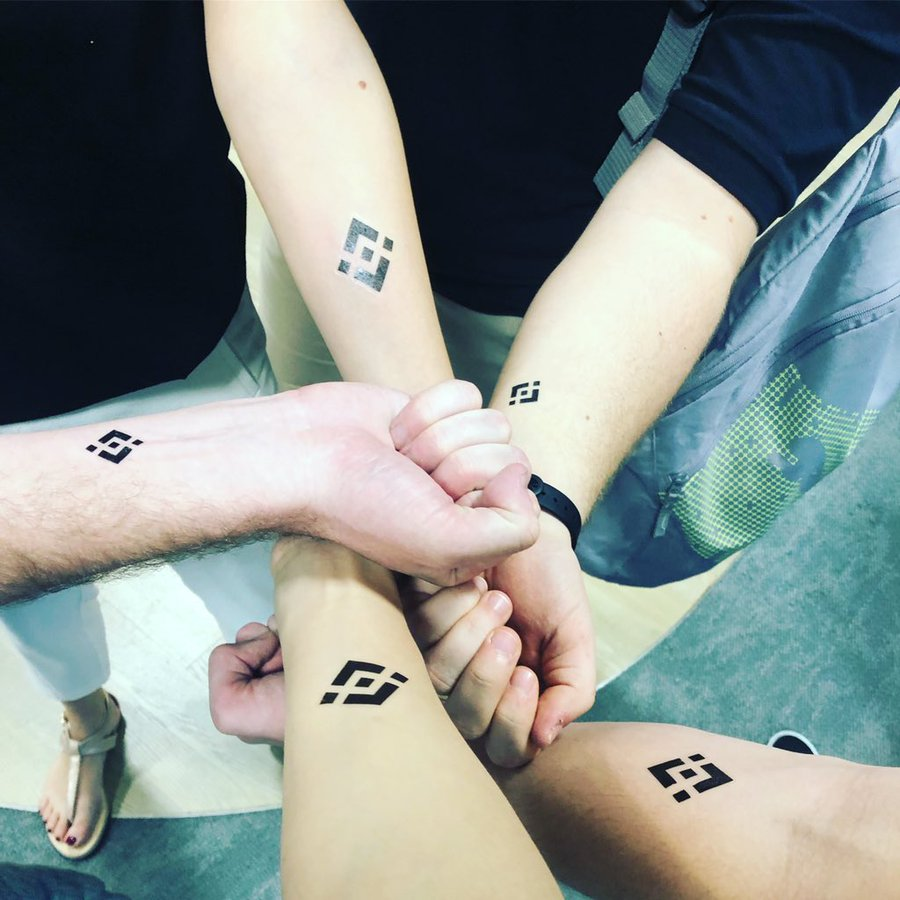 Team Binance in Singapore