Binance Weekly Report: The Future(s) is Now
2019-09-02
On this weekly report, (August 26 to September 1, 2019): We've rolled out Binance Futures (not one, but two platforms), Binance Lending, a revamped Binance Referral Program, and Binance X, among many other updates across the Binance ecosystem, plus a new AMA with CZ. Oh, and we also bought JEX.
1. Binance Futures testnet is now live, and you have two options. We have launched not one, but two Binance Futures Testnet Platforms. Alongside this testnet launch, we have also started a 10,000 BNB simulated trading competition for people who sign up for both futures platforms, plus a voting competition wherein those who voted for the winning option will get 50% off on trading fees for a full month.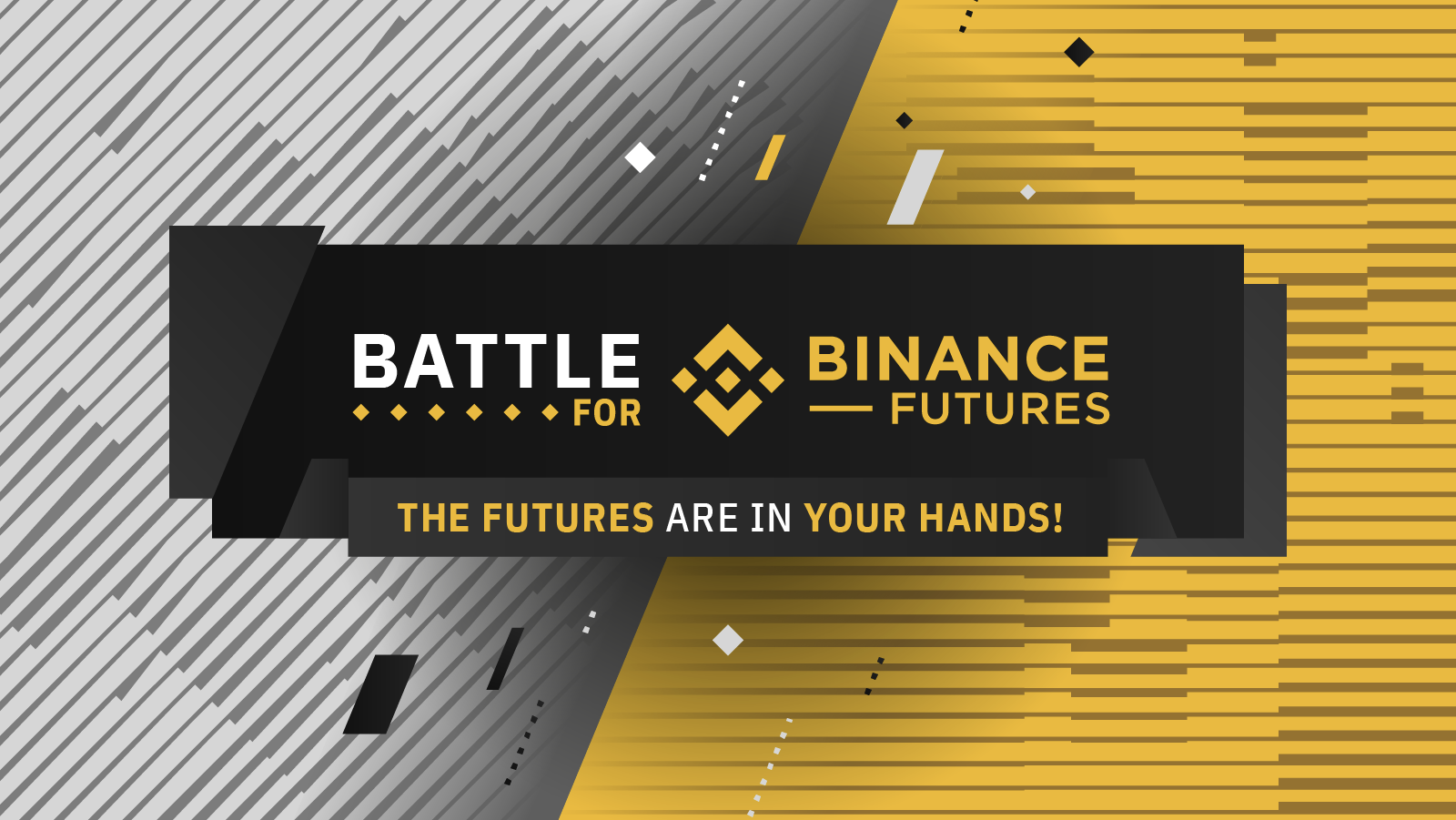 2. Binance buys JEX, a crypto-asset trading platform offering spot and derivatives trading services. The new Binance JEX will focus on providing futures contracts, options, and other derivative products to Binance users. Read here for more info. 
3. Binance Lending launches. With Binance Lending, you can now use your crypto for lending and earn some interest from it. We've launched lending products in BNB, USDT, and ETC, with more to come soon. Read this for more info.
4. Share rewards with the revamped Binance Referral Program. With the relaunched Binance Referral Program, you can earn up to 40% commission from your referral's trading fees. And this time, you can share some of your rewards with your friends. Join the Binance Referral Program here! Also, register for a new Binance account here and get a 10% discount on your trading fees.
5. Binance X launches. We have launched a new initiative to foster innovation on the Binance platform and the blockchain ecosystem at large. Join us in one of the Binance X events. Apply for Binance X Fellowship here.
6. New AMA with CZ. Binance CEO CZ (Changpeng Zhao) discussed various topics during this latest AMA session, including crypto staking, the new referral program, Venus, futures, Binance X, Binance Lending, and more! View the full AMA here.
7. More updates from Binance:
* Adjusted trading fee discount program. Lower thresholds for VIP1, increase in the number of VIP tiers from 9 to 10, and more!
* Margin trading now available on Binance's Windows PC Client. 
* Margin trading for 2 more cryptocurrencies. New margin and borrowable assets are NEO and XMR. New margin pairs are NEO/BTC, NEO/USDT, XMR/BTC, and XMR/USDT.
* More USDT trading pairs: DENT/USDT, MFT/USDT, KEY/USDT, STORM/USDT, DOCK/USDT, WAN/USDT, FUN/USDT, and CVC/USDT.
* Adjusted daily interest rate for borrowing ETC.
* Customized order book view. When you click "more" on any trading pair's order book, you can choose your preferred decimal grouping and order depth on display.
8. Updates from Binance Chain and Binance DEX:
- Bithumb Global supports Binance Chain.
- New Listings: Morpheus Labs (MITX), BOOSTO (BST2), BET Token (BET), Tixl Token(MTXLT), Vodi X Token (VDX), Ferrum Network Token (FRM)
9. Binance Coin now supported on Samsung Galaxy S10. The mobile phone's crypto wallet now allows you to store and use BNB. Meanwhile, you can now buy BNB with Vietnamese dong (VND) on Coinhako.
10. Binance Co-Founder and Chief Marketing Office He Yi on Bloomberg. In an extensive interview on Bloomberg, He Yi provided more details about Venus, Binance's open blockchain project for stablecoins and digital assets around the world.
11. Binance Charity, now helping 100 schools! The charity arm of Binance has already aided 80,000 students with lunch, stationary, solar panels, sanitary pads, and more. Support Binance Charity's projects here.
12. New content from the Binance Ecosystem:
* Binance Academy's new article Device Fingerprinting: How Exposed Are You?
* Binance Podcast's new episode: an interview with Binance Charity Director Jill Ni and Perlin CEO Dorjee Sun about the Global Ledger Initiative for greater environmental transparency through the blockchain.
* Binance Research's new report on China's Digital RMB, which assessed how blockchain will be used for the Chinese Central Bank Digital Currency (CBDC), Read the full report here.
13. Binance global meetups:
* August 26, 2019: Manila, Philippines
* August 29, 2019: Mexico City, Mexico
* August 31, 2019: Sochi, Russia
* August 31, 2019: Chengdu, China
* September 1, 2019: Istanbul, Turkey
14. Binance promos roundup:
* Binance Jersey hosts its first deposit and trading competition. For the top 1,500 users, a total of 22,500 EUR will be given away, while the prize pool for the trading competition is 42,500 EUR.
* WIN trading competition. 325,000,000 WIN, 7 HUAWEI P30 PRO Smartphones, and 10 pairs of Apple AirPods are bring given away.
* Binance hoodie promos on Binance communities in India, Italy, Turkey, Philippines, and Germany.
* Various Telegram AMAs (with prizes): LTO on Binance DEX (USD 4,000 in LTO tokens), Matic on Binance Korean and Filipino (USD 300 in MATIC tokens for each community), Contentos on Binance Russian (USD 300 in COS tokens), Celer on Binance Turkish (USD 225 in CELR tokens)
* Binance Lending quiz on Twitter, with $300 of BNB given away
BONUS: Pic of the Week
Binance: Keeping the next generation SAFU
That's a wrap for last week! Please follow us on Twitter, Instagram, Facebook, and YouTube. Join our official Binance Telegram group to talk with our community. Speaking of Facebook…