Binance Weekly Report: New Heights for BTC, BNB
2021-02-12
In this weekly report (February 6 to 12, 2021): BTC and BNB reach new heights, Launchpad completes the SafePal token sale, and more.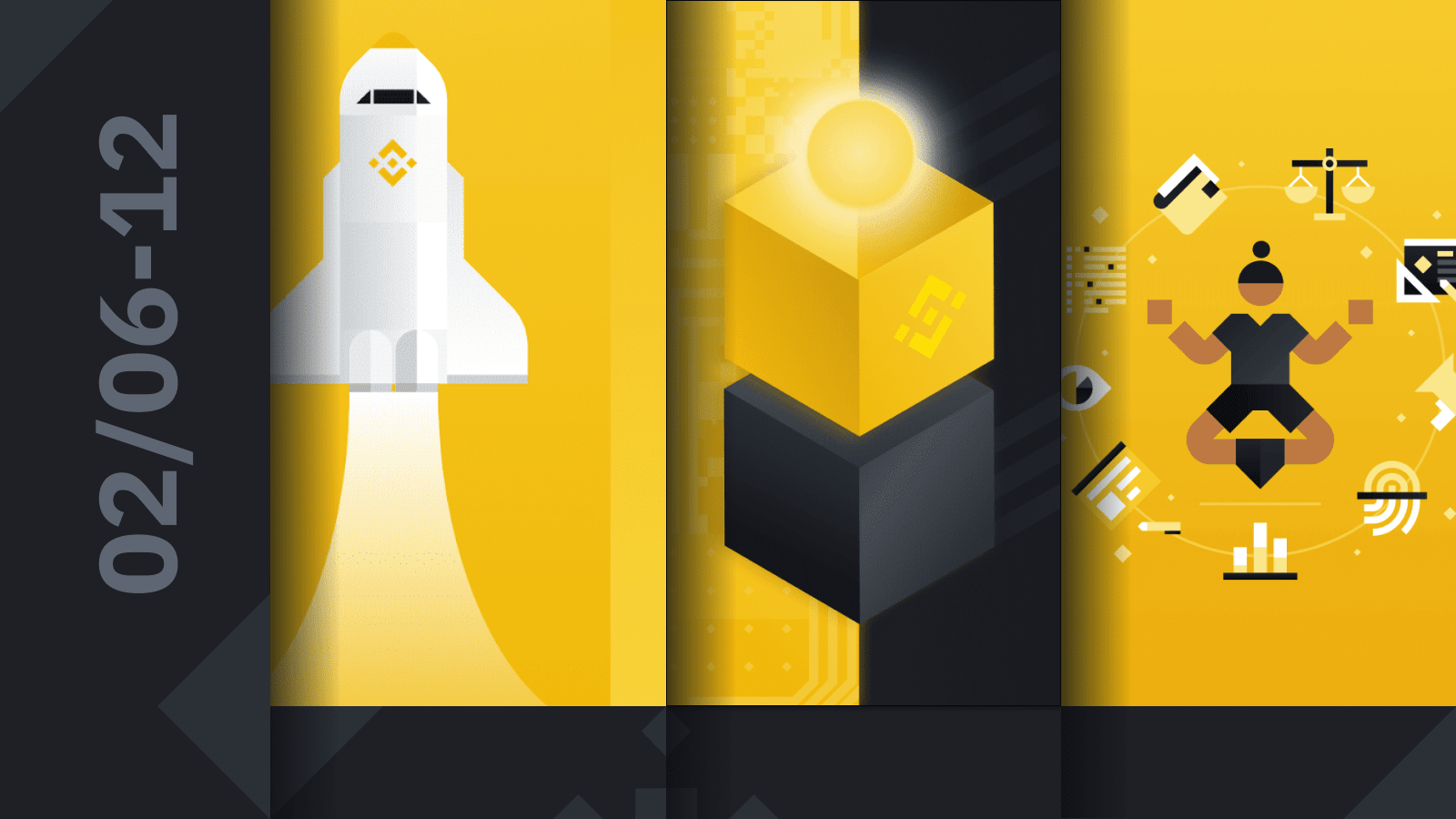 Crypto Market Overview: New ATHs set for BTC and BNB
In a week where several major cryptocurrencies saw double-digit increases daily, two stories stand out: Bitcoin hitting not one but two all-time highs and BNB's rise in value. 
After starting the week at around $37,700, Bitcoin reached its first ATH of the week hours after Tesla's announcement on Monday of its $1.5 billion investment in the world's leading cryptocurrency. From a high of $47,537 on Tuesday, BTC went through a brief period of sideways action before hitting another ATH of $48,399 on Thursday after U.S. bank BNY Mellon announced plans to offer BTC custodial services.
This week has been successful for BNB as well. BNB Chain's native token began the week at $61, then broke past $100 on Tuesday and rallied to an ATH of $148, before closing the week at $136.
With this hyperspeed bull market, the total crypto market cap increased from $1.172 trillion to $1.446 trillion in the span of just one week. It took 10 years for the market cap to reach its first trillion, but only a month to be halfway to its second trillion.
For more crypto-related news and updates, head over to the Binance News service. We now move to updates from the Binance ecosystem and beyond. 
From the Binance Team
1. Post-Show Recap: Everything You Missed During Binance Blockchain Week. Binance brought together thousands of viewers from around the world in one of the year's biggest blockchain and crypto events. Over a 5-day virtual conference, we heard from founders and visionaries, business mavens, thought leaders, and experts in everything from crypto and finance to business and technology—and beyond. 
2. How to Buy Bitcoin: A Quick Guide from Binance. Buying Bitcoin doesn't have to be expensive. With Binance, you can buy a fraction of one Bitcoin for as little as $15 with minimal fees and almost instant transactions. 
3. How to Sell Bitcoin on Binance: Step-by-Step Guide. Most of us aim to accumulate as many bitcoin as possible, but there are times when you need or want to sell your holdings. 
4. Crypto Cheat Codes: Best Ways to Save and Earn on Binance. When it comes to getting the most out of your money at Binance, you'll need to use a mix of our savings and earnings products wherever possible. 
5. 3 Ways You Can Sell Your Bitcoin Into Cash: A Quick Guide from Binance. 
BNB Chain Updates
6. BNB Smart Chain MVB Accelerator Program Open Registration Today. All applicant projects could register during  February 8-28, 2021, UTC+8. All candidates must register with the BUIDL Reward Program to participate and meet specific requirements.
7. DIA's expands cross-chain data access. DIA has executed the integration into the BNB Smart Chain, opening the path to bring DIA's open source oracles to the efficiency-geared BNB Smart Chain. 
8. Chain IDE For BSC Tutorial. This tutorial provides information on how to compile and deploy the smart contract on BNB Smart Chain testnet using ChainIDE and Metamask.
Binance Exchange Updates
9. Binance Completes the SafePal Subscription Launchpad and Will Open Trading for SFP. A total of 47,286 participants committed 11,262,241.5940 BNB during the subscription period, representing an oversubscription of 164x. 26 participants reached the 200,000 SFP hard cap, resulting in their allocation being passed down to the remaining users. For further information on how this is calculated, refer to a detailed guide here.
10. NEW TRADING PAIRS: DOGE/GBP & DOT/TRY
11. Binance Adds AUD, BRL, EUR, GBP, NGN, and TRY Trading Pairs to the Convert & OTC Portal. Users can now trade and check indicative prices on these assets through the Convert & OTC Portal.
12. Binance Will Support the Neblio (NEBL) & Cosmos Network (ATOM) Network Upgrades & Hard Forks. The trading of NEBL and ATOM will not be affected during the upgrade and the network upgrade and hard fork will not result in any new tokens created. 
13. Binance Will Support the Neutrino Token (NSBT) Airdrop Program for Waves (WAVES) Holders. The snapshot for the airdrop will take place at 2021-02-10 0:00 AM (UTC).
14. Earn Up to 20% APY on DUSK, EGLD and RIF with Binance Savings.
15. Binance Pool launches the 29th phase of dual savings products for BTC, USDT, and BUSD.
16. Binance Will Support the QiSwap (QI) Airdrop Program for Qtum (QTUM) Holders. Binance will support the QiSwap (QI) Airdrop Program for Qtum (QTUM) holders. The snapshot for the airdrop will take place at the Qtum Network block height of 793,284 or at approximately 2021-02-12 03:00 PM (UTC).
17. Temporary System Maintenance Completed (2021/02/11)
18.Binance Staking Launches ADA and ATOM Staking with Up to 24.79% APY and AVAX Staking with Up to 32.79% APY!
19. Binance Will Support the Bounce (BOT) Token Migration & Redenomination Plan during which BOT tokens will be exchanged for new AUCTION tokens. Binance will handle all technical requirements involved for all users holding BOT in their Binance accounts.
20. DELISTED TRADING PAIRS: BNB/NGN, BUSD/NGN, DOT/NGN, ETH/NGN, LINK/NGN, LTC/NGN, TRX/NGN, XRP/NGN
Binance Futures Updates
21. Updates to Binance Spot API Queries. Binance will execute a change to the spot database at 2021-02-15 00:00:00 UTC to remove irrelevant orders from the active database. After the update, API users will not be able to query orders that meet all 3 conditions below:
An order status of canceled or expired.

Unfilled: the order did not participate in any trades.

The order was last updated more than 90 days in the past.
22. NEW ON MARGIN: LIT 
23. UPDATED: Insurance Clearance Fees of Binance Futures Contracts and Binance Futures Cross Collateral.
24. DELISTED ASSETS: DOTECO USDT-Margined Contract
Fiat, P2P, BNB, and BUSD Updates
25. 50 Merchants Win at the Binance P2P Global Merchants Awards 2021. Since we launched Binance P2P Global Merchants Awards 2021 in early January, 50 merchants have achieved 850% growth in trades and managed to maintain an overall 80% completion rate! We are so thrilled to announce the 50 winners of our Binance P2P Global Merchants Awards 2021!
26. Binance P2P Learn & Earn: Over $5,000 in Prizes! Binance P2P is excited to present the Learn & Earn challenge. We are giving away $5,000 in prizes! All Binance users will be able to learn about P2P and share $5000. Besides, we'll randomly select 5 lucky users and give $50 in BNB each! 
27. Binance P2P Supports Phone Number Based Payment Methods for INR. We added GPay (Google Pay), PhonePe, and Mobikwik wallet transfer to the list of available payment methods for buying and selling crypto with Indian Rupees (INR). This allows users to trade cryptocurrencies and receive or send money using a phone number.
28. Binance Adds NGN FIAT/NGN Pair and Launches Express Mode for P2P Trading in Nigeria
29. Binance Introduces Instant Card Withdrawal for EUR and GBP
30. Binance Learn & Earn Series: Win a Share of $20,000 in OXT! We are excited to introduce the latest edition of the Binance Learn & Earn series with OXT, Orchid's native digital asset. Orchid is a decentralized market for anonymous communication and virtual private networking. All Binance users can learn about Orchid and earn up to $20 equivalent in $OXT. In total, we're giving away $20,000 in $OXT. 
31. Binance P2P Adds New E-wallet Payment Options in Southeast Asia
32. Binance P2P Applies T+1 Withdrawal Limit to TWD and EUR Markets
33. Binance Extends Zero Maker Fee Promotion for BUSD to June 2021. Due to popular demand, we will be extending the end date of the Zero Maker Fee Promotion for BUSD, which will apply to all existing and future BUSD trading pairs.
34. Binance Africa P2P Cash Merchant Recruitment. We are looking for merchants who accept Cash Trades on its P2P platform in Africa. We invite outstanding individuals and teams to join the P2P Cash Merchant Program.
Binance Ecosystem Updates
35. Binance Labs Leads $2.4 Million Investment Round for Plasm Network. Plasm Network is the first investment under Binance Labs' $10 Million Fund to support projects in the Polkadot ecosystem. 
Promos and Community
36. NEW: Year of the Bull Promo: $100,000 in BTC to Be Won. We launched a Year of Bull activity to celebrate the Lunar New Year. Collect "Good Luck Cards" by referring your friends to complete simple tasks and share a prize pool of $100,000 in BTC. The competition ends February 18.
36. COMPLETED: EUR Trading Competition - 50,000 EUR to be won!
37. COMPLETED: BRL Trading Competition - 80,000 BRL to Be Won!
38. COMPLETED: REEF Trading Competition - $50,000 in REEF to Be Won!
39. COMPLETED: Binance App Options Promotion - $30,000 in Cash Vouchers to Be Won!
40. COMPLETED: PAXG Trading Competition - $50,000 in PAXG to Be Won!
41. COMPLETED: SKL, DOGE, CKB, CHZUSDT Futures and Liquid Swap Trading Competitions Have Now Concluded
That's a wrap for the past week. Follow us on Twitter, Instagram, Facebook, and YouTube, and join our official Binance Telegram group to talk more with our community. 
Updated on July 27, 2022