Binance Weekly Report: #MyFirstNFT
In this weekly report (March 13 to 19, 2021): We launched the #MyFirstNFT promo, while more crypto organizations like Brave and Tokocrypto are joining BSC.

BNB Smart Chain (BSC) Updates
1. Brave (BAT) joins the BSC ecosystem to accelerate DeFi adoption. Currently, Brave's browser wallet supports Ethereum and BSC through a configuration change in the wallet, but Brave is now planning to preconfigure support for BNB Smart Chain later this year. This will allow users to access BSC without having to download additional apps, create new wallets, and update configurations in the Brave wallet.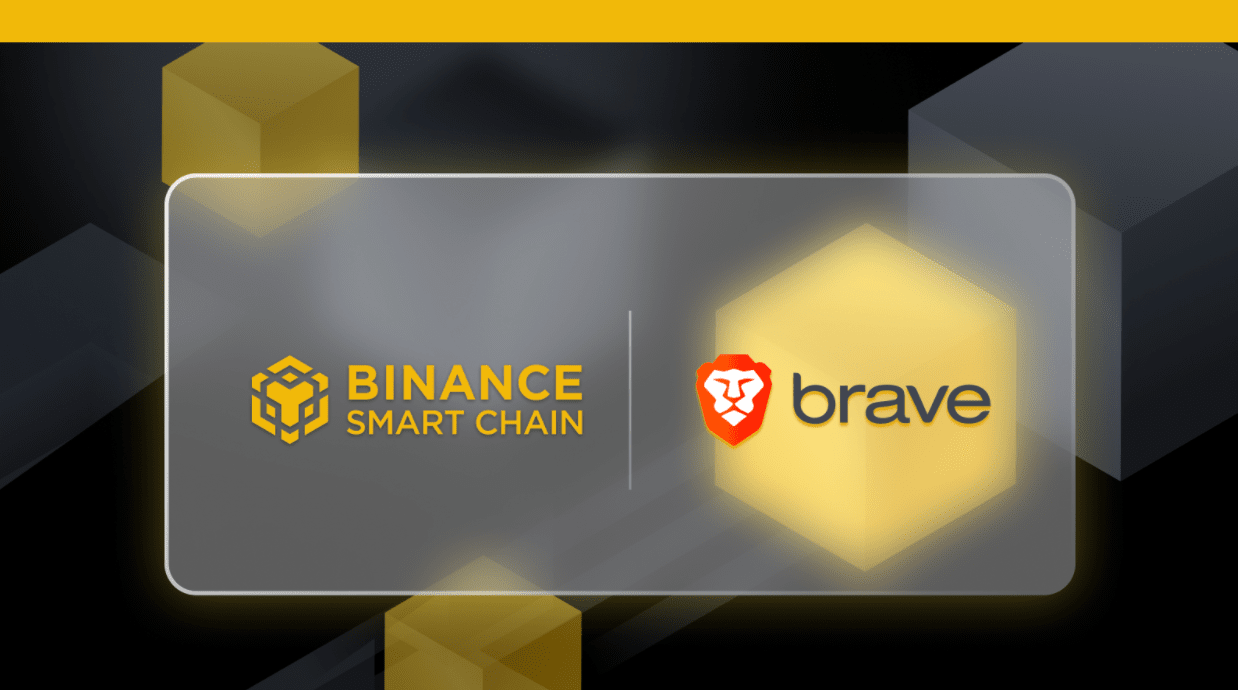 2. Binance backed Tokocrypto, the first Indonesian DeFi Project on BNB Smart Chain. Indonesia's first regulated crypto exchange under the Commodity Futures Trading Regulatory Agency Indonesia (BAPPEBTI) to drive greater adoption of blockchain in Indonesia by building a CeDeFi project on top of BNB Smart Chain (BSC).
3. Introducing BSC Studio, a powerful integrated IDE for BNB Smart Chain. BSC Studio is a powerful and easy-to-use graphical IDE (Integrated Development Environment) to develop smart contracts on BNB Smart Chain. It runs on both web and desktop environments and supports all major OS like Windows, macOS and Linux.
4. BUIDL Reward Program Updates with $3.248 Million distributed as February Reward. In February, an additional 426 contracts have registered for this BUIDL reward program, up from 222 in January. The sum of rewards this month is 12,031.24891 BNB, which is about $3,248,000.
5. pNetwork's Ethereum-BSC bridge now live on the BNB Smart Chain.
PNetwork, a cross-chain composability system that allows assets and Non-Fungible-Tokens (NFTs) to move freely between blockchains, has been successfully integrated on BSC as a transparent and progressively decentralized cross-chain solution. The pNetwork-powered Ethereum-to-BSC bridge is now available for use by any and all BSC users and Decentralized Applications.
Binance Exchange Updates
6. Binance #MyFirstNFT Contest: Win A Limited Edition NFT Featuring Your Artwork! This contest goes out to all the artists, creators, and crypto creatives. From now until March 28, share your best artwork on the theme of "The Tipping Point" using the hashtag #MyFirstNFT. 
7. Add Liquidity to Binance Liquid Swap's Stable Pools, Earn BNB Rewards. Now, you can lock your BNB asset in any stable liquidity pool of Binance Liquid Swap during the activity period to earn triple rewards, including interest earnings, trading fee rebates, and BNB yield farming rewards with one single action.
8. Binance Review, Month 44: Upgrades. During Binance's Month 44 (February 15 to March 15, 2021), Binance enhances Liquid Swap, expands Binance Pay, and welcomes a new advisor for policy and government relations, while BNB Smart Chain is on the lookout for new validators and delegators.
9. Binance Learn & Earn Recap and Quiz: $20,000 OCEAN Giveaway. Learn about Ocean Protocol and win up to $20 in OCEAN by completing the quiz.
10. Binance Convert: Making Crypto Transactions Quick and Easy for All. We recently launched Binance Convert, a new service where you can transform the cryptocurrency you hold into another cryptocurrency, in a matter of seconds. Binance Convert also powers the Convert function of the Binance app and is the main option for buying crypto on the app's Binance Lite mode.
11. NEW IN THE INNOVATION ZONE: Perpetual Protocol (PERP), Linear (LINA), Beefy.Finance (BIFI)
12. NEW TRADING PAIRS: ADA/RUB, ENJ/BRL, ENJ/EUR, MATIC/EUR & NEO/TRY 
13.Earn Up to 182.5% APY on DUSK, EGLD, FRONT and RIF with Binance Savings.
14. Binance Pool launches the 34th phase of dual savings products for BTC, USDT, and BUSD.
15. Binance completed QiSwap (QI) distribution. The snapshot for QI airdrop had taken place at the Qtum Network block height of 793,284, which occurred on 2021-02-12 15:04:48 (UTC).
16. Binance completed NSBT and DON distribution. The snapshots took place on 2021-02-10 0:00:00 (UTC) for NSBT NSBT airdrop and at 2021-02-25 08:00:00 (UTC) for DON airdrop at the IOST Network block height of 124,062,476.
17. Binance completed the Tellor Tributes (TRB) Contract Swap.
18. Binance Staking launches IOTX Staking with Up to 15.52% APY and BAKE and CAKE Staking with Up to 28.92% APY. 
19. Binance Will Support the DREP (DREP) 100:1 Redenomination Plan. Deposits and withdrawals of DREP will be suspended at 2021-03-22 00:00 (UTC). Please ensure that you leave sufficient time for your DREP deposits to be fully processed prior to this time. If deposited after this time, the tokens will not be credited to your account.
Binance Futures Updates
20. Binance has enabled Isolated Margin and USDT-Margin trading for the following assets and trading pairs:
New Isolated Margin Assets: LINA, ALICE, DEGO, FRONT, MBL, OM & POND

New USDT-Margin Assets: LINA, ONE, ALICE, MANAUSDT, BTCUSDT, ETHUSDT & HBARUSDT
21. UPDATED: SUSHIDOWN Leveraged Token & Leverage and Margin Tiers of Binance Futures Contracts
22. We postponed the update for min tick size for KNC, AXS, CTK USDT-Margined Perpetual Futures Contracts.
Fiat and P2P Updates
23. Binance P2P Supports New Payment Methods for Southeast Asia. Binance P2P has added new payment methods to the list of payment methods for Indonesian Rupiah (IDR), Cambodian Riel (KHR), and Philippine Peso (PHP). We added BCA QRku, MandiriPay, Yap!, Jenius Payme, Coins.ph, and Bakong.
24. Binance P2P Supports New Bank Payment Methods for RON. Our Romanian users can now use ING Bank, CEC Bank, BCR Chișinău, and BRD Bank.
25. Buy CHZ and DOT with RUB and UAH Directly on Binance! Users can now purchase Chiliz (CHZ) and POLKADOT (DOT) with RUB and UAH on Binance's simple Buy Crypto with Credit Card feature.
From the Binance Team
26. Why You Should Make Borderless Payments Using Crypto. Peer-to-peer (P2P) crypto exchanges like Binance P2P remove intermediaries from the payment process. Users can directly transfer crypto funds with one another. Because all cryptocurrency transactions are recorded on blockchains, the geographic distance between the sender and recipient is irrelevant.  
27. I Have a Binance Account. What Should I Do Next? In this article, you'll learn everything you can do on Binance.com, the world's largest cryptocurrency exchange and online trading platform, allowing traders to track the movements of the largest number of digital assets and conduct real-time trading operations with maximum comfort.
28. Latest articles from Binance Academy
29. Latest reports from Binance Research
Promos and Community
30. NEW: Liquid Swap Trading Competition - Win a Share of 30,000 BUSD
31. NEW: Collect & Win Promo for International Women's Month: $50,000 to Be Won!
32. NEW: EUR Trading Competition - 50,000 EUR to Be Won!
33. EXTENDED: Binance BRL Zero Withdrawal Fees Promotion extended until June 30, 2021.
34. EXTENDED: Zero Fees Promo on Bank Deposits for EUR and GBP. Now, users may continue to enjoy zero-fee bank deposits until March 31.
35. EXTENDED: Zero-Fee Promo for BUSD/USDT, USDC/BUSD, TUSD/BUSD, and PAX/BUSD, now until June 10.
That's a wrap for the past week. Follow us on Twitter, Instagram, Facebook, and YouTube, and join our official Binance Telegram group to talk more with our community. 
The article has been edited on June 23, 2022.