Binance Weekly Report: Indexing DeFi
In this weekly report (August 22 to 28, 2020): We launched a Binance Futures contract dedicated to DeFi, spearheaded an anti-fraud alliance for crypto, and saw several developments on the BNB Chain front.
Crypto Market Overview
Bitcoin, major altcoins trend sideways
This week, Bitcoin (BTC) closed at $11,500 as of the end of Friday, August 28 (UTC +8), following an up-and-down market that saw the leading crypto token fluctuate between $11,200 and $11,800, according to CoinMarketCap data. Interestingly, the most volatile period for the BTC market immediately followed the US Federal Reserve's August 27th statement about letting inflation rise above 2%, a departure from previous policies
The Ethereum (ETH) market was even steadier this week, moving within a narrow range between $375 and $410 for most of the week, before ending Friday at $395. Meanwhile, BNB dipped as low as $21.15, before rising to $23.48and closing the week at $23.05.
The total market capitalization of the cryptocurrency industry began and ended the week at $360 billion, with intra-week fluctuations ranging from $347 billion and $369 billion. 
For more crypto-related news and updates, head over to the Binance News service. We now move to updates from the Binance ecosystem and beyond.
Binance Futures and Options Updates
1. Introducing DeFi Index perpetual contract. This DEFI/USDT composite index perpetual contract, featuring up to 50x leverage, represents a composite of decentralized finance protocol tokens listed on Binance.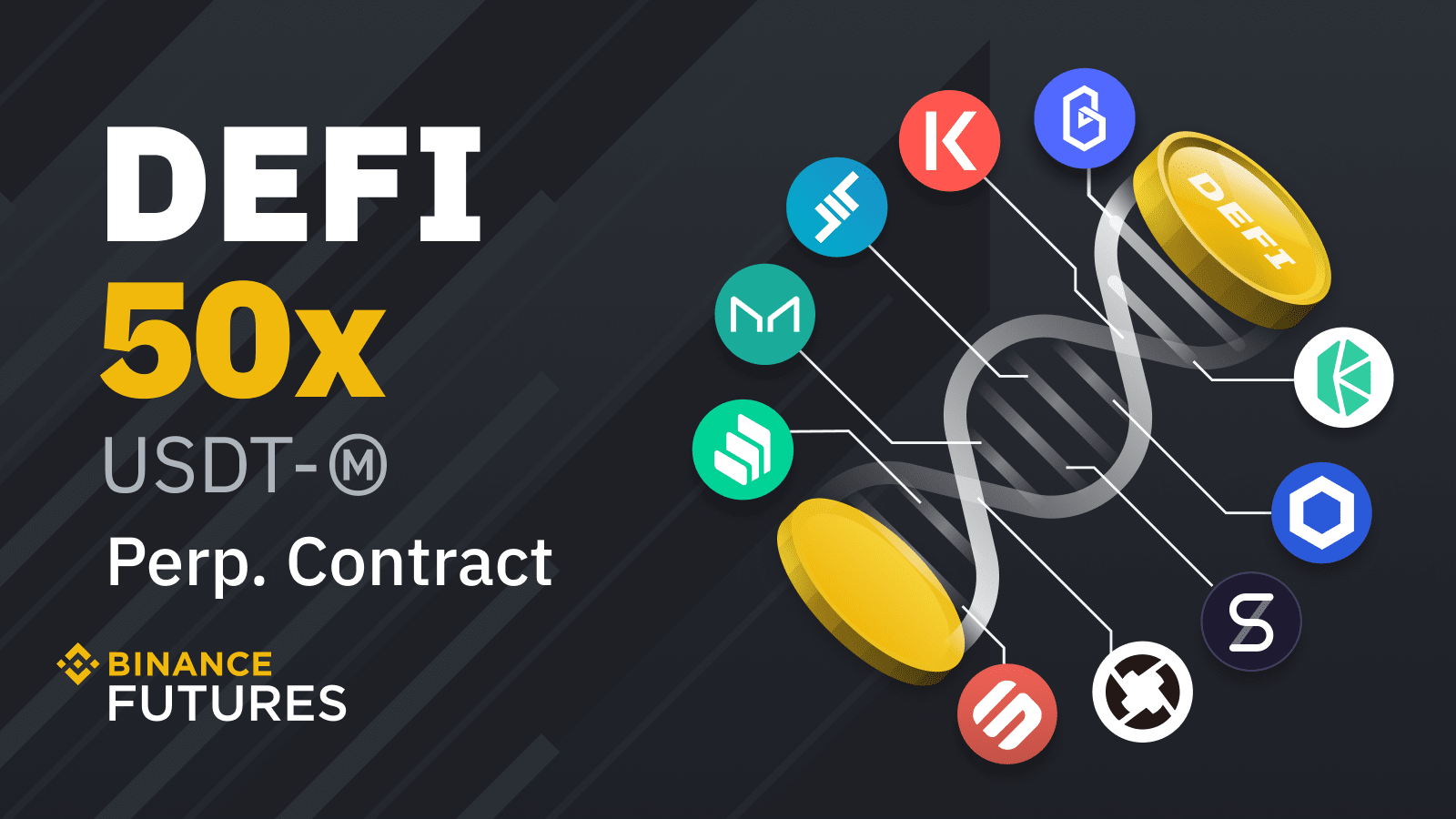 2. Riding The Trend With Binance's DeFi Composite Index Futures. Binance's first composite index product allows you to track and participate in the fast-growing DeFi market. 
3. NEW Coin-Margined perpetual contract: ADA/USD (August 26, 1-75x leverage). We now have five coin-margined futures contracts.
4. Coin Margined Futures Bonus Program. Users trading on the BNB margined futures market will be eligible for rewards worth up to 15,000 USDT based on their weekly taker volume.
Binance Exchange Updates
5. NEW LISTINGS: Gold-backed stablecoin and more.
- August 22: IDEX (IDEX)
- August 25: Reserve Rights (RSR) 
- August 26: PAX Gold (PAXG) - Paxos-issued digital asset backed by one fine troy ounce (t oz) of a 400 oz London Good Delivery gold bar per token.
- August 26: Wrapped NXM (WNXM)
- August 27: Tellor (TRB)
6. Isolated Margin trading for eight more tokens: CTSI, ARPA, WTC, KMD, JST, COTI, DOT, and SRM. A zero-interest promotion for borrowing these tokens runs until September 1 for the first six tokens and September 3 for the latter two.
7. Binance Pool launches two new phases for Dual Savings products. These products are available in BTC and USDT.
8. Binance Staking opens new quota limits for EOS and BAND. There are four new locked savings options for EOS, plus three for BAND.
9. Binance Savings adds LEND and BAL to Flexible Savings. You can now save up to 200,000,000 LEND or 500,000 BAL.
10. COMPLETED: Week 1 of the 12-week SXP token airdrop to BNB holders on Binance.
11. Binance supports the following blockchain updates:
- Elrond (ERD) mainnet and token swap to Elrond Gold (EGLD)
- Enigma (ENG) mainnet swap to Secret Network (SCRT)
- Qtum network upgrade
- Perlin (PERL) smart contract upgrade
12. Binance stops support for the JST and WIN airdrop programs for TRX holders.
Binance Ecosystem Updates
13. Introducing the CryptoSafe Alliance. We spearheaded a cooperative that aims to strengthen security for everybody's crypto, by fighting crypto fraud and bad actors within the crypto and blockchain space. Special thanks to Oasis Labs for helping us create the platform. 
14. Stake Wars has ended. The BNB Chain community exercised their skills in BNB staking. This event featured a 3,000 BNB prize pool sponsored by Binance. Congratulations to all the winners! More details here.
15. BNB Chain completes Darwin upgrade. This upgrade was made in preparation for the launch of BNB Smart Chain. It features BNB staking support, among other features.
16. Build for Bharat: DeFi-focused hackathon and accelerator program for India. This BNB Chain-initiated endeavor is our first DeFi-focused hackathon and acceleration program. Register now!
17. Binance.UK joins trade association CryptoUK. The upcoming exchange in the U.K. is now part of the self-regulatory trade association representing the digital asset sector.
18. Binance Australia joins FinTech Australia. Our Australian affiliate joined the peak advocacy body for the fintech industry in Australia. 
19. Binance.US is now live in Florida. Florida becomes the 38th state that Binance.US supports.
20. Binance.US lists two more tokens: BAND and ONE. 
21. Binance Academy's newest articles. 
- What Is Uniswap? Know more about this platform for decentralized token swaps.
- How To Create TA Indicators on TradingView? Learn how to make your own chart layouts.
- What Is Inflation? We discuss the different causes and effects of inflation.
Also, watch Binance Academy's new brief videos on candlestick patterns, including bullish and bearish candles.
22. Binance Research publishes reports on newly-listed projects: PAX Gold, Tellor, Wrapped NXM, Reserve Rights, and IDEX.
23. Binance Podcast's new episode: Difference Between BTC and BCH, with Bitcoin ABC lead developer Amaury Sechet
BNB, Fiat, and Stablecoin Updates
24. Binance P2P adds 58 new payment methods. This brings up the number of total supported payment methods on the peer-to-peer platform to 62.
25. Four new fiat-to-crypto trading pairs: ETH/NGN, DOT/BIDR, LINK/AUD, and SXP/AUD, all opened on August 28.
26. A Tale of Two Indian P2P Traders. For the newest installment of P2P Stories, we meet Miral Doshi and Tamilian Traders, two crypto traders who are making the most of Binance P2P.
27. 50% cashback promo for first-time African traders. Lucky traders in Kenya, Nigeria, and South Africa will earn 50% cashback on their first orders. Promo runs until September 12.
From the Binance Team
28. Top Reasons for Building DeFi on BNB Smart Chain. BNB Smart Chain provides several benefits to DeFi protocols and their users.
29. How to Buy Bitcoin: A Quick Guide from Binance. In this newly-updated guide, we'll walk you through the basics of buying crypto with Binance, so you can add crypto to your portfolio in minutes. 
30. 3 Ways You Can Sell Bitcoin Into Cash. We provide you with various available options on how to convert BTC into fiat currency on Binance and our partner platforms.
31. Trader Series Part 2: Trading Systems for Cryptocurrencies. In the second part of the Binance Blog Trader Series featuring Markos Katsanos, the author proposed a couple of trading systems that can maximize your trades across multiple asset classes. (Read Part 1 here.)
Promos and Community
32. ONGOING: $50,000 BNB Promo: Trade DeFi Tokens on Margin. A total of nine DeFi tokens are included in the contest. Promo runs until September 3.
33. ONGOING: $10,000 CHZ Giveaway: Binance Learn & Earn. All Binance users can now learn about Chiliz (CHZ) and earn up to $10 in CHZ. Promo runs until August 31.
34. ONGOING: 60,000 PNT Trading Competition. 7,000 PNT goes to the top trader, plus more winners. Promo runs until September 4.
35. ONGOING: 5,000 AUD Referral Promo. Refer your friend to trade with Australian dollars (AUD) on Binance.com and earn BNB! Promo runs until September 10.
36. ONGOING: Binance Academy TH's Learn and Earn Training Academy. It is a 2-week back-to-back program complete with learning modules and earning opportunities.
37. COMPLETED PROMOS: 
38. COMMUNITY EVENTS
Binance India AMA on Binance P2P Payment Methods (August 27)

Binance English AMA with QuarkChain CEO Qi Zhou (August 26)

Binance France AMA with 1inch Exchange (August 25)
39. Seen in the U.K.: New ads for Binance. It's time to adapt indeed.
That's a wrap for the past week. Follow us on Twitter, Instagram, Facebook, and YouTube, and join our official Binance Telegram group to talk more with our community. 
The article has been edited on June 21, 2022.