Binance Weekly Report: Building Continues as BTC Climbs to $18,000
2020-11-21
In this weekly report (November 14 to 20, 2020): We introduced wrapped Bitcoin on Binance Smart Chain, launched a Binance widget for the Brave browser on Android, and more.
Crypto Market Overview
Bitcoin hits $18,000. Ethereum crosses $500. Crypto market cap at its highest since the 2017 boom.
This week, Bitcoin took its November rally to heights not seen since the apex of the 2017 crypto boom. BTC began this week at $16,100, then spiked past $17,000 on Tuesday and beyond $18,000 on Wednesday. Following a slight market correction to $17,400 on Thursday, the top crypto resumed its rally on Friday, closing at $18,600, which is the highest level since January 2018.
Ethereum went through a similar rally this week, seesawing from a high of $470 on Saturday to a low of $440 on Monday. ETH teased the $500 threshold on Wednesday when it hit $490, then broke through with a late rally on Friday that elevated it to $510. Meanwhile, BNB was on a mostly sideways trend this week, ranging from $27.50 to $28.50 for most of the week before spiking to $29 to close Friday.
The cryptocurrency industry's total market capitalization started the week at $465 billion, with a significant upwards movement throughout the week, before reaching $523 billion on Friday, marking a 31-month high in market cap. This is the highest level that the market has ever reached, excluding most of mid-December 2017 to the end of January 2018, when the cap went as high as $830 billion.
For more crypto-related news and updates, head over to the Binance News service. We now move to updates from the Binance ecosystem and beyond. 
Binance Smart Chain (BSC) Updates
1. Experience BTCB – Bitcoin on Binance Smart Chain. The ever-growing cryptocurrency community shows an increased demand for unconventional use cases for Bitcoin. In an attempt to further explore Bitcoin's use cases, we're introducing BTCB, wrapped Bitcoin on Binance Smart Chain.
2. UPDATE: $100M Accelerator Fund Supports More Projects. With the addition of Encode and OpenGSN, there are now 13 projects supported by Binance's $100 million accelerator fund for developers to build blockchain projects on Binance Smart Chain.
3. Binance Chain Monthly Update - November.  Binance Chain has been running smoothly for more than one year. Its block height exceeds 126,000,000 with more than 152MM transactions submitted by about 797 thousand addresses. 
4. Meet BurgerSwap, the second project in our BSC Project Spotlight series.
5. BSC works with Arkane to empower game developers. This partnership will beef up the platform's development tools and services, allowing game studios and developers to build innovative games on a scalable blockchain. Read the Arkane Integration Guide on Binance Smart Chain.
Binance Exchange Updates
6. Binance completes distribution and Lists Bitcoin Cash ABC (BCHA) in the Innovation Zone. The Bitcoin Cash (BCH) hard fork was completed at a BCH block height of 661648, with a chain split occurring that resulted in a new forked coin from the minority chain in Bitcoin Cash ABC (BCHA).
7. NEW LISTING:
8. MORE INNOVATION ZONE LISTINGS:
9. NEW TRADING PAIRS: AVAX/TRY and BUSD/BRL
10. Binance supports the Zcash (ZEC) and Horizen (ZEN) upgrades
11. Earn Up to 20% APY on BAKE, BEL, CVC, and EGLD with Binance Savings
12. Binance Loans Adds EUR, DASH as Borrowable Assets, and DAI as Collateral
13. Resumption of daily interest rates for borrowing BCH
14. Binance Pool launches the 17th phase of Dual Savings products for BTC, USDT, and BUSD.
15. Binance adjusts the candlestick charts for BTC/TUSD, AUD/USDT & BTC/AUD trading pairs
16. Removal of Trading Pairs: AE/ETH, BGBP/USDC, BLZ/BUSD, KMD/BUSD and NULS/ETH
Binance Futures/Options/Margin Updates
17. Coin-margined Futures ROI Trading Competition - $200,000 in BNB to be Won! This article dives into how you can trade leveraged tokens in trending markets and maximize your winning potential in every trade. 
18. NEW Cross-Margin Assets: EUR, BEL, COMP
19. NEW USDT-Margined Perpetual Contract: AXS, CTK, BEL 
Binance Ecosystem Updates
20. Binance Widget Now Available to Brave Android Users. Today's Brave Android browser update features the Binance widget, which is already available to Brave desktop users and was the first exchange-browser integration of its kind last April. 
21. Binance Charity, UNICEF Work Together to Rehabilitate Beirut. Binance Charity has committed to allocating nearly $10,000 worth of crypto and partnering with UNICEF Luxembourg to support those in need following the tragic events that happened in Beirut this August.
22. Zero Fees on Binance Card Transactions End of Year Promotion. Starting November 20, we have waived third-party fees for Binance Card transactions through to the end of 2020.
23. Binance Academy's newest articles:
24. Binance Research's newest reports:
Binance Fiat/Stablecoin/BNB Updates
25. New fiat on-ramp for Ghanaian cedi (GHS). Users can deposit Ghanaian Cedi (GHS) via mobile money into their Binance wallet and buy crypto, providing a new and competitive fiat gateway for Ghana.
26. New Nigerian naira (NGN) cash transfer function on mobile and web
27. Enjoy the Zero Maker Fee Promotion for TRY and GBP trading pairs on Binance
28. NEW ON P2P: Bangladeshi taka (BDT), Czech koruna (CZK), and Ghananian cedi (GHS)
29. New on P2P: ad sharing. You can now share your trade advertisements on the internet to get more orders.
From the Binance Team
30. 5 Tips on How to Pick the Best Offer When You Buy Bitcoin on Binance P2P. If you're a newbie to peer-to-peer trading, you've probably asked yourself, which offer do I choose? Don't worry. In this blog, we'll talk about how to select the best offer, as well as what to consider when trading on the P2P platform.
31. Binance Review, Month 40: Innovating to Make Crypto Better and Safer. During Binance's Month 40 (October 15 to November 15, 2020): We launched BNB Vault for better BNB staking and BTokens on Ethereum. We also revealed two instances of how we protected user funds.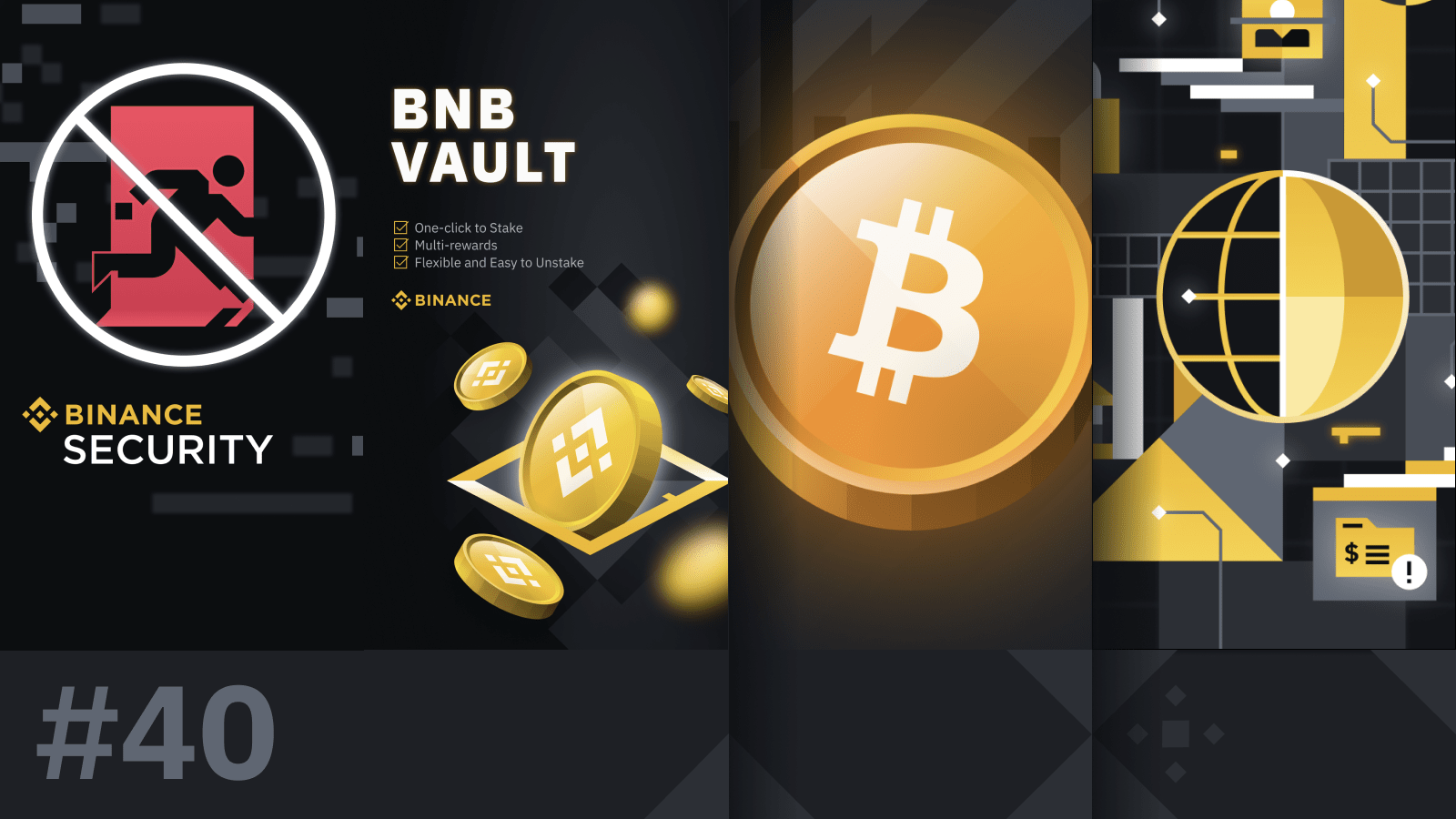 32. Become a VIP Trader on Binance and Enjoy Unique Benefits. The VIP program is a way of rewarding our high-volume traders while boosting their revenue with unique benefits and perks. The program consists of 9 VIP levels, where each level requires a higher trading volume than the previous, but also comes with better benefits. 
33. CZ + Binance.US CEO on Bloomberg. Binance CEO Changpeng Zhao commented on the latest trends in cryptocurrency and regulation, while Catherine Coley shares that spot buyers are driving Bitcoin's value up this year. 
Promos and Community
34. NEW: Earn Up To 50,000 NGN Weekly by Posting Ads on Binance P2P. During the next 4 weeks, we will be running a maker competition for Nigerian P2P traders. Promotion runs until December 14
35. NEW: Deposit and Buy Crypto With Ghana Cedi To Earn 30 GHS Cashback. Promo runs until December 4.
36. NEW: EUR Trading Pair Competition - EUR 40,000 in BUSD to be won! Promo runs until November 22.
37. NEW: Buy Crypto on Binance P2P to win an iPhone 12. Promo runs until December 8.
38. NEW: Utrust (UTK) Trading Competition - $50,000 to be Won! Promo runs until November 25.
39. COMPLETED: SEA Olympics: The SEA Trading Competition: Round 2. The competition ended on November 19. Congratulations to Team Vietnam for winning.
40. COMPLETED: MyBinance App Challenge: $500 in USDT to be Won! Trade NGN on the Go. The competition ended on November 20.
41. COMPLETED: Binance South Africa Visa/Mastercard Cashback Campaign.
42. COMPLETED:  Akropolis (AKRO) Trading Competition - $50,000 to be Won!
43. COMPLETED: WRX, AERGO, and KAVA Futures Battle + BTC Campaigns.
44. COMPLETED: DOT & ADA Campaigns.
That's a wrap for the past week. Follow us on Twitter, Instagram, Facebook, and YouTube, and join our official Binance Telegram group to talk more with our community. 
Cryptocurrency investment is subject to high market risk. Binance is not responsible for any of your trading losses. The opinions and statements made above should not be considered financial advice.