Binance Weekly Report: Bring the Future(s) With You
2019-10-29
In this weekly report: Binance adds Futures to its mobile app, as well as its first fiat currency, BNB is now available for P2P in China, Community Coin Vote gets a Round 2, and more!
1. Binance is bringing Futures to mobile apps. We have launched an early-access version of the Binance app on Android, which includes Futures. Download it here! The Binance app on the Google Play Store will get this update in a couple of days, with iOS to follow soon.
2. Binance lists Nigerian Naira. We have added a new fiat-to-cryptocurrency gateway in partnership with Flutterwave. Users in Nigeria, one of the biggest cryptocurrency markets in Africa, can now buy BTC, BUSD, and BNB with the Nigerian Naira (NGN), the country's legal tender. We plan to add more fiat options in the future.
Deposit NGN now and get zero fees!
3. BNB now available for P2P in China. The Binance app now allows trading BNB through the P2P functions of the app, more known in the country as the OTC feature. 
4. Binance Launchpad completes 10th token sale: Kava. All 6,521,739 KAVA tokens were sold, while 326,087 KAVA are distributed to non-winning lottery participants. About 42.21% of participants won in the lottery for the token sale. Congratulations to all participants, as well as those who won in the #KavaLottery promo on social media.
We have also listed KAVA and opened trading for KAVA/BNB, KAVA/BTC, and KAVA/USDT.
5. Binance Community Coin Vote Round 2. Choose between ARPA (ARPA) and Carry (CRE). We've also made some changes to the format; read here for more info.
6. More updates from Binance:
* Binance Lending offers Flexible Deposits. With this new product, lenders can redeem the funds they lent out before the maturity date of the lending product. Right now, we offer Flexible Deposits for BNB, BUSD, and BTC.
* New listing: Blockstack. We have launched trading pairs STX/BNB, STX/BTC, and STX/USDT.
* New margin trading for BAT, IOST, and VET.
* Updated API and Funding Rate Formula for Binance Futures. Check the log here for more API update details. Meanwhile, see below (or click this link) for further details on the funding rate formula.
* Discontinued support for Stellar staking. This is due to an update to Stellar's mechanics. We still have 11 great staking selections over at Binance Staking.
* Support for CyberMiles mainnet upgrade.
7. Volume records for Binance Futures and Binance.US. This week, Binance Futures daily volume crossed the $2 billion mark, with an all-time high of $2.3 billion. Meanwhile, the daily volume for Binance.US, our US fiat partner, crossed the $10 million mark.
8. New listings + increased limits for Binance.US. You can now trade Dogecoin, BUSD, IOTA, and Waves on the US fiat-to-crypto platform. Also, Binance.US has increased ACH limits have increased for USD deposits and withdrawals. 
9. Updates about Binance Chain and Binance DEX:
* New listings: Bitcoin Cash (BEP2) and IRISNet
* New trading pairs: BTCB/BUSD, XRP/BUSD, BTC/TUSD, and BUSD/IDRTB (first stablecoin forex pair on Binance DEX)
* Upgrade on API services. This is for both testnet and mainnet.
Also, BUSD is now accepted in both Coinsfera's Dubai and Istanbul offices and listed on Altilly.
10. Binance joins blockchain council of Kakao's Klaytn. Binance has joined the Klaytn Governance Council to partake in the platform's blockchain operation to further developments in bringing mass blockchain adoption globally. 
11. New content from the Binance Ecosystem:
* Binance Academy's new article: Financial Risk Explained.
* Binance Podcast's new episode: Fighting Financial Crime in the Digital Era with Rick McDonell, Former Financial Action Task Force (FATF) Executive Secretary. (Excerpts here)
* Binance Blog guide: 5 Things You Need to Know About Binance Futures 125x Leverage.
* Binance Blog entry: Connecting Binance Data to Next-Gen DeFi Applications Using Chainlink Oracles
* Binance Research's new report: The Rise of Staking: From Theory to Building Large Infrastructure. 
* Binance Research reports on cryptocurrencies: Carry Protocol, Arpa, and Blockstack.
(Bonus: Charts that take a look at Bitcoin's recent price movements. Follow Binance Research on Twitter.)
12. Binance global meetups
October 22: Moscow, Russia (Super Meetup)
October 22: Istanbul (University Meetup)
October 26: Shenzhen, China
13. Binance promos:
* Binance Halloween pumpkin carving contest. Share your Binance-themed pumpkin and get a chance to win $100 in BNB.
* KAVA-related promos: #KavaLottery social media promo. Also, AMAs in various Binance communities, with a total of $8,050 worth of KAVA being given away.
* Various Telegram AMAs (with prizes): PCHAIN and COCOS on Binance DEX ($5,000 each project), Band Protocol on Binance English ($2,000), TomoChain on Binance Indian ($300)
* TomoChain Trading Competition. 580,000 TOMO to be given away.
14. Binance Charity Head Helen Hai discusses blockchain on CGTN. "The technology is to serve the people. It's very important to foster the innovation in this," Helen (middle right) said in a panel interview at China's largest international TV channel.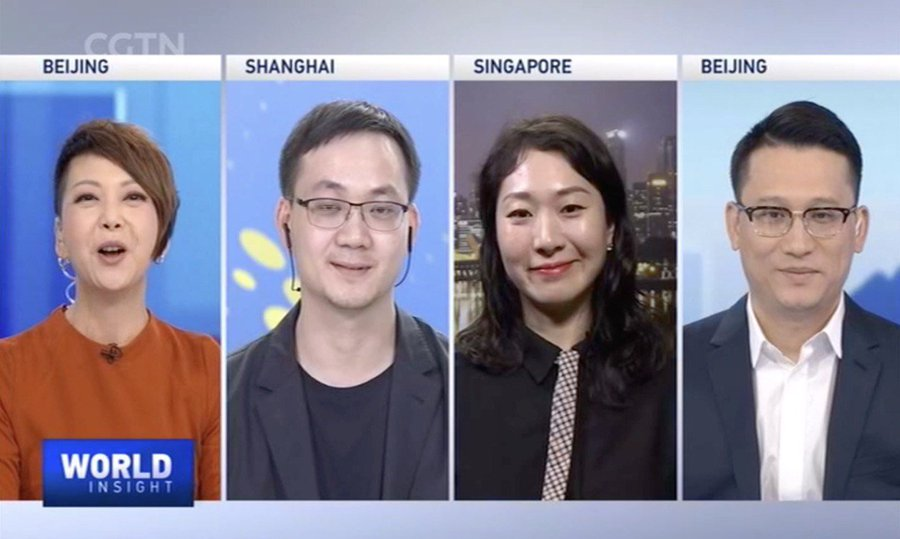 15. CZ AMA on October 30. Ask him anything by responding to this tweet.
Bonus: Pics of the Week
Stickers so good that even other exchanges use it.
Join the #TalesFromTheCrypto Twitter activity by Binance.US for a chance to win $100 in BUSD.
Greetings to our Indian Binancians!
That's a wrap for last week! Please follow us on Twitter, Instagram, Facebook, and YouTube. Join our official Binance Telegram group to talk with our community.