Binance Weekly Report: Bridging London
On this weekly report (July 29 to August 4, 2019): Binance holds its first meetup in London, Binance Charity sets the record straight on transparent blockchain-powered charity, Binance Launchpad completes seventh token sale, and more!
1. Binance goes to London for its first meetup in the UK. Binance CEO CZ (Changpeng Zhao) held a live AMA session moderated by Reuters journalist Ania Poullain-Majchrzak. He addressed several questions from the crypto community and revealed plans to launch a crypto lending service that will support margin trading.
Meanwhile, Binance Europe COO Mariana Gospodinova touted the advantages of Binance Jersey, which has lower deposit, withdrawal, and trading fees than seven of the biggest fiat-to-crypto exchanges in Europe. "These fees are not matched by anyone on the market yet. You can have the exact same experience as you can have with Binance.com," said Mariana.
Join the ongoing 100,000 EUR giveaway at Binance Jersey, now extended until August 31!
2. Binance Charity outlines transparent donation process. In a new statement, Binance Charity explains how it uses blockchain for social good and gives a full disclosure of what it has achieved. We show a flowchart of the process below. For more details, listen to this AMA with Binance Charity Director Jill Ni.
Meanwhile, here's Binance Charity in action. Girls at Nakigo Secondary School in Uganda line up to register and get Pink Care Tokens. About 1,100 girls have benefited from this program.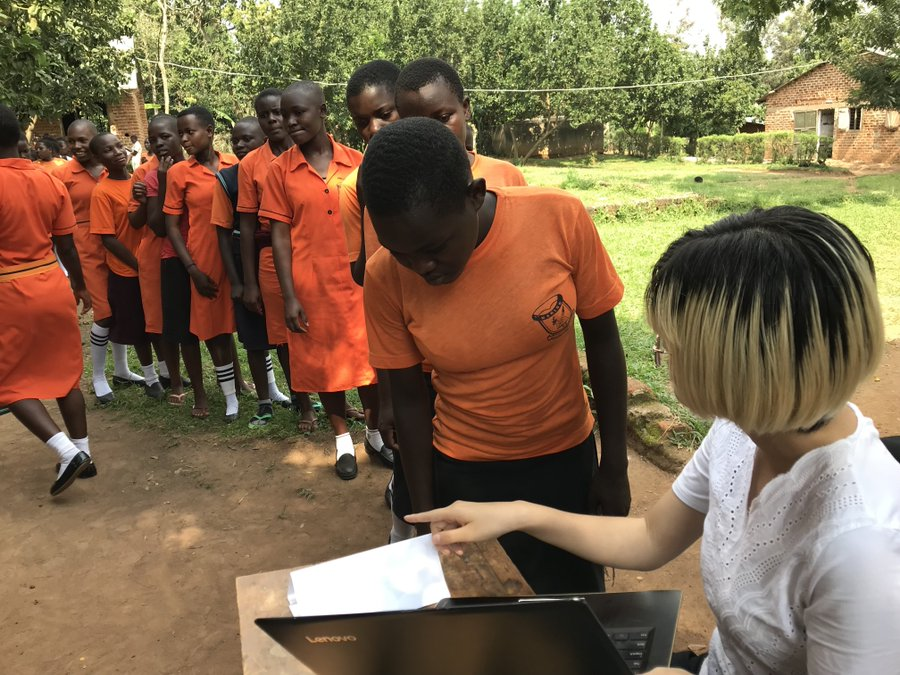 3. Binance Launchpad completes WINk token sale. On the seventh token sale of Binance Launchpad, 40,870 held 200,000 winning tickets, each entitling them to get 249,750 WIN tokens. Binance also listed WINk on the exchange and opened trading for WIN/BNB, WIN/BTC, WIN/USDT, and WIN/USDC.
For more details about WINk, here's a report from Binance Research. Congratulations to the winners of the #WINKLottery promo.
4. Updates from Binance:
* Binance lists Contentos. Trading is now open for COS/BNB, COS/BTC, and COS/USDT. Contentos, a blockchain project backed by Binance Labs, will donate 3,129.4 BNB to Binance Charity. 
* Monthly staking support for Qtum, Stratis. In addition, we have launched two staking reward airdrops: one for 50,000 QTUM (worth $145,000 USD) and another for 50,000 STRAT (worth $25,000 USD).
* New procedure for daily BNB balance calculation. The calculation is now: Daily Average Spot Account Balance + Daily Average Margin Account Balance + Daily Average Sub-accounts Balance.
5. Updates from BNB Chain and Binance DEX:
- BNB Chain completes Hubble upgrade on mainnet. The hardfork added new features and improve network stability.
- New Listings: Eterbase Coin (XBASE), ARPA (ARPA), True Chain (TRUE).
- Binance DEX, Live on SafePal. The hardware wallet is also giving away 200 USD in BNB.
- 12 Things You Should Know About IDOs, now in Russian, Turkish, and Vietnamese.
6. Binance Singapore extends referral program. Due to popular demand, you now have until the end of the year to get 20 SGD for joining Binance Singapore and trading over 100 SGD or inviting a friend who trades over 100 SGD. 
7. Trust Wallet supports Aeternity.
8.Binance Academy's New Article: What Is Hashing? Get to know why hashing is at the core of cryptocurrencies. Also, learn new terms on the Binance Academy glossary, such as Linux, market momentum, rekt, RSI, and store of value.
Submit an article to Binance Academy and earn up to $200 in BNB!
9. New Binance Research chart. Follow Binance Research on Twitter for timely crypto market observations, like this:
10. New on Binance Podcast: Anthony Pompliano talks about how Bitcoin enters the mainstream conversations in the US, while Leslie from Binance Trading discusses the first report of Binance Research's new portfolio management research series.
11. TravelbyBit promo: Blocksow Asia 2019 Ticket + Binance Hoodie. Book a hotel or flight to Singapore using crypto on TravelbyBIt and get a chance to win. It's easy to book trips using crypto; learn from Jaide's crypto-fueled adventure in Australia.
12. Updates from Binance Leadership:
* Read CZ's extensive interview with CryptoNewsZ.
* Chief Marketing Officer He Yi was named one of this year's top 100 influencers in the blockchain world by the LATTICE80 2019 Blockchain 100.
* Chief Growth Officer Ted LIn was interviewed on Cryptonites podcast. He discussed Binance Coin, decentralized exchanges, and more crypto topics.
BONUS: Pics of the Week
Binance team meets South Australia Premier Steven Marshall (center, with Binance cap)
#UseBNB for July 2019. Slowly but surely.
That's a wrap for last week! Please follow us on Twitter, Instagram, Facebook, and YouTube. Join our official Binance Telegram group to talk with our community.