Binance Weekly Report: Binance Lite
2021-02-05
In this weekly report (January 30 to February 5, 2021): Binance Lite launches, Launchpad hosts a new token sale, and more.

Crypto Market Overview: Altcoin ATHs
Bitcoin has been steadily rising throughout the week, from a low of $32,300 on Monday to a high of $39,000 as of press time. But what's remarkable this week is the performance of major altcoins, some of which reached all-time highs this week. Ethereum broke through $1,500 for the first time and traded as high as $1,750, while BNB broke through the $50 threshold and reached as high as $68 to close the week. With this momentum, the global crypto market cap climbed from barely above $1 trillion to $1.17 trillion over the span of a week.
For more crypto-related news and updates, head over to the Binance News service. We now move to updates from the Binance ecosystem and beyond. 
From the Binance Team
1. Introducing Lite Mode on the Binance App: The Easiest Way To Buy Bitcoin. We're thrilled to announce Binance Lite: the easiest way to buy Bitcoin and other cryptocurrencies. You can switch to Lite mode in the Binance app. The user-friendly interface makes it easy to buy and trade crypto with some of the lowest fees.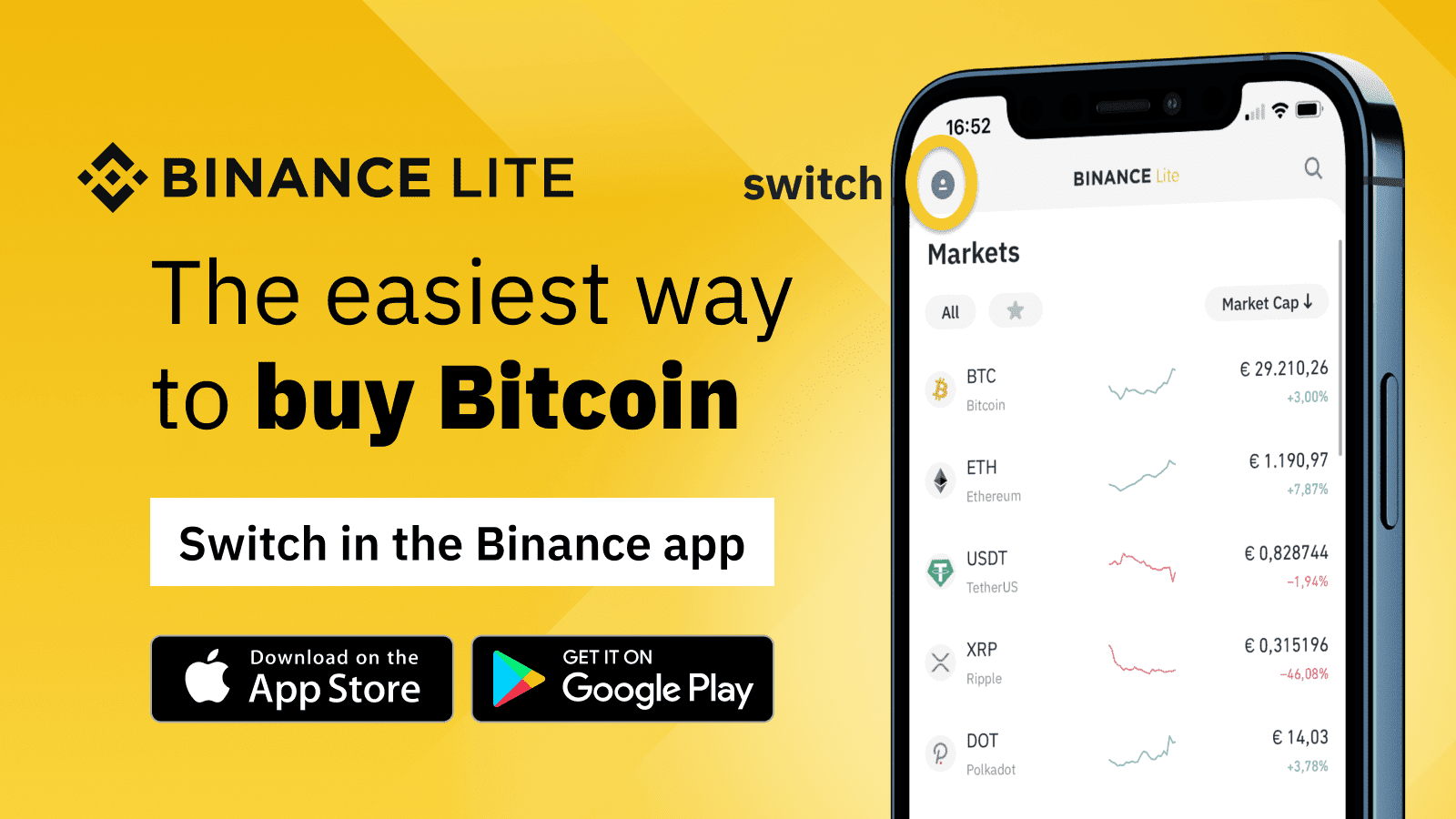 2. Watch Binance Blockchain Week for the Chance to Win Limited Edition NFTs! Viewers of Binance's Blockchain Week from February 1st to 5th, 2021, will have a chance to win limited-edition NFTs, with a total of 2,000 NFTs to be won!
3. What Crypto Should I Buy Aside From Bitcoin? In the fast-growing crypto community, there are already countless opinions and think pieces when it comes to which Bitcoin alternatives to buy and hold. However, in the spirit of fairness, we will avoid specific recommendations. For our guide on what crypto to buy besides Bitcoin, we will instead venture into the several categories of altcoins, at least at this particular moment. Think of these categories as a rough estimation of the industries that were built around the overall crypto revolution of the past few years.
BNB Chain Updates
4. BNB Smart Chain Mainnet Lagrange Upgrade Announcement. BNB Smart Chain Mainnet is expected to have a scheduled hard fork upgrade at block height 5,184,000. Based on the current block generation speed, it is forecasted to be around 2021/02/25 at 6:00 AM (UTC). The full node operators on mainnet are expected to switch their software version to v1.0.6 by 2021/02/25.
5. BUIDL Reward Program Updates - January Reward Recipients (2021/01/01~2021/01/31). In January, additional 235 contracts were registered for the BUIDL Reward Program.  We distributed 3552.977103 BNB in rewards in January.
6. How to identify malicious contracts on BNB Smart Chain. Many users in the Defi space lost a lot of money because they have fallen victim to exploits used within Smart Contracts. Anyone with enough technical knowledge and enough BNB to pay can launch a smart contract project. Unfortunately, many malicious smart contracts are created all the time.
7. Learn how to use Hardhat for BNB Smart Chain and how to verify Smart Contracts.
8. BSC Project Spotlight: Mirror Protocol. Mirror Protocol is a synthetic asset platform that grants price exposure to popular US stocks and ETFs through Mirrored Assets (mAssets), which reflects the price of traditional assets on-chain. We anticipate that the community will expand the offering to other assets, such as equities, commodities, crypto assets, and ETFs through governance.
Binance Exchange Updates
9. Introducing the SafePal (SFP) Token Sale With a New Binance Launchpad Subscription Format! The token sale for SafePal will follow a NEW Launchpad subscription format, with the recording of user BNB balances starting at 2021-02-02 0:00 AM (UTC).
Binance will record user BNB balances for 6 days from 2021-02-02 0:00 AM (UTC) to 2021-02-08 0:00 AM (UTC). The final BNB holding amount for each user will be determined as the average of the 6 days, using the Daily Average BNB Balance calculation previously announced here.
10. NEW INNOVATION ZONE LISTINGS: Vai (VAI) and Prosper (PROS)
11. NEW TRADING PAIRS: DOGE/AUD, DOGE/BRL, DOT/NGN
12. Binance Adds AUD, BRL, EUR, GBP, NGN, and TRY Trading Pairs to the Convert & OTC Portal. Users can now trade and check indicative prices on these assets through the Convert & OTC Portal.
13. We completed the second round of BEL Airdrop distribution. Users can confirm the receipt of these tokens via the Distribution History page in the User Center.
14. Earn Up to 20% APY on ARPA, BEL, DOGE, DUSK, EGLD, GBP and RIF with Binance Savings.
15. Binance Pool launches the 28th phase of dual savings products for BTC, USDT, and BUSD.
16. Binance Will Support the Neutrino Token (NSBT) Airdrop Program for Waves (WAVES) Holders. The snapshot for the airdrop will take place at 2021-02-10 0:00 AM (UTC). WAVES deposits and withdrawals will be suspended starting from 2021-02-09 10:00 PM (UTC). Trading will not be affected.
17. Binance Will Support the Siacoin (SC) Network Upgrade & Hard Fork. We will support the Siacoin (SC) network upgrade & hard fork at the block height of 298,000 or at approximately 2021-02-04 04:00 AM (UTC). Deposits and withdrawals of SC will be suspended starting from 2021-02-04 00:00 AM (UTC). Trading will not be affected.
18. Binance Staking Launches CELR and KSM Staking with Up to 37.49%!
19. DELISTED ASSETS:: BCPT, CMT, TNB & VIBE
Binance Futures Updates
20. January Trading Report: Bitcoin's On-Chain Activity Hits Record Levels - Can BTC Cross $40,000 Soon? January was a record-breaking month that showed the widening adoption of digital assets. Cryptocurrencies continued to thrive — extending the impressive bull-run that started in October 2020. The buoyant market has pushed the crypto-economy to a new milestone as market valuation crossed $1 trillion for the first time. 
21. Binance Introduces USDT-Margined Quarterly Futures. With crypto adoption expected to accelerate, the addition of USDT-margined quarterly futures will give users more choice in their portfolio management and enable more advanced users to employ hedging and trading strategies according to their preferences.
22. Newly Launched Binance USDT-Margined Quarterly Futures - 300 BNB Lucky Draw! In celebration of the USDT-Margined Quarterly Futures launch, we're adding 300 BNB into a lucky draw pool to reward our traders. Winners will be announced after the campaign period. The activity ends on February 9, 2021.
23. NEW ON MARGIN: BTS & STMX
24. Cross Margin Trading for DOGE Enabled on Binance with Cross Margin pairs DOGE/BTC and DOGE/USDT.
25. Binance Launches USDT-Margined Futures Taker Incentive Program. The program is open to users who complete taker trades on any USDT-margined pair traded on Binance Futures market (including perpetual and quarterly contracts). Please fill in this form to apply.
26. UPDATED: Maximum Leverage and Margin Tiers of Binance Futures Contracts
27. DELISTED ASSETS: DOTECO USDT-Margined Contract
Fiat, P2P, BNB, and BUSD Updates
28. 4 Common Peer-to-Peer Trading Mistakes To Avoid. Peer-to-peer crypto trading is a popular way for users to buy and sell bitcoin and other cryptocurrencies directly with one another, all with zero fees. Here are 4 trading mistakes that you have to avoid, otherwise you might end up losing your life savings.
29. Binance P2P: Trade Bitcoin Safely With Tips From the Pros. P2P bitcoin trading comes with unique advantages, but this also means unique threats and risks. We ordered the most common threats by their chances to occur and added tips to keep you protected.
30. Binance now supports Bundle for Peer-to-peer Trading in Ghana and Nigeria. On the Binance P2P platform, users can directly post trade advertisements or directly trade cryptocurrencies using Nigerian Naira (NGN) and Ghanian Cedis (GHS) with other users or verified merchants. View tutorials on how to use the Binance P2P platform here, and start trading now.
31. Binance Extends ZERO Fees on Bank Deposits for EUR and GBP to the End of February 2021
32. Binance P2P Supports New Bank Payment Methods for CAD. See the announcement for a list of all supported CAD banks. 
Binance Ecosystem Updates
33. Binance X Invests in Decentralized Finance Aggregator Furucombo. "We see Furucombo as a game-changer for DeFi. The service makes it easy for the layperson to leverage DeFi composability to string together sophisticated transactions. In particular, the service lowers the barrier to use flash loans, one of the more unique innovations in DeFi but previously only accessible to developers." Said Teck Chia, Head of Binance X.
34. Binance Academy newest articles:
35. Binance Research latest reports:
Promos and Community
36. ONGOING: EUR Trading Competition - 50,000 EUR to be won!
37. ONGOING: BRL Trading Competition - 80,000 BRL to Be Won!
38. ONGOING: REEF Trading Competition - $50,000 in REEF to Be Won!
39. ONGOING: Binance App Options Promotion - $30,000 in Cash Vouchers to Be Won!
40. ONGOING: PAXG Trading Competition - $50,000 in PAXG to Be Won!
41. COMPLETED: Collect & Win Promo for Fan Tokens and BLZ Trading Competition 
42. COMPLETED: Explore and Share Your #Binance2020
That's a wrap for the past week. Follow us on Twitter, Instagram, Facebook, and YouTube, and join our official Binance Telegram group to talk more with our community.