Binance Review,  Month 23: Growth Beyond Margins
2019-06-17
On Binance's Month 23 (May 15 to June 15, 2019), we provide a glimpse on how we seek to reinvent in the near future, thanks to growing community support for DEX and decisions that mean huge changes down the road.

The Big Story: Binance 2.0 - Blockchain Beyond Margins
It's been less than two months since we supported the launch of community-driven decentralized exchange Binance DEX. Some observers said that this will hugely disrupt the Binance ecosystem. While that has been correct, it's more accurate to say that DEX's ascendance is the first of many disruptions, which we'd rather call growth opportunities.
During the past month, Binance Launchpad concluded the token sale of Harmony, the first of its kind to launch as a BEP2 token on BNB Chain. The token's successful launch and subsequent airdrop on Binance DEX have contributed to the decentralized exchange's rise to the top in terms of trading volume. This is just one of the multiple catalysts for the current momentum that DEX enjoys, all thanks to a very supportive community behind the decentralized revolution, as well as the dozens of projects that support BNB Chain. Learn more about these projects' reasons for backing BNB Chain in this compilation.
We found that this momentum has increased the number of use cases for BNB by more than 50% in just two months, with more to come. You can now buy BNB using the British pound and the Euro through Binance Jersey and using Singaporean dollars through Binance Singapore. You can also buy BNB using credit cards from Visa and MasterCard worldwide. In addition, you can use BNB to book flights and hotels, and you can earn BNB as a reward for online shopping, special thanks to TravelbyBit and BitcoinRewards. Month by month, we're advancing the idea that crypto is meant to be used in daily life.
We'll even play a part in easing the public into the crypto future. Binance CFO Wei Zhou recently revealed that Binance will create new stablecoins on BNB Chain. We are currently testing a stablecoin pegged to British pounds, with plans to launch it in the future.
And, in a new innovative use case, Binance announced plans to launch tokens on BNB Chain that will be pegged to leading cryptocurrencies. This will start with a Bitcoin-pegged token that will launch soon. This particular arrangement will feature an on-chain proof of reserves mechanism that will use blockchain to make the basis for pegging Bitcoin publicly verifiable.
That's just one of the several plans we're looking into for the future of crypto. To highlight that there can be synergy between different trading preferences, Binance has launched a new initiative to list at least one project on the Binance platform each month over three months, selected from the projects currently trading on Binance DEX. Read here for more details.
Another such initiative is the upcoming Binance.US, which will provide trading services for users in the United States, one of the largest crypto markets in the world.
As for the other initiative that we've recently revealed -- margin trading on the Binance platform -- we've opened early access to this upcoming major feature to 1,000 people, with more roll-outs to come soon.
Each of these moves could mean that the Binance of today, and the crypto landscape by extension, will likely look so different from the Binance of tomorrow. Change is neither good or bad, but we believe that change informed by providing more choices to the people
In Month 23, we also added new listings, published research reports, held meetups globally, and more. Read below for the rest of the Binance Review, where we look back on more news and updates across the Binance ecosystem.
Exchange Updates
Listing Updates
* Binance listed Harmony, after a successful token sale on Binance Launchpad, and opened trading for ONE/BNB, ONE/BTC, ONE/USDT, ONE/TUSD, ONE/PAX, and ONE/USDC trading pairs.
* In addition, Binance listed Theta Fuel (TFUEL) and opened trading for TFUEL/BNB, TFUEL/BTC, TFUEL/USDT, TFUEL/TUSD, TFUEL/USDC, and TFUEL/PAX trading pairs.
* Binance also listed Fantom (FTM) and opened trading for FTM/BNB, FTM/BTC, FTM/USDT, FTM/TUSD, FTM/USDC, and FTM/PAX trading pairs.
* Meanwhile, Binance confirmed support for the token migration of Red Pulse Phoenix (PHX) token. This resulted in the activation of PHB/BNB, PHB/BTC, PHB/USDC, PHB/TUSD, and PHB/PAX trading pairs, as well as the delisting of the previous PHX/BNB, PHX/BTC, and PHX/ETH trading pairs.
* Binance also supported the token migrations of Blockmason (BCPT), Gifto (GTO) and Aeron (ARN) to BNB Chain.
* As of June 15, Binance has 155 cryptocurrencies available for trading on Binance, with 492 total trading pairs, after the addition of three new tokens and 23 new trading pairs, mitigated by the subtraction of 3 trading pairs in relation to the PHX token migration to PHB.
New Features
* Binance has started rolling out a revamp of its website, with better design, new features, and more. Click here to read about some of these changes, which will be offered to all Binancians in the coming days.
* As mentioned above, you can now buy BNB using your credit cards on the Binance website. Go to this page to buy BNB!
* Binance has also amended its terms of use as part of continuing compliance and security efforts. Some users may be required to furnish evidence showing that their account registrations are consistent with Binance's Terms of Use. Read more about this on the following announcement.
Across the Binance Ecosystem
Binance Labs, the investment arm of Binance, recently concluded Season 2 of its Incubation Program with a BUIDLers Day event for the 13 newest projects to graduate from the program. Throughout the program, 43 program mentors and 150+ strategic partners have helped the 41 BUIDLers across 4 continents to create blockchain solutions with huge potential. Get to know more about these 13 projects on this article.
Meanwhile, the Binance Labs Fellowship initiative has revealed information about its new fellows: HOPR, an incentivized private messaging protocol by Dr. Sebastian Bürgel from Validity Labs; Kitsune Wallet, an upgradeable on-chain wallet by Hadrien Croubois; and Knockturn Allee, a payment processor by Alexey Miroshkin (a.k.a. hashmap).
Binance Charity, the philanthropic arm of Binance, is aiming to provide a brighter future for 100,000 children in Uganda and beyond through the Binance for Children initiative. This will be done via signed a Memorandum of Understanding (MOU) with Safe Future, a non-governmental organization (NGO) initiated by Uganda's Minister for the Presidency. The Binance Charity team then met with Ugandan Vice President Edward Ssekandi, who thanked the team for their work in bringing transparency to charity. Read this article to know more about the Binance for Children initiative and donate your crypto to Binance Charity's projects to make a difference in the world.
Trust Wallet, the official crypto wallet app of Binance, has officially launched support for trading on Binance DEX, With this integration, you can trade directly with Binance DEX through Trust Wallet. Read here for more info.

Trust Wallet also added Zilliqa to its growing list of supported tokens and launched a public awareness campaign on keeping crypto wallets safe.
Binance Academy, Binance's educational arm, launched two new features for a more engaging learning experience and enriched its content base further with new entries on its article list and glossary.
- The new Glossary Quiz from Binance Academy measures your proficiency in blockchain and cryptocurrency terms you need to know. Choose from Beginner, Immediate, or Advanced levels.
- The new Audio Format for Binance Academy articles allows you to learn on the go, without needing to spend significant screentime to read articles on blockchain and crypto.
- New articles: What is Margin Trading?, Deep Dive Into the Binance DEX Match Engine, What Are Options Contracts?, Ichimoku Clouds Explained.
- New additions to the glossary: ASIC-resistant, block, block reward, break-even point (BEP), cloud, collateral, dead cat bounce, Decentralized Autonomous Organization (DAO), decentralized finance (DeFi), divergence, "fear, uncertainty, and doubt" (FUD), first-mover advantage (FMA), gas, gossip protocol, hard cap, layer 2, library, moon, node, orphan block, and paper wallet.
Binance Research has released the following publications during the past month:
- "The Evolution of Stablecoins," a report on the development of stablecoins, including the highly anticipated moves by Facebook and Samsung into blockchain.
- The "Latest Insights & Analytics" research booklet, a compilation of all industry-level reports made between March and May 2019, covering diverse topics such as stablecoins, prediction markets, crypto halvings, and more.
- "DeFi Series #1 - Decentralized Cryptoasset Lending & Borrowing," the first research report on a new series analyzing Decentralized Finance, also known as DeFi or Open Finance.
- Comprehensive reports on IoTeX, a decentralized network for the Internet of Things, and Zilliqa, a high-throughput smart contract processing platform. Read the team's insights on the project in this report.
Binance Info's Binance Podcast is churning out notable interviews with the movers and shakers of the blockchain industry, including:
- Binance Charity head Helen Hai
- Socios.com and Chillz CEO Alexandre Dreyfus
- Fundstrat Global Co-Founder Thomas Lee
Binance Podcast invites leaders, entrepreneurs, scholars and influencers from different industries as guests to talk about how blockchain technology affects their respective industries and how it's gonna change the world. Since its launch, Binance Podcast has gained 10,109 listens on Buzzsprout, 10,035 subscribers on Castbox, and 3,632 views on YouTube. Thank you very much for your continued support. Follow Binance Podcast on the following channels: iTunes, Spotify, Stitcher, YouTube, Castbox, and Buzzsprout.
Partnerships
As mentioned above, Binance is planning to launch a platform specifically catered to the United States, through a partnership with BAM Trading Services Inc. Binance will license its cutting-edge matching engine and wallet technologies to its US partner BAM to launch Binance.US.
Reaching Out to the Blockchain Community
Online Activities
To celebrate Binance's upcoming 2nd anniversary, we launched a video contest. Get a chance to win up to 200 BNB from a prize pool of 1000 BNB! Create a five-minute video that talks about the Binance ecosystem or milestones. Read the full instructions here.
As mentioned earlier, the Harmony trading airdrop on Binance DEX was concluded this past month, soon after its launch on the decentralized exchanged. Harmony also completed a reward program for Binance users who play their puzzle game Harmony Puzzle, with $30,000 on Harmony tokens being given away.
It's not just Harmony that conducted an airdrop on Binance DEX. Mithril also launched a trading airdrop on Binance DEX, with 14.5 million MITH being given away.
Binance Singapore is giving out 5 Singaporean dollars (SGD) to people who complete a total of 100 SGD in valid trading volume across any pair. Users can also invite their friends to get an additional 5 $SGD per referral when they hit the same volume. Join the referral program here.
Binance Jersey will continue to give a 50% discount on all trading fees until this year ends. Click here to register for Binance Jersey.
Trust Wallet just started a new weekly trend called BNBeer. The official crypto wallet app of Binance offered free beer money in the form of BNB to 20 lucky participants among those who downloaded the Trust Wallet app. This promo has inspired various social media interactions from other supportive blockchain startups that played along with the BNBeer concept.
Binance also completed the distribution of certain tokens for May. This includes NeoGas for NEO holders, Ontology Gas for Ontology holders, VTHO for VeChain holders, and Pundi X tokens.
Global Activities
The May 17 meeting in Manila, Philippines, featured a lot of sharing within the community about their best practices when it comes to trading in Binance.
The May 22 meeting in Seoul, South Korea, was for Binance Elite Investor League, a gathering of some of the most active crypto traders in the country.
The May 25 meetup in Chongqing, China, was a community gathering of Binance supporters, who bonded over blockchain and hotpot.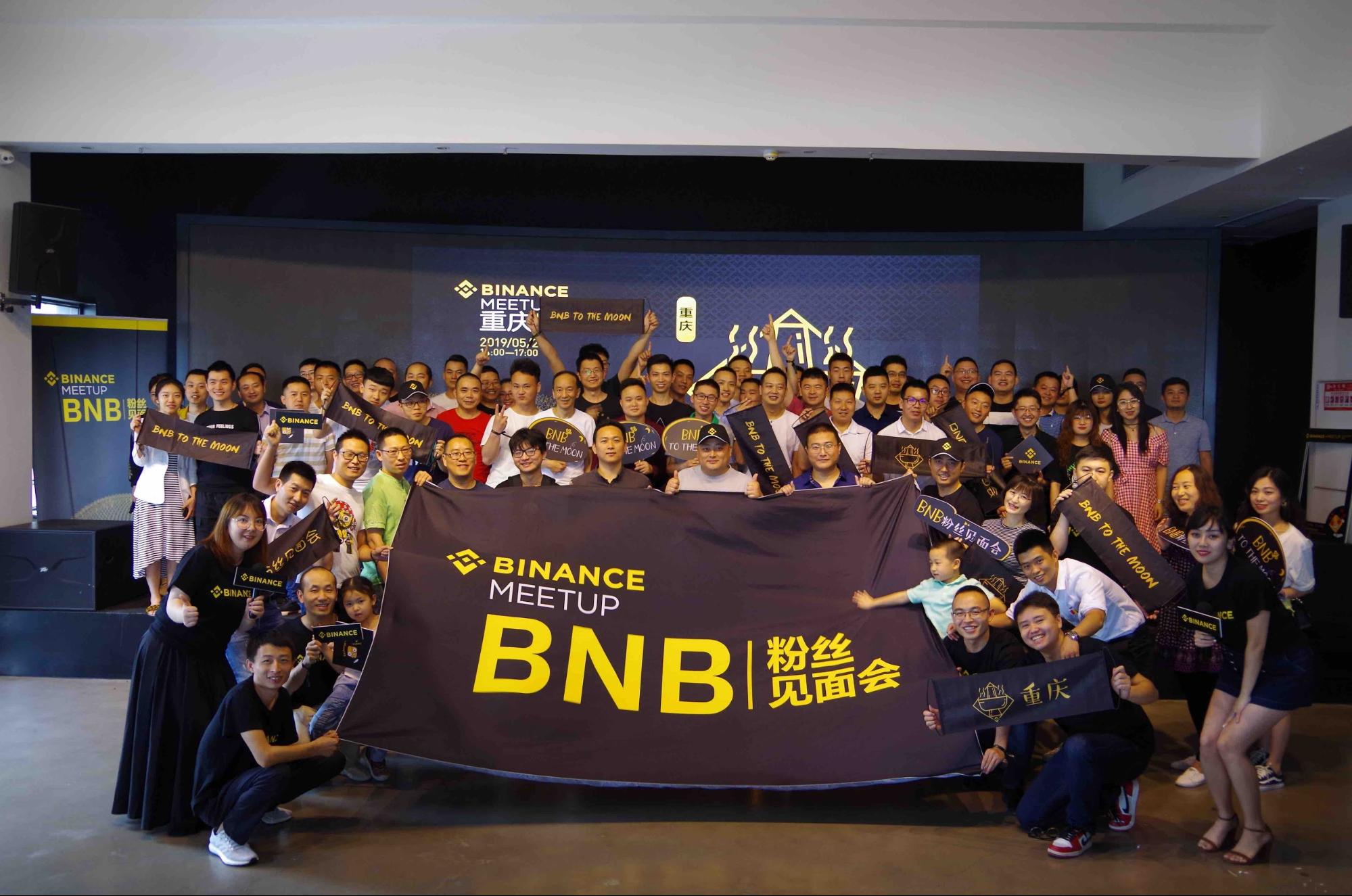 The meetup in Lagos, Nigeria, also held May 25, was the first in the country. Binance Charity's Athena Yu graced the event and shared how blockchain is shaping the future of Africa.
The Binance Angels-led meetup in Istanbul, Turkey, last May 29 was a celebration of both blockchain ecosystem and vibrant culture on a yacht off the city's coast. Check out the awesome video below to see a one-of-a-kind meetup.
The June 1 meetup in Hyderabad, India, was immediately followed by a June 2 meetup in Ahmedabad, India. This breakneck pace of blockchain-related gatherings across India shows the country's passion for blockchain technology.
The Binance meetup in Moscow, Russia, on June 4 was the biggest Binance meetup yet. Chief Growth Officer Ted Lin graced the event as special guest.
The meetup in Amsterdam, the Netherlands, also held on June 4, featured CFO Wei Zhou as special guest and focused on the convergence of blockchain and finance. Appearances like Ted's and Wei's on our global events further highlight Binance's commitment to our global communities.
Meanwhile, Binance held its first-ever meetup in Johannesburg, South Africa, on June 6. This community-led campaign was made possible by Binance Angels in the area.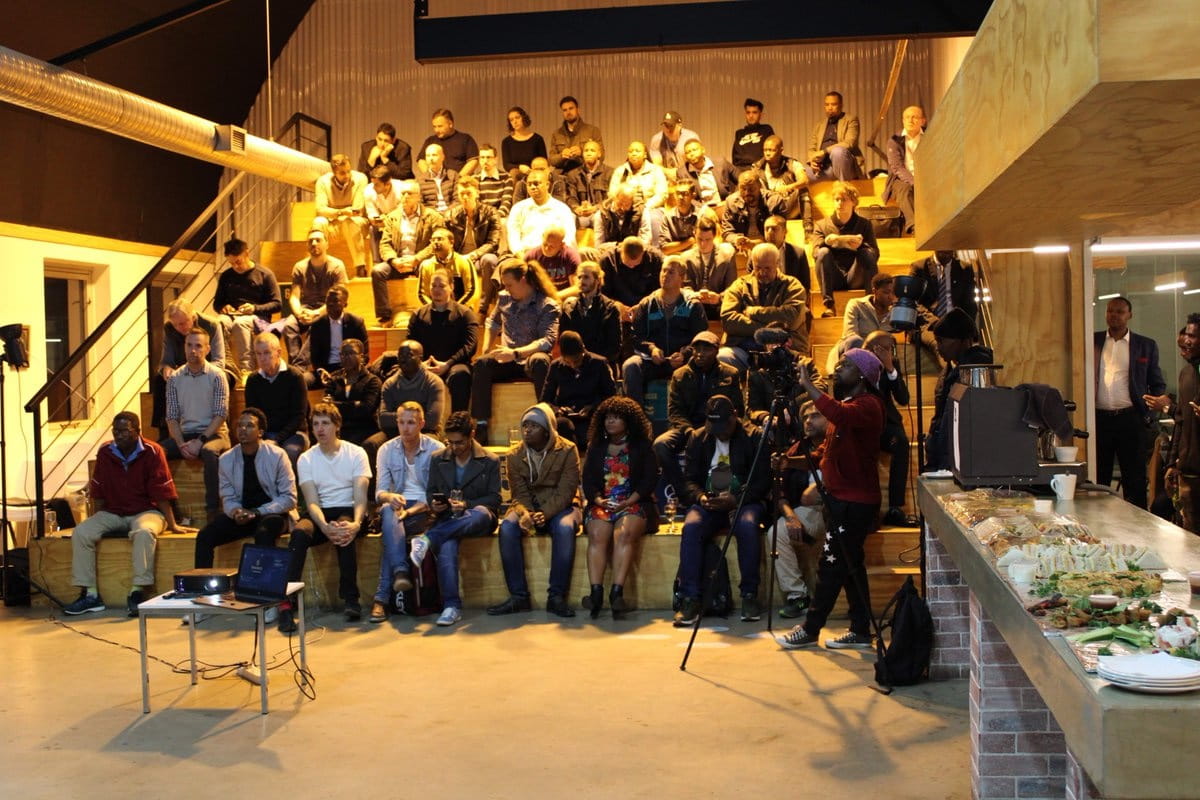 The June 12 meetup in Rimini, Italy, was a one-of-a-kind event, with sun, sand, summer, and beach volleyball converging to give our Italian Binancians a great time. Watch the highlight video of the event here.
The June 15 meetup in Xi'an, China, was well-attended by the Chinese community, with interactive discussions on blockchain, with the special participation of the Celer Network team.
The Binance Elite Investor League meetup in Ho Chi Minh City, Vietnam, also held June 15, extends the reach of the Binance VIP team to Southeast Asia, with attendees from 7 different countries and 8 different cities.
Thought Leadership
Binance CFO Wei Zhou revealed that Binance will create new stablecoins, starting with a token pegged to the British pound, during a panel discussion at Money 20/20 Europe. "BGBP, which we are currently testing and will launch in the future, is an effort to diversify the stablecoin assets offered in the ecosystem. In line with Binance's mission, we would like to provide users with more freedom of choice," Wei said.
Binance welcomed Gin Chao as its Strategy Officer. A former Vice President of Strategy and Corporate Development at the National Basketball Association and Director of Strategy at Dell, Chao joins Binance to oversee its global strategy, ranging from the Labs to strategic fiat-to-crypto gateways. "I'm looking forward to working with the team on building and providing sustainable blockchain-based services that accelerate cryptocurrency adoption and support our overall mission," he said.
Binance Co-Founder and CMO He Yi answered various questions in an interview with 499Block, a community focused on women in crypto. "As for vision, we hope that we can become the underlying system of the blockchain industry. In terms of values, we are always dedicated to one obligation, that is, protecting the users," she said in the extensive interview.
Binance Charity Executive Director Athena Yu was a distinguished speaker at the Lagos Blockchain, AI  & Digital Asset Conference, in Lagos, Nigeria. "Africa is not a follower any more in the fourth industrial revolution. Blockchain offers a golden opportunity for the bottom billion to live better lives through accessible finance," she said.
Binance Chief Growth Officer Ted Lin was a distinguished panelist at the Saint Petersburg International Economic Forum. "People can choose a centralized or decentralized exchange, either Binance.com or Binance DEX. We are not betting on one or another, we are betting on crypto adoption which means providing choices."
Ted was also a panelist at Crypto Compare Digital Asset Summit (left) and the Africa Tech Summits (right), both in London.
Meanwhile, read out latest informative topics on the Binance Blog:
* OTC Basics by Binance Trading. The official over-the-platform trading service of Binance explained the merits of OTC trading, especially for large-volume traders. Join Binance Trading's Telegram channel at https://t.me/BinanceOTC to see a list of authorized traders you can speak with for your OTC needs.
* History Will Remember the Value We Created: Why Crypto.com Donated 28,888 BNB to Binance Charity. This is the story of how Crypto.com, through co-founder Bobby Lee, was motivated to help improve thousands of children's lives with a generous 28,888 BNB donation, after an in-flight movie and a speech from CZ.
Media Coverage
* The Wall Street Journal investigates a new twist on crowdfunding for blockchain startups, and recognizes Binance's pioneering work on this new movement. Read more on the article "Crypto Startups Are Raising Money Again, With a Twist."
* Bloomberg was one of the first mainstream media outlets to report Binance's stablecoin plans, especially the statement from Binance CFO Wei Zhou. Read more on this article titled "Biggest Crypto Exchange Takes on Tether With Own Stablecoins."
* TechCrunch covered Binance's planned foray into margin trading in this article.
* Forbes published an article about the decentralized nature of Binance's operations, describing a team distributed across the globe and working across different time zones. Asked about this setup, Binance Charity Head Helen Hai said, "Part of our team spent a lot of time in Africa. Working on the ground with our end beneficiaries helped us to understand the needs and challenges better."
Please follow us on Instagram, Twitter, and Facebook to stay up-to-date with our latest announcements. Join our official Binance Telegram group to participate in discussions with our users, staff, and volunteers.