Binance Review,  Month 22: We Thank You
2019-05-17
We dedicate our recap of Month 22 (April 15 to May 15, 2019) to our community for their support and being the reason why we overcame challenges and reaching new milestones.
The Big Story: Humbled by Our Community's Support
Community. That's the central theme of Binance's activities for the 22nd month. This past month began with our 7th burn event for Binance Coin (BNB), during which Binance CEO Changpeng Zhao (CZ) revealed that US$15.6 million worth of BNB, or 829,888 BNB, was burned.
This month, Binance DEX, the decentralized exchange running on its native blockchain, Binance Chain, officially launched. This is credited to the Binance community who have helped bring our shared vision of decentralization closer to reality. We also thank the entire blockchain community for supporting this endeavor early on, from the wallets and exchanges that supported Binance Chain to the first blockchain projects that migrated to DEX.
In case you missed it, BNB is officially the native asset of Binance Chain. Follow Binance DEX on Twitter and join the Binance Chain community forum for the latest updates or to learn how to participate.
The Binance community has also enthusiastically joined us in supporting the projects and advocacies that we believe will make a difference. Binance Launchpad, the exclusive token launch platform of our exchange, completed the sale of Matic Network (MATIC) tokens. Special thanks to the 13,170 Binancians who participated in the sale, and congratulations to the 9,443 lottery winners.
For those who were unable to get MATIC tokens, we have a new project coming up on Launchpad: Harmony, a fully scalable and secure blockchain with key innovations in state sharding (secure staking & resharding with decentralized randomness) and in peer-to-peer networking.
We also like to thank some of the luminaries in the cryptocurrency world for supporting our advocacy of using blockchain for social good. To the blockchain influencers who agreed to be Binance Charity Foundation's (BCF) Binance for Children Ambassadors, we can't wait to see the development of our partnership for BCF's charitable causes. To the many people who continue to donate to BCF's projects, your goodwill goes a long way towards helping make lives better.
But most importantly, we are very grateful to our community for always standing by us throughout challenges that come our way. We thank you all for your patience, understanding and overwhelming support, from the moment we disclosed further details of the recent security incident to the day we resumed full operations. Our amazing community has motivated us even more to keep our heads down and focus on 'BUIDLing' more enriching services for every Binancian in the days to come. We thank you.
You can learn more on what's to come in the exciting future, from CZ's recent live AMA session, where he revealed some insight on margin trading and more. Read the transcript of that AMA here.
In Month 22, we also added new listings, published research reports, held meetups globally, and more. Read below for the rest of the Binance Review, where we look back on more news and updates across the Binance ecosystem.
Exchange Updates
Listing Updates
* Binance listed Cosmos (ATOM) and opened trading for ATOM/BNB, ATOM/BTC, and ATOM/USDT, ATOM/USDC, ATOM/PAX, and ATOM/TUSD trading pairs.
* In addition, Binance listed Matic Network (MATIC) days after its token sale on Binance Launchpad and opened trading for MATIC/BNB, MATIC/BTC, and MATIC/USDT trading pairs.
* Binance has also added the following trading pairs: MITH/USDT, ENJ/USDT, ETC/USDC, ETC/PAX, ETC/TUSD, BAT/USDC, BAT/PAX, and BAT/TUSD.
* Meanwhile, Binance confirmed support for the AE mainnet token swap, as well as the Loopring (LRC) smart contract upgrade.
* As of May 15, Binance has 152 cryptocurrencies available for trading on Binance, with 472 total trading pairs, after the addition of two new tokens and 17 new trading pairs.
New Features
* Binance performed a system upgrade that resulted in the resumption of all activities, including deposits, trading, and withdrawals, just a week after the stoppage of deposits and withdrawals on the platform. After the upgrade concluded, we provided VIP level ups and launched a 50,000 BNB giveaway.
* We have updated our Android Crypto Trading App and Windows PC client. You may now opt to authorize your login via scanning a QR code when switching from the Android App to the Windows PC Client.
* The newly updated Binance Android app (version 1.5.8.0) now lets users buy Bitcoin, Ethereum, Ripple, Litecoin, and Bitcoin Cash using their credit cards. Download the Binance Crypto trading app today!
Across the Binance Ecosystem
We welcome Binance Singapore to the Binance ecosystem. This newly-launched fiat-to-crypto platform allows users to buy Bitcoin in Singapore using Singaporean Dollars. Follow Binance Singapore on Twitter for more updates on upcoming features of this new site.
Binance DEX accomplished so much during its first month of mainnet operations. The community-led platform published a decentralized listing guide, announced the winners of its coding competition, and rolled out updates for the blockchain, Web wallet, and integration with Trust Wallet, as well as Korean language support. For more details, read their monthly roundup.
Speaking of Trust Wallet, the official crypto wallet app of Binance has officially launched support for Binance Chain. In addition, here are some more updates from the crypto wallet app:
* Added crypto wallet support for more cryptocurrencies, such as Cosmos, Dogecoin, Theta, Viacoin, Ontology, Qtum, and Groestlcoin. Notably, Cosmos will also support staking on the Trust Wallet app soon.
* A new feature called WalletConnect, an open protocol for connecting desktop DApps to mobile wallets using end-to-end encryption
Binance Academy, the educational arm of Binance, continues to help keep the blockchain community informed and educated. Academy released new content, such as:
* New lessons and videos on: Leased Proof of Stake Consensus Explained, Symmetric vs. Asymmetric Encryption, Blockchain Use Cases: The Internet of Things (IoT) [New Video Here], MACD Indicator Explained [New Video Here], What is PGP, What Are Forward and Futures Contracts [New Video Here], and Common Scams on Mobile Devices.
* New glossary entries: fill or kill order, flappening, flippening, mainnet, total supply, Vladimir club, bid-ask spread, Commodity Futures Trading Commission (CFTC), Hashed TimeLock Contract (HTLC), mainnet swap, wei, gas limit, issuance, liquidity, maximum supply, and sell wall.
In other educational endeavors, Binance Research released several new analysis reports:
* The Evolution of Stablecoins. How are fiat-backed stablecoins adapting their strategies to remain competitive?
* Return-Driven Cluster Analysis on Cryptoassets. What does cluster analysis reveal about Bitcoin, Ripple and other large digital assets?
* Litecoin's (LTC) Halving Scenarios in 2019. What are the implications for Litecoin's (and Bitcoin's) future decrease in block rewards?
* Cryptocurrency-focused reports on Tron (TRX), Cosmos Network (ATOM), and Harmony (ONE).
Binance Labs, the investment arm of Binance, goes full steam ahead with its incubation program. Now on its second season, the Binance Labs Incubation Program has attracted its fair share of mentors, including Ire Aderinokun, co-founder of BuyCoins, and Elad Verbin of Berlin Innovation VC. Binance has also revealed more information about the first fellow under its Binance Labs Fellowship initiative: Ironbelly.
Binance Info premiered the new Binance Podcast, where our Binance leaders discuss timely topics within the blockchain universe. Here are the two episodes launched so far:
* A stablecoin discussion between Binance CFO Wei Zhou and OTC Head Leslie Tam.
* An interview with Binance Charity Head Helen Hai on blockchain's role in shaping the future of charities.
Binance Charity, the philanthropic arm of Binance, had a very eventful month, opened up a new donation channel for rebuilding the Notre Dame Cathedral following the recent fire that damaged the edifice. Go to this channel to donate to this cause.
Binance.JE, the fiat-to-crypto platform serving European and UK markets, has opened up its API to the public. Click here to see all the resources you need for API.
Partnerships
Binance entered into a compliance and security partnership with blockchain analytics startup Elliptic. This new collaboration makes Elliptic the newest addition to Binance's growing list of compliance partners, after Refinitiv, Chainalysis, IdentityMind, and CipherTrace.
Meanwhile, here's a list of the numerous partnerships, migrations, and collaborations that Binance DEX and Binance Chain secured since mainnet launch.
- Mithril, Aeron, BOLT, MyWish, Pledgecamp, Ankr, Blockmason, BLOC Platform, Atomic Wallet, Red Pulse, CanYa, and Gifto have migrated to Binance Chain.
- Wallets such as Trust Wallet, Zelcore, Enjin, Magnum Wallet, Coinomi, CoolWallet, Infinito Wallet, and more have launched support for Binance Chain
- Mithril, Spendcoin, and ChangeNOW are listed on Binance DEX.
Reaching Out to the Blockchain Community
Online Activities
Binance launched a post-system upgrade promotion, providing VIP level ups a 50,000 BNB giveaway. Here are the details:* All users with valid trading volume of 1 BTC or more (buy & sells) across any trading pairs on Binance during the promotion period will split a pool of 50,000 BNB. Promo runs from May 15 to May 18.
* All existing VIP users enjoy a one VIP level up on their current VIP level from May 15 to May 22.
To celebrate World Password Day, we launched the Binance Challenge, a contest where participants have to guess the password to a wallet that contained $250 in BNB. Participants were given clues on our social media accounts every 2 hours
Binance concluded a couple of promos related to Matic Network.* A tester reward program open to Binance users, with a total $60,000 worth of MATIC token being given away.
* A #MaticLottery promo on Twitter, where 10 randomly selected winners received $300 worth of MATIC tokens each.
Meanwhile, Binance.je ran a Europe Day contest and gave away a limited-edition Binance football shirt.
Binance also completed the distribution of certain tokens for April. This includes NeoGas for NEO holders, Ontology Gas for Ontology holders, VTHO for VeChain holders, and Pundi X tokens. In addition, we concluded the monthly distribution of BTT for May.
Global Activities
Meanwhile, the April 17 meetup in Paris, France, marks a pleasant end of Paris Blockchain Week a lively French community. CFO Wei Zhou and Binance Labs Director Teck Chia also participated in the meetup as special guests.
The April 20 meetup in Wuhan, China, was well-attended, where Binancians enjoyed networking and learned about the latest news from Binance.
On April 24, we hosted the 2nd Binance Elite Investor Meetup. The private event gathered industry leaders and traders, discussing latest cryptocurrency market trends and tactics to build trading infrastructure. Please email vip@binance.com for future events.
The April 26 meetup in Manila, Philippines, featured a debate between thought leaders of the local crypto scene on the pros and cons of the decentralization. View the highlight video of that meetup here.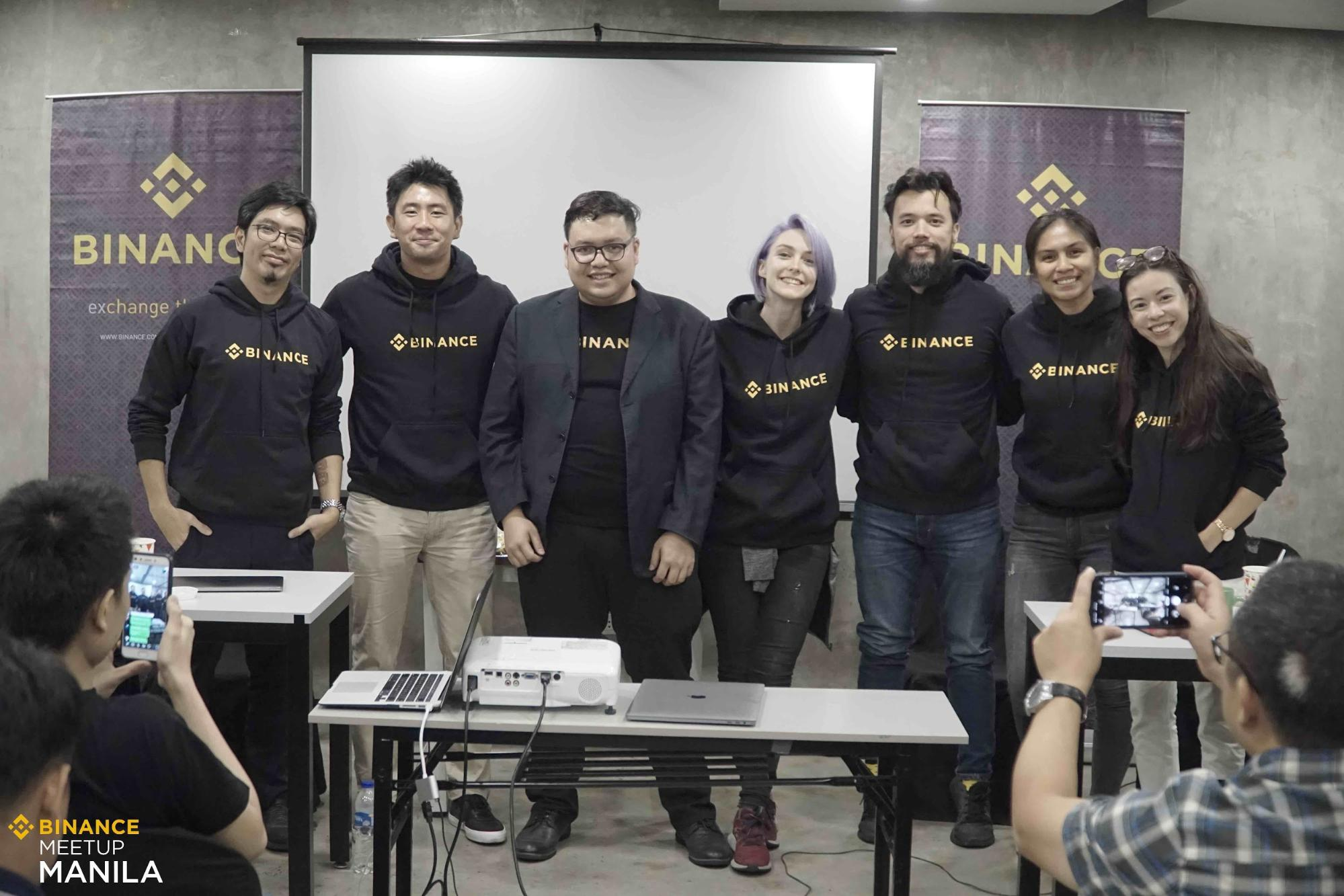 On May 10, Binance hosted a meetup in Guangzhou, China, where we addressed several Binancians' questions about recent events and future plans within the Binance ecosystem.
On May 15, Binance held a meetup in Seoul, South Korea, during which CFO Wei Zhou addressed questions from the crowd.
On May 15, Binance Labs held a meetup for the 35 companies in its portfolio, including some of the blockchain world's BUIDLers. Special thanks to CertiK for hosting this meetup.
Thought Leadership
Binance CEO Changpeng "CZ" Zhao represented the blockchain industry during his keynote presentation at the Asian Leadership Conference in Seoul, South Korea.
Wei Zhou was also at the Asian Leadership Conference, taking part in a panel discussion on the trend of traditional finance institution entering blockchain space (while wearing Binance socks).
The Binance CFO was also one of the distinguished thought leaders during Paris Blockchain Week. "Binance is a successful case study of fundraising on the blockchain," Wei said during the event organized by the French Ministry of Economics and Finance.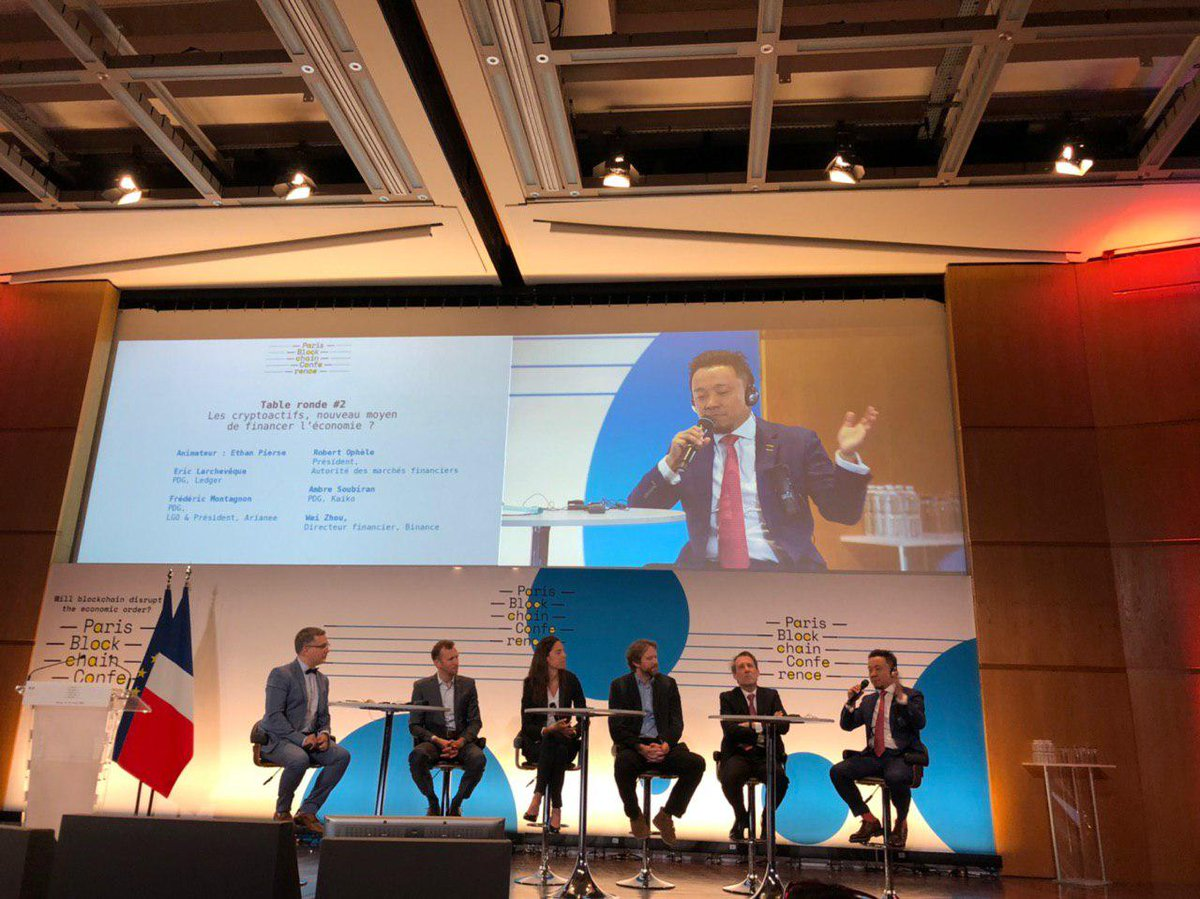 Binance Labs Director Flora Sun spoke about crypto investment at the TNW Conference in Amsterdam, The Netherlands.
Binance OTC Head Leslie Tam gave a keynote speech at the 2019 Blockchain Investors Summit in Seoul, South Korea. "Binance's goal is to be the infrastructure services provider for the blockchain ecosystem. Binance Trading aims to achieve this by providing over the counter liquidity across the broader crypto space, including altcoins," he said.
Binance Chief Growth Officer Ted Lin spoke at World Blockchain Summit in Taipei on crypto adoption and how it enables the freedom of money. He also presented about Binance Charity at the DLT101 blockchain conference in Taipei.
Also during DLT101, Binance Charity Director Jill Ni participated in a panel that discusses transparency on the blockchain.
Binance Labs Head Ella Zhang discussed the potential of blockchain technology at Blockchain Life Asia in Singapore.
Binance Labs Director Christy Choi represented Binance's investment arm at TalentLand 2019, the biggest crypto event in Mexico.
Trust Wallet Founder Viktor Radchenko was the special guest of The Bad Crypto Podcast, where he was extensively interviewed on Trust Wallet, Binance, and massive crypto adoption.
Meanwhile, read out latest thought informative topics on the Binance Blog:
* 14 Tips to Enhance Security for Your Binance Account. As Binancians, we must work together to keep our ecosystem SAFU. To help facilitate this, we've compiled some important security habits to practice and keep in mind.
* Philippines: An Internet-Savvy Hotbed for Crypto BUIDLing. On this newest installment of the #BinanceIsGlobal series, we talk about the Philippines, an archipelago nation that is quietly playing a huge role in the crypto revolution.
* How Two Ugandans Help in Making Crypto a Part of Daily Life [Part 1] | [Part 2]. "Securing food for an active life throughout the year — what Binance Lunch for Children is doing — is one of the most critical things in the fight against poverty." - Dr. James Kimera Ssekiwanuka, founder of Jolly Mercy Learning Centre.
Media Coverage
* Forbes covers Binance Chain's plans and future in this article: What's Binance Chain Trying To Accomplish And Why Is It Pulling Projects From Other Platforms?
* Decrypt takes a look at how successful Binance Charity's projects have been in this article: How successful has Binance's charity drive been?
* Major French media outlet Le Figaro covered Binance's participation at Paris Blockchain Week: Binance, la fulgurante ascension du géant des cryptomonnaies.
Please follow us on Instagram, Twitter, and Facebook to stay up-to-date with our latest announcements. Join our official Binance Telegram group to participate in discussions with our users, staff, and volunteers. Speaking of Facebook…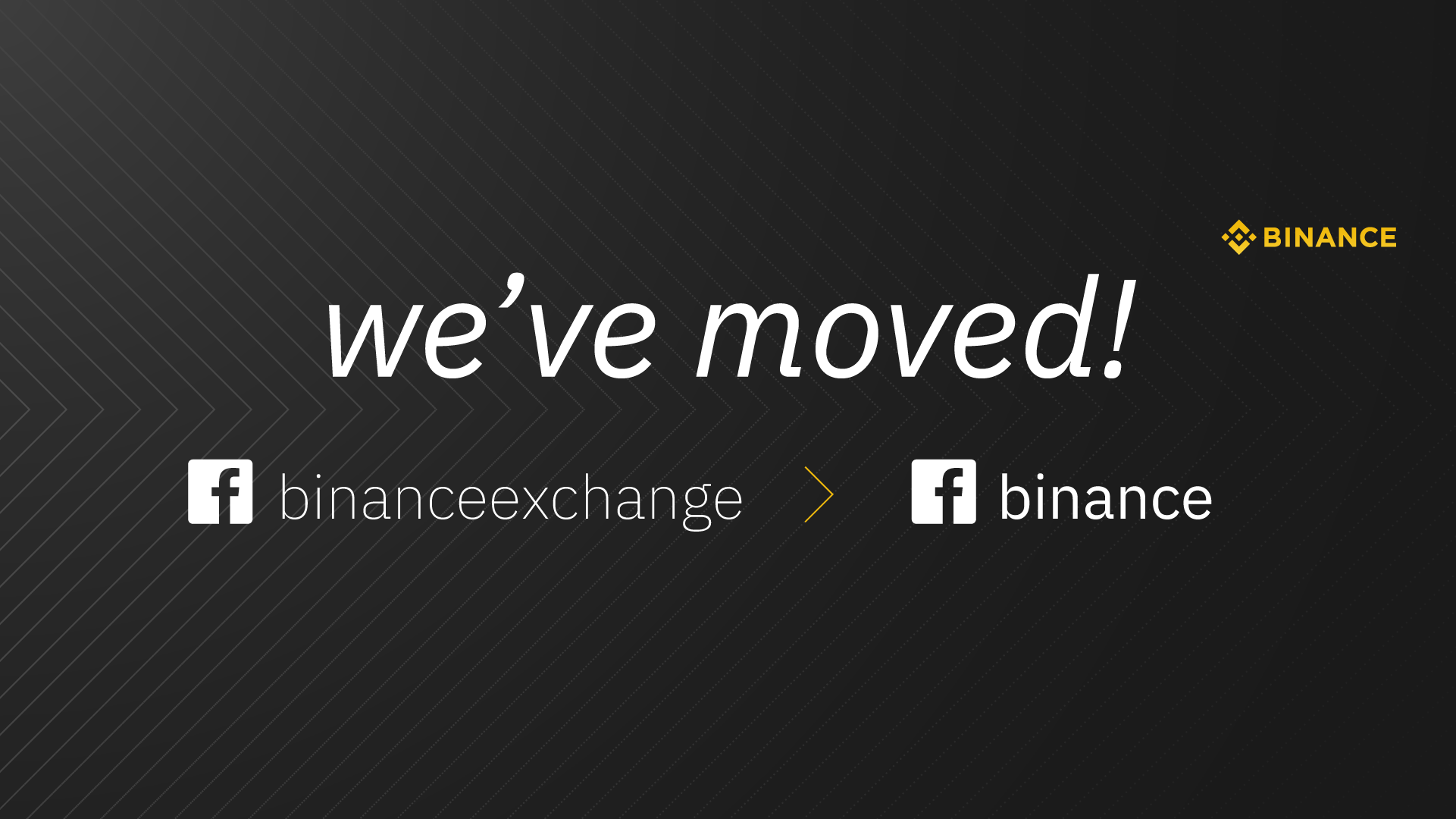 Please be informed that the official Facebook page of Binance is now facebook.com/binance.