Binance Labs: BUIDLing Argentina's Crypto Future
2019-03-06
Cryptocurrency is going mainstream in Argentina, a country where you can top up your train credits with Bitcoin. On this latest installment of the #BinanceIsGlobal series, find out how the Government of Argentina is supporting Binance Labs as part of the blockchain revolution in the country.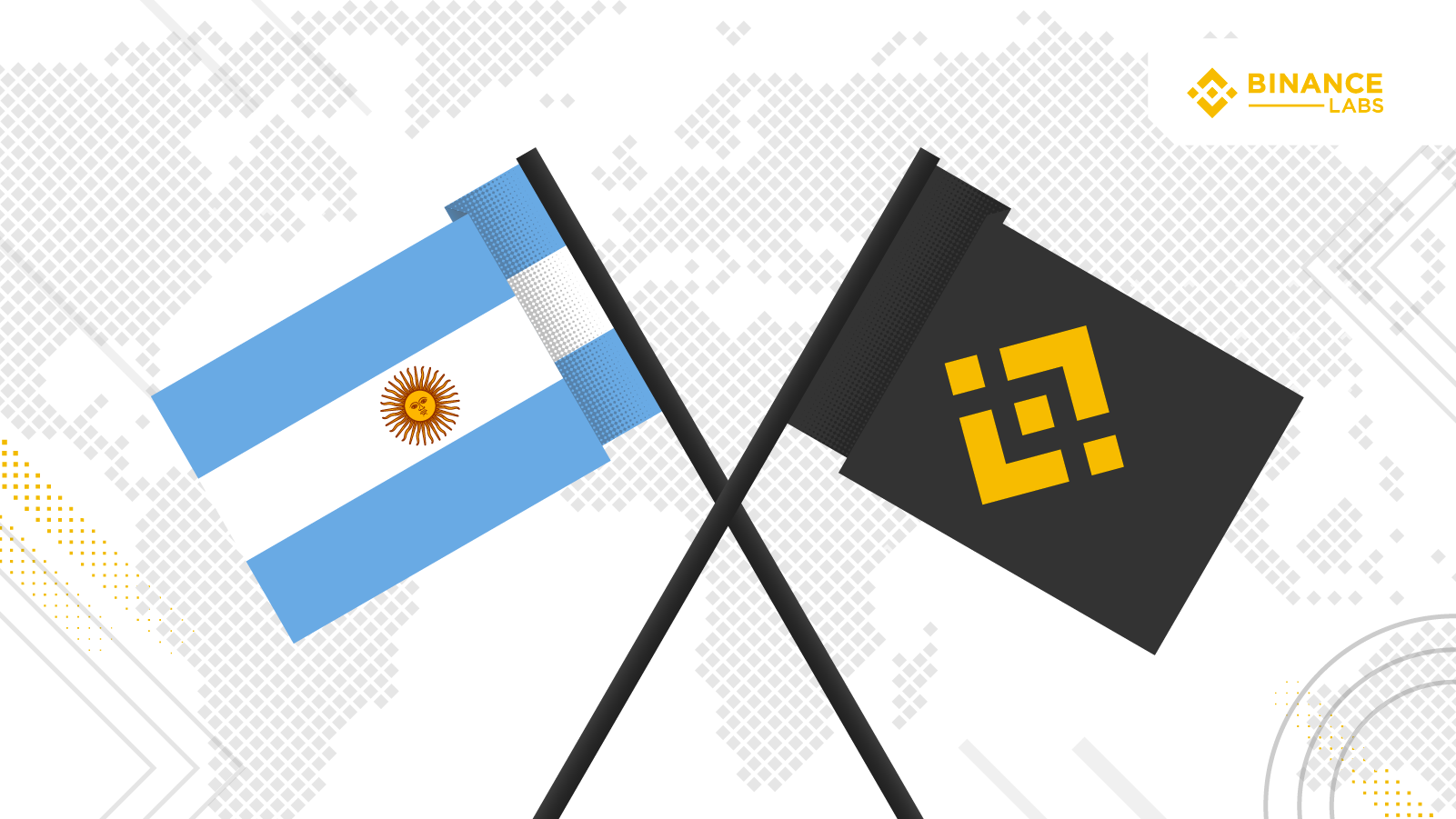 Argentina is on the verge of massive blockchain adoption, from ATMs to transit systems, and Binance Labs is among its foremost supporters. The Latin American country's openness to cryptocurrencies is recently highlighted by the state public transport card's move to accept the use of Bitcoins for card top-ups. Moves like these have given the country a unique opportunity to be at the forefront of blockchain adoption.
In this article, we take a look at how the third-biggest economy in Latin America is embracing Bitcoin, and how Binance Labs is positioning itself in terms of BUIDLing blockchain technology in the country.
What Drives Argentina to Cryptocurrencies?
Argentina, a nation of about 44 million people, has experienced economic adversity this past year. The economy fell into a recession, with the Argentine peso losing half of its value and inflation hitting 31.2%. A combination of high foreign-currency debt, capital flight, and currency runs resulted in measures that call for fiscal tightening, according to a report by the Organisation for Economic Co-operation and Development. Presidential elections set for this year are expected to add a layer of volatility to the situation.
The economic situation has played into the country's approach to blockchain technologies. More Argentines have started moving away from the local currency and to Bitcoin, according to Seeking Alpha.
Cryptocurrency ATMs and Trains in Argentina
Right now, about 260 merchants in Argentina, including 190 in the nation's capital Buenos Aires, accept cryptocurrency payments, according to CoinMap. The country has eight Bitcoin ATMs, the second-most in the region (after Colombia, which has 40), according to Coin ATM Radar.
Even before the crypto bull run of 2017 and the subsequent bear run of 2018, Argentina is pushing for Bitcoin adoption. As early as 2014, Argentines were able to buy small amounts of Bitcoin from about 8,000 convenience stores in the countries.
Various entities, including startups, established companies, and government bodies, have driven the more recent crypto adoption drive in Argentina. In May 2018, Banco Masventas (BMV) allowed clients to use Bitcoin for international payments and even went as far as declaring that it is moving out of the SWIFT network commonly used by international banks.
Since then, at least two companies have pushed for adding Bitcoin ATMs in the country. Athena Bitcoin has installed eight such ATMs in 2018, with plans to add two or three more early this year. Meanwhile, Oddysey Group revealed plans to install up to 1,600 Bitcoin ATMs by 2019, but has since backtracked its projections.
(For our Argentine Binancians, Binance also offers a new feature to buy cryptocurrencies using credit card on our platform.)
Cryptocurrency adoption in Argentina is expected to increase in the coming months, as state public transport card SUBE now accepts Bitcoin payments to replenish card balances. More than seven million people in 37 locations across Argentina use the SUBE card to pay for train, bus, and subway fares.
It is reasonable to project that more cryptocurrency-related opportunities are opening up in Argentina. This is where Binance Labs helps in supporting such endeavors.
Binance Labs: Powering Argentina's Next Blockchain Gamechangers
Argentina is home to some of the most promising Binance communities in the world, and we've made sure to make the country an integral part of our global expansion plan. In 2018, we held meetups in Cordoba and Buenos Aires, with Binance Labs Head Ella Zhang and Director Ling Zhang meeting entrepreneurs and joining the judges panel at a local hackathon. During these events, we were excited to meet many individuals and groups who are doing interesting work in the world of blockchain.
As a result, Buenos Aires was selected as the regional hub for the Binance Labs Incubation Program this year for Latin America. The program, which will begin its second season in March 2019, recognizes Argentina's role in lighting the way for blockchain and cryptocurrency adoption in the region.
Recently, we were thrilled to announce that Argentina's Ministry of Production and Labor will begin supporting Binance Labs: The government agency's Accelerator Program has offered a grant of up to US$50,000 on every project that Binance Labs invests in. This arrangement is valid for 3-10 projects per year. With this deal, the Argentine government will be Binance Labs' partner in investments being made in blockchain-related projects in the country.
We look forward to sharing more about the blockchain projects and developments in Argentina that Binance Labs will support soon. For more details about this collaboration, read our official statement below.
Government of Argentina to Support Blockchain Projects from Binance Labs, LatamEx via Founders Lab
Argentina, one of the biggest economies in Latin America, is embracing bitcoin and investing in early-stage blockchain developer teams in the country.
BUENOS AIRES––March 6, 2019––Argentina's Ministry of Production and Labour has committed to match the investment up to US$50,000 for every Argentine blockchain project that receives funding from Binance Labs, the venture arm of cryptocurrency exchange powerhouse Binance, and Founders Lab, the Argentine local blockchain Accelerator. For a four-year term, the Argentine government will match investments from Binance Labs and LatamEx, via Founders Labs, in up to 10 blockchain projects each year.
Granted through the Ministry's Accelerator Program, the investment matching agreement was formed after Binance Labs selected Buenos Aires as the Latin American hub for Season 2 of the Binance Labs Incubation Program. By supporting blockchain developers in Argentina and globally, Binance Labs is furthering blockchain development and entrepreneurship to build the ecosystem. The ministry is grateful for Binance Labs' continued endeavors in Argentina.
"Argentina is at the forefront of blockchain adoption and we've witnessed how it's becoming home to some very passionate blockchain communities during our trip there," said Ella Zhang, Head of Binance Labs. "Our mission at Binance Labs is to realize the full potential of blockchain technologies. To that end, we are very excited to support blockchain projects, entrepreneurs and developers through our Buenos Aires chapter, to advise and mentor them, to find product-market fit, and provide them with in-time access to global blockchain technology development to solve local problems."
''Latin America presents one of the most attractive markets for blockchain adoption and real use cases and Argentina is leading the way by serving as the market-opening gateway,'' said Pablo Orlando, Founder & CEO of LatamEx and Founders Lab. ''Argentina, being hub to some of the best projects and entrepreneurs in the region will benefit tremendously from an ecosystem like Binance. I am confident the projects under the Binance Labs incubation program will contribute significantly to the the blockchain community worldwide.''
Through a collaboration with Founders Lab, the only blockchain accelerator to be granted one of the Argentine government's 10 Accelerator Licenses, Binance Labs will host a 10-week incubation program for blockchain startups in Buenos Aires, one of the six cities exclusively selected as the program's regional hub. As the venture arm of Binance, the largest cryptocurrency exchange by trading volume, Binance Labs invests in early-stage blockchain developer teams through incubation, direct investments and limited partnerships.
The Binance Labs Incubation Program Season 2, which begins in March 2019, recognizes Argentina's role in lighting the way for blockchain and cryptocurrency adoption in the region, with regional chapters in Buenos Aires, San Francisco, Berlin, Lagos, Singapore and Hong Kong. Learn more at https://www.binancelabs.co/.
About Binance Labs
Binance Labs is an infrastructure impact fund and an initiative launched by Binance to incubate, invest in, and empower blockchain and cryptocurrency entrepreneurs, projects, and communities. The mission of Binance Labs is to solve the problems that matter most to the ecosystem and change the world for the better. Learn more about Binance Labs at https://labs.binance.com/.
About Founders Lab
Founders Lab is a business accelerator for early-stage Argentinian startup companies. Founders Lab's  goals are to prepare emerging technology blockchain-based companies, to develop strategic alliances with International Corporations and Ventures, that will enable them to grow globally into new markets faster.