Binance 2019: Year in Review
In this blog, we cover Binance by-the-numbers, plus a timeline of major events.
To fully grasp how much we have grown this year, here is our recap of 2019 in a nutshell. 
In 2019, we… 
1. Maintained our lead as the world's foremost cryptocurrency exchange:
US$2,852,591,354 average daily trading volume

15,000,000+ Binance users worldwide

180+ countries and regions where Binance are based

40+ countries where the Binance team is operating

184 tokens listed on Binance (up from 151 to start the year)

591 trading pairs on Binance (up from 396 to start the year)

16 total languages supported on the Binance.com

8,875,322 USDT worth of more than 200 types of tokens retrieved by Binance Support Team for thousands of users
---
2. Increased the utility of BNB, one use case at a time:
5,321,482 BNB (US$207,338,000) burned (up from $120,000,000 worth of BNB at the end of 2018)

1,000,000+ users holding BNB

40% increase in the average number of daily BNB-holding users for 2019 compared that of 2018

180+ known use cases of BNB, up from 42 last year.
---
3. Introduced new financial instruments and brought more value to users:
2,710,000,000 USDT record-high 24-hour trading volume on Binance Futures

99,090,000,000 USDT total trading volume on Binance Futures

29 cryptocurrencies available for Margin Trading on Binance

56 total Margin Trading pairs

65 lending products offered on Binance Lending

16 cryptocurrencies featured on Binance Lending

15 total tokens supported on Binance Staking (13 ongoing, 2 recently concluded)
---
4. Spearheaded global blockchain adoption with more ways to convert fiat to crypto:
---
5. Advanced the freedom of money with a decentralized ecosystem
---
6. Provided the best possible platform for blockchain startups prepared for liftoff
11 successful token sale launches on Binance Launchpad 

US$56,000,000 total amount of raised funds 

1,725,747 total claimed tickets 

311,583 total winning tickets
---
7. Enhanced the blockchain community and overall human life
2,607 global outstanding developers on Binance X

50+ projects supported by Binance X's fellowship program

21 blockchain projects supported by Binance Labs

14 blockchain startups revealed publicly on Binance Labs portfolio (+3 from last year)

US$3,076,215 in donations raised at the Binance Charity portal (from US$576,798 to start the year)

100,000+ beneficiaries
---
8. Drove broader education and analysis of the blockchain universe
854 articles on Binance Academy (up from 726 to start the year)

240 glossary terms  

17 languages supported 

57 high-quality educational videos on YouTube

66 new reports published by Binance Research for 2019 

38 comprehensive reports on cryptocurrencies

28 in-depth industry studies and secondary market reports

1,323 coins indexed on Binance Info

32 podcasts and minipods launched by Binance Podcast since its launch
---
9. Spotted blockchain game-changers and backed them to reach new heights
5 direct acquisitions and strategic investments made in 2019 (up from 2 in 2018): Jex, Dapp Review, WazirX, Mars Finance, FTX

1,000,000+ downloads for Trust Wallet, Binance's first acquisition (up from 500,000 as of 2018)

30+ blockchains integrated by Trust Wallet in 2019 (up from 1 as of 2018)

100,000+ different total assets supported as ERC20, BEP2, TRC10 and ERC721 tokens on Trust Wallet. This includes staking support for ERC20, BEP2, TRC10 Tezos, Tron, and Cosmos tokens.

1,000,000+ flight and hotel bookings offered on TravelbyBit, Binance's first strategic investment
---
10. Shared personal moments with the global community 
159 Binance meetups hosted in 90 cities around the globe and covered 18,000+ users 

66 global blockchain conferences where Binance leaders participated as key speakers this year

184 Binance Angels, our Binance community volunteers around the world (up from just 96 last year)
Curious to know when we hit each milestone in 2019? Read on for more highlights!
Binance 2019 Timeline
January
Jan. 3 - Binance Launchpad Reveals New Projects. The token sale platform of Binance disclosed plans to conduct "about one new token launch every month in 2019," starting with BitTorrent and Fetch.AI.
Jan. 16 - Binance Jersey Launches. This fiat-to-crypto exchange platform offers fiat-to-crypto trading, using the Euro (EUR) and British Pound (GBP). This would be the first of our several moves for the greater crypto adoption through fiat solutions.
Jan. 19 - Binance hosts Binance Blockchain Week in Singapore. The first major blockchain event hosted by Binance included the SAFU Hackathon, Binance Conference, and more, uniting hundreds of crypto leaders and thousands of attendees.
Jan. 24 - Trust Wallet becomes multi-blockchain. The leading crypto wallet app evolved to its version 2.0, with the vision of integrating all the major blockchains in the world. 
Jan. 31 - Binance enables debit and credit card payments through Simplex. We have enabled people to use card payments to be able to get cryptocurrency and jumpstart their blockchain adoption.
February
Feb. 6 - BNB ranks top 10 by market capitalization.
Feb. 20 - BNB Chain testnet is released. The community-led and Binance-initiated blockchain for token asset transfers launched its test version. This is the start of Binance's gradual shift towards supporting decentralization.
Feb. 22 - Binance Charity launches the Lunch for Children Program. This is the first of the charity foundation's several projects aimed at using blockchain to improve the lives of children worldwide.
March
Mar. 12 - Binance Labs Fellowship reveals inaugural fellows. The new initiative from Binance Labs supports developers and researchers in creating free and open-source projects, enhancing Labs' role as a primary backer of blockchain talent.
Mar. 20 - Binance Lite Australia launches. The third Binance-branded fiat-to-crypto platform after Binance Uganda and Binance Jersey, this platform is the easiest way to buy Bitcoin with cash in Australia, through a network of 1,300+ retail points.
Mar. 24 - Binance Launchpad shifts to lottery format. The shift from the first-come, first-served model has opened up the opportunities granted by the platform to even more people.
April
Apr. 23 - BNB Chain, DEX launch. The anticipated blockchain that serves as the backbone of Binance technology and the featured decentralized exchange that runs on top of that blockchain, went live that day.
Apr. 23 - BNB becomes BNB Chain's native asset. With the launch of BNB Chain, BNB has turned into a native token, harnessing the blockchain's top-notch speed and performance to support its ever-growing use case.
May
May 1 - Binance Podcast launches. This new podcast series provides a new avenue for public information about the latest trends and movements in the blockchain universe, as well as Binance's role in it.
May 7 - Binance overcomes biggest challenge yet. We'll forever be grateful for your unwavering support after we revealed a security breach that has motivated us to further strengthen our security and showed how our SAFU fund was able to ensure that none of our users lose their funds in the end.
May 31 - Binance Charity, Uganda's Safe Future sign MOU to aid 100,000 children. Through this, Uganda's government, through the NGO Safe Future, committed  its support for the Binance for Children initiative.
June
Jun. 4 - Trust Wallet integrates Binance DEX trading. As one of the several projects that supported Binance DEX just a month after its launch, Trust Wallet lets its users access Binance DEX without frills from the app.
Jun. 5 - 13 startups graduate from Binance Labs Incubation Program Season 2. We're constantly on the lookout for the most promising startups in the blockchain scene. The newest batch has received mentoring and networking support from Binance.
Jun. 13 - Binance 2.0 website revamp. This major revamp of the Binance web interface caters to numerous suggestions of the community and sets up the platform for the various new features lined up for launch in the months ahead.
Jun. 13 - Binance launches community listing program. Through this program, we encouraged blockchain projects to list on Binance DEX, by offering popular projects the chance to be listed on Binance.com.
Jun. 17 - Binance issues BTC-pegged token BNB Chain. Showcasing another innovative use of BNB Chain, Binance issued BTCB, a BEP-2 token whose value is pegged to BTC, allowing Binance DEX to add BTC pairs by proxy.
July
Jul. 10 - Binance Singapore formally launches. Officially introduced after a soft launch in April, the Singaporean fiat-to-crypto platform is powered by Binance, with the support of Vertex Ventures.
Jul. 11 -  Margin Trading launches. This long-anticipated feature allows crypto traders to gain access to leveraged trading features, on par with what's offered on traditional markets.
Jul. 13 - BNB reaches rank no. 6 by market capitalization. This is the highest rank reached so far by the utility token.
Jul. 14 - Binance celebrates 2nd anniversary. "It was a decentralized celebration, with teams around the world holding dinners wherever they are," Binance CEO CZ said in his message for the event.
Jul. 15 - Binance Charity distributes Pink Care Token. Following the creation of the Pink Care Token alliance by 47 blockchain projects, our charity arm distributed 1,100 of these tokens to 1,100 girls in Uganda, for buying 1,100 reusable sanitary pads.
Jul. 18 - Binance distributes newly-discovered staking rewards from XLM. This shows our commitment to allocate the rewards that Binancians are entitled to for holding certain crypto. This incident will lead to the formal creation of the Binance Staking platform.
Jul. 24 - Trust Wallet features multi-DEX support. The trusted crypto wallet app supports Binance DEX (BEP2 tokens) and Kyber Network (ERC20 tokens) for decentralized token exchange.
Jul. 26 - Introducing Binance Trading. Binance started offering its over-the-counter service back in January, which has since been rebranded into Binance Trading, our unit specializing in corporate account services.
August
Aug. 15 - Binance Academy's first anniversary. Around 3,000,000 people spent 3,932,114 minutes (or 7.48 years) to learn about blockchain on Binance Academy.
Aug. 19 - Revamped Binance iOS app listed on the App Store. We've revamped the Binance app for iOS to meet the App Store's stringent standards. 
Aug. 19 - Binance launches Venus Project. We revealed our plans to initiate an open blockchain project. This is an initiative to develop localized stablecoins and digital assets pegged to fiat currencies across the globe.
Aug. 22 - Binance.com adds OCO order type. This one-cancels-the-other order type is one of the most-requested features of our spot exchange. This is just one of the first steps in our mission to fulfill more of that our users want.
Aug. 26 - Binance Lending goes online. This new product allows people to passively grow their crypto holdings, while serving as the natural funding source for margin traders on Binance.com.
Aug. 27 - Binance Referral Program 2.0. With the relaunch of our referral program, users can earn up to 40% commission, and they can also share some of their earnings, so that both the inviter and his or her friend can benefit.
Aug. 29 - Binance X launches. "A developer typically comes to a new platform to learn how to build on the various products, find other developers to collaborate with, and get help on growing their project. We want to service those specific needs: Learn, Collaborate and Grow," according to the developer-focused initiative.
September
Sep. 2 - Binance acquires JEX, launches two Futures testnets. After acquiring the crypto derivatives platform to bolster our efforts in the space, we launched not one but two testnets to fast-track the official launch of our Futures platform.
Sep. 6 - Binance introduces BUSD. Created in partnership with Paxos, this US dollar-pegged stablecoin on the BNB Chain also has the approval of the New York State Department of Financial Services (NYDFS). 
Sep. 13 - Binance Futures launches. One of the most anticipated launches in the crypto space in 2019 is Binance's entry into the crypto futures markets. We launched a BTCUSDT Futures product, powered by Binance's powerful matching engine, and worked our way to growing it fast.
Sep. 17 - Binance invests in Mars Finance, The strategic investment values the Chinese crypto data company at about $200 million. At this point, Binance has announced more major acquisitions and investments in a month than the past two years combined. And there's still more to come for this year. 
Sep. 18 - Binance.US goes live. Our US fiat partner opened up for registrations, with a robust lineup of USD-to-crypto trading pairs. Powered by Binance technology, Binance.US has gone on to become a major part of the Binance ecosystem.
Sep. 23 - Binance launches Broker Partner program. We strive to improve our services for users and bring more liquidity to our exchange, so we work with top-tier liquidity providers through this program. 
Sep. 25 - Binance, Koinal open fiat on-ramps in 170+ countries. This partnership has launched a new option for buying bitcoin and other digital assets on Binance with a debit or credit card.
Sep. 26 - Binance Staking launches. This year, the platform has supported staking for 15 cryptocurrencies. All with zero charges and full benefits for holders. All you have to do is to store your tokens on Binance.
Sep. 27 - Trust Wallet supports staking. Just a day after Binance formally launched a staking platform, Trust Wallet followed it up by integrating staking support. It now supports staking for Cosmos, Tezos, and Tron.
Sep. 29 - Binance launches market maker program. In addition to serving as brokers, top-tier liquidity providers can also collaborate with Binance as market makers, helping sustain a healthy trading environment for all.
Sep. 30 - The return of the Community Coin Vote. An early fan favorite during the founding days of Binance, we have revived this activity as a one-on-one battle between promising blockchain projects, with the first voting period held on Oct. 10. We have since held four community coin votes this year.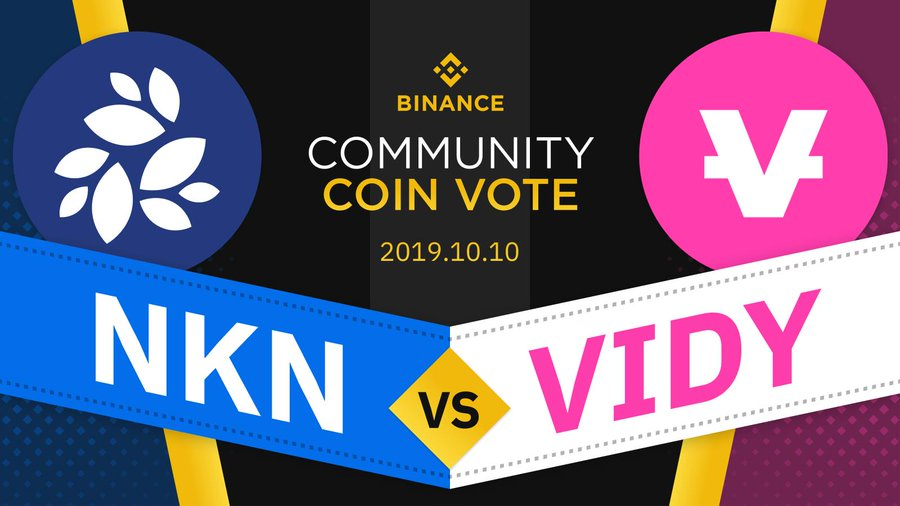 October
Oct. 9 - Binance OTC service goes live in China. We opened USDT, BTC, and ETH markets (with BNB added weeks after) for peer-to-peer transactions in one of the world's largest crypto markets.
Oct. 15. - Binance. Amun launch BNB ETP on SIX Swiss Exchange. The issuance of this exchange-traded product allows institutional investors to gain access to BNB even through traditional markets. 
Oct. 18 - Binance Futures adds 125x leverage. Following overwhelming market response for our newly-launched Futures platform, we offered flexible leverage-setting, from 2x to 125x, to cater to more trading styles on the platform.
Oct. 23 - Binance Lending offers flexible deposit products. Months after the launch of Binance Lending with fixed deposit products, we have expanded our options for passive crypto holders and growers.
Oct. 24. - Binance lists first fiat currency: Nigerian Naira. This marks the start of the evolution of Binance.com from a strictly crypto-to-crypto exchange into a multi-currency platform for the world. Check our ever-growing Binance Fiat Gateway to see this evolution.
Oct. 26. - Binance Futures trading volume hits all-time high. On this day, 165,000 BTC (equivalent to US$1.442 billion) was traded within a 24-hour period. This demonstrates the platform's power to handle large amounts of transactions with zero problems.
Oct. 29 - Binance Android app supports futures trading. This new development allows users to bring Binance Futures trading on-the-go. We are one of the few major crypto futures platforms to support mobile futures trading.
November
Nov. 5 - Binance partners with Advcash, adds 4 more currencies. This partnership enables Binance to offer deposits and withdrawals of Euro, Russian ruble, Ukraininan hryvnia and Kazakhstani tenge.
Nov. 6 - Binance open-sources Threshold Signature Scheme Library.  Binance continues to contribute to open-source blockchain development, improving the security of funds and information for BNB Chain, Bitcoin networks and more.
Nov. 6 - Binance, Ukraine government sign MOU. We are cooperating with the Ministry of Digital Transformation of Ukraine on forming a position in establishing the potential legal status of virtual assets and currencies in the country. 
Nov. 12 - Binance, HTC reveal EXODUS 1 - Binance Edition smartphone. The world's first BNB Chain-ready smartphone, has built-in BNB Chain and DEX support and comes preloaded with the Binance and Trust Wallet apps.
Nov. 19 - Binance launches fiat-to-crypto gateway for Turkey. We partnered with Papara to offer deposits and withdrawals of Turkish lira for buying crypto on Binance.
Nov. 19 - Binance Margin increases leverage to 5x. In addition to adjusting the maximum leverage, we also enabled leverage adjustments between 3x and 5x.
Nov. 21 -  Binance acquires India's leading digital asset platform WazirX. In addition to providing a fiat-to-crypto gateway with the Indian rupee, we aim to integrate WazirX's unique auto-matching engine into the Binance Fiat Gateway platform itself, bringing easy cryptocurrency access to over a billion people.
Nov. 28 - Binance, TravelbyBit Partner on crypto-backed travel rewards card. This card will be released in early 2020, starting with travelers in ASEAN, Australia, and Europe. Users can load their travel cards with crypto to booking flights and hotels.
Nov. 29 - Binance Futures launches ETHUSDT contracts. The second product from Binance Futures, following the success of BTCUSDT, comes with 50x max leverage. 
December
Dec. 2 - Binance acquires DappReview. The world's leading information and analytics platform for blockchain-based decentralized applications is now part of the Binance ecosystem. Together, we aim to expand blockchain's global adoption.
Dec. 13 - Binance sets up Latin American fiat gateway. We partnered with Settle Network to form Latamex, a new platform that supports fiat-to-crypto transactions for Binance users in Brazil and Argentina, with more countries to come.
Dec. 13 - Binance partners with peer-to-peer trading network Paxful. The integration will allow Binance users to utilize Paxful's peer-to-peer trading network directly on Binance.com to buy Bitcoin (BTC) with 167 various fiat currencies into their accounts, some which are already live on the platform. See below for the latest map of fiat options currently live on the Binance Fiat gateway. 
Dec. 26 - Binance invests in cryptocurrency derivatives exchange FTX. Through this investment, FTX will help build out liquidity and institutional product offerings across the Binance ecosystem.
---
And with that, we greet everyone a Happy New Year for 2020 with two new promos!
1. Get a Chance to Buy BTC at a 50% Discount. Binance will provide our users with a unique opportunity to be put in a lucky draw to purchase BTC at a 50% discount using BNB. 
2. US$10,000 New Year Giveaway on Twitter. Retweet, comment your Binance referral link, and get a chance to win!
Updated on July 27, 2022.