9th BNB Burn: Q3 2019 Recap from CZ
For our 9th quarterly BNB Burn (July-September 2019), Binance burned 2,061,888 BNB, equivalent to $36,700,000 USD worth of tokens. CZ provides insights on the past quarter and what inspires Binance to work on meaningful projects in driving the industry forward.
Fellow Binancians, 
Binance has conducted its quarterly burn of 2,061,888 BNB. This is the same as taking $36,700,000 USD worth of BNB out of circulation, permanently. I (CZ) will take this opportunity to share some thoughts.
2,061,888 BNB burned. This number represents significant growth over the last quarter. Key contributing factors to this growth include new services like Margin trading, an increased number of fiat on-ramps to make purchasing cryptocurrencies more accessible, and a multitude of other services we introduced that are beginning to bear fruit. In addition, we launched a number of key services in Q3 that we are still building up, namely Futures trading. We expect their contributions to kick in for Q4, along with our newest services such as P2P trading.
Even with our larger active user base, Binance's profits may be smaller compared to some other crypto exchanges. There are several likely reasons for this:
First, Binance strives to provide the lowest fees in the industry. We like to keep the barriers to entry as low as possible and the cost of trading to a bare minimum for our community. We believe this is best for the community, as well as our long-term growth and the growth of the industry.
Second, we actively fund and invest in long-term growth projects, regardless of market conditions. We believe that expanding our ecosystem and growing the industry will bring about significant benefits in the long term. We re-invest a significant amount of our income back into growth; as a result, our profit margins are smaller at the moment.
Burn Address
For this burn, we have burned roughly half of the tokens from the team addresses (tx here) and half from other wallets owned by Binance (tx here). See the burn tx here.
There has been some confusion as to whether it matters which address the burn is conducted from. Fundamentally, it does not matter. The key result is the total supply of BNB has been reduced. 
To clarify another key point, Binance does not "buy back" BNB for the burn. There are some other communities that think conducting a "buy-back" is better. But think about it: a platform's main income should already be in their native platform token, and the only way to get the "cash" to do a "buy-back" is to sell their tokens first. So, to do a "buy-back," they must sell first, then buy back. –– We believe this does not, in fact, achieve anything; it only indicates that those platforms are not holding their own tokens. They probably sell their tokens the minute they receive them. Would you want to hold their tokens when the platforms don't hold it themselves?
At Binance, our income is mostly in BNB, and we hold it. We also have plenty of BNB allocated to the team from the ICO days. When it comes time to burn, we simply burn a portion of it. Now, does it matter from which address or pool we burn it from? It makes zero difference. Both the team allocation and Binance income are on BNB, a fungible token. Regardless of which address we store it on and which address we burn it from, we hold true to our whitepaper that we will continue to burn BNB in our possession until there are only 100,000,000 BNB left. Right now, following the burn, there are 185,474,825 BNB remaining.
#BUIDL
Last quarter has been a very productive quarter, with many of our significant projects coming to fruition.
Binance Futures
Our team poured our hearts out for Binance Futures, which we meticulously designed and tested before releasing it to the world. Binance Futures has already recorded higher volumes than the Binance spot market, less than one month after its launch. Our one-month-old baby has already shined bright in recent sharp market moves. As of today, Binance Futures has climbed to the No. 2 ranking in trading volume for crypto futures exchanges.
Binance Futures features an ultra-fast matching engine, with tick-by-tick risk checks, preventing cyclic liquidations. It uses a similarly fast and stable API for professional traders. Binance Futures also offers the lowest fees of any futures platform in the market, with just 1 bps in taker fees, compared to 7 bps charged by some of our peers.
If you have yet to open a Binance Futures account, there has never been a better time to try it out. You can trade on the Futures testnet if you don't want to trade with real money but still want to try the Futures trading experience. Not only are the trading fees the lowest of any Futures trading platform, but there is also an additional 50% discount on trading fees currently.
Opening a Binance Futures account from your Binance.com account takes only two clicks. Here's a guide the team made, and I encourage you to check out Binance Futures for yourself here.
Margin & Lending
In Q3, we also pushed out our Margin and Lending products. Margin trading allows traders to borrow in crypto assets that are not available in Futures, as well as use a wide range of alts for collateral.
Binance Lending is a simple way for you to make your crypto earn interest for you. The coins you store in Lending will be lent to the Margin traders. The funds are not lent out-of-platform to other risky investments. The funds stay in the Binance platform and fully risk-managed by Binance Margin system, giving you peace of mind.
Staking
In addition to lending, we launched Binance Staking and added staking for 12 cryptocurrencies directly on Binance.com. If you are an advanced user and are able to manage your own wallets, nodes, blockchains, and voting for staking elsewhere, then kudos to you. If you are a beginner and want to participate in staking, but aren't sure where to get started, you can try staking through Binance and your funds on Binance.com will automatically enjoy staking rewards, with zero effort from you.
We strongly believe in putting our users first and delivering to users what they deserve, including 100% of the staking rewards. Binance charges no fees for this service. Again, we like to keep barriers to entry low.
BUSD
The Binance USD (BUSD) stablecoin is a major achievement towards bridging compliance from the fiat world with crypto innovation. BUSD is approved by the NYDFS, with books periodically audited by established accounting firms, removing any uncertainty and doubt about reserves. 
Going forward, we aim to add more BUSD pairs on Binance.com, Margin, Futures, and Binance DEX, offering a wider selection of choices for stablecoins.
BUSD is already listed on no less than 10 exchanges: Aliniex, Bitcratic, Bitmoon, Eterbase, Hitbtc, Instaswap, Magnum Wallet, Mcafeedex, Simpleswap, and Stealthex. With Binance.com and Binance DEX, that makes a total of at least 12 exchanges supporting BUSD as of this writing.
BUSD is also accepted by the Bermuda government for payment of government taxes, fees, and services.
Binance.US
Together with our partner, we are very pleased to be able to launch Binance.US, offering Binance-powered products to US users. So much work and many sleepless nights have gone into crafting Binance.US to have the lowest barrier to entry and be the most inclusive, accessible trading platform. If you haven't tried it, give it a go. We think you will like it and enjoy the zero trading fees currently, as well as the seamless, user-friendly UX. There is also much more being done for Binance.US, so stay tuned. We strive to help Binance.US provide a quality selection of coins to US citizens that were not available to them before, under the Binance.US Digital Asset Risk Assessment Framework.
P2P Trading
We also launched P2P trading (technically not in Q3, but in early October). We will push this service in Asia first and expand to other regions over time. In the first 24 hours since launching, the service volume was $1,500,000 USD in volume. Considering that all trades are done manually, including off-platform fiat transfers, this is quite an achievement. This also demonstrates the strong demand for such a product. At Binance, we work hard to deliver products people want.
Launchpad
We believe strongly that blockchain fundraising is a killer app. Never before have humans been able to raise funds globally, with such ease and efficiency. With the ICO craze dying out, and with only a handful of strong projects able to raise funds, our industry is much healthier now than it was in 2017. 
Binance Launchpad have outperformed most other exchange IEOs, according to third party reports.
(Source: Cryptorank.io)
Binance Launchpad will continue at a healthy pace where we can identify strong projects. As I have said numerous times before, Binance Launchpad is a platform to help strong projects raise funds using the cryptocurrencies. It is not meant as a platform for people to multiply their money overnight. Please only participate if you truly understand and like the projects.
BNB
BNB has increased its utility significantly this year. This was the #UseBNB infographic before 2018 ended:
This is what it looks like today (less than 10 months later):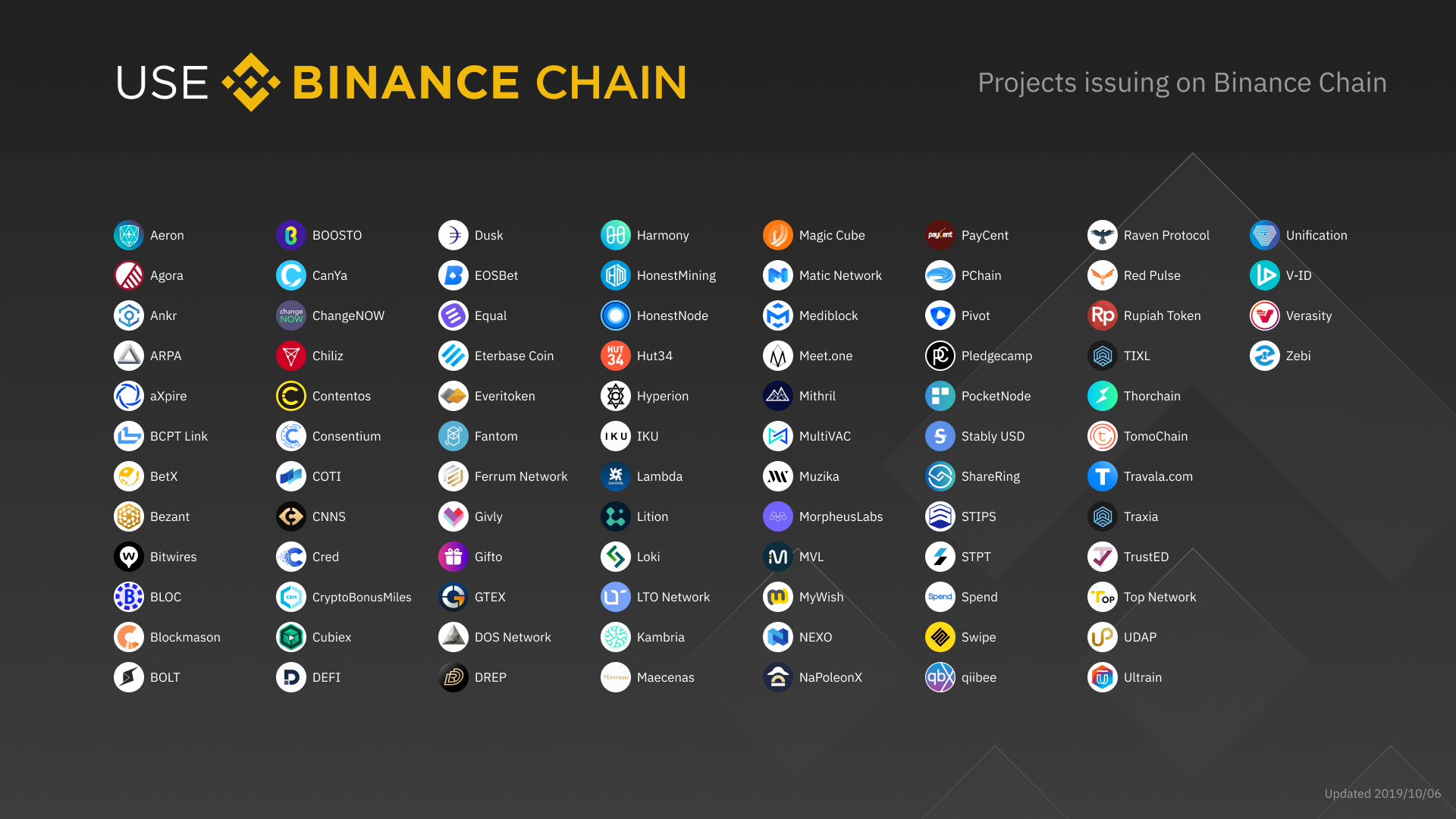 (We can't even fit all into a single infographic anymore)
It is easy to see that BNB has evolved far beyond Binance. For that reason, we will simply call it "BNB" going forward.
Yet, even with all the above progress and results, the BNB price declined from its ATH near the beginning of the quarter. There are many possible reasons for it, although none of them make much sense to me. Yes, there was a drop in the price of bitcoin, our industry's index. There was some FUD on various things (per usual). Markets often confuse people, even me sometimes.
No sweat. We still very much strive to be the financial infrastructure provider for tomorrow, and work hard to bring the freedom of money to the masses. We will continue to hunker down, and BUIDL. I know for a fact that the long-term winners are the people who build products that other people use, and we intend to continue to do that furiously. And we appreciate your support as always.
- CZ
CEO, Binance
Updated on July 27, 2022.