14 Days Later: What We Learned From the Binance DEX Simulated Trading Competition
2019-03-22
On Friday, March 7th, the Binance Chain testnet reset, clearing all existing asset balances to 0, and the Binance DEX Simulated Trading Competition began.
In the two weeks since, Binance Chain saw 7.3 million transactions, with 666K+ new addresses activated and 320 tokens issued. Why are these numbers significant? What have the DEX developers and community learned? And, the ultimate question: Who is walking away from the competition with up to $60,000 in (real) BNB?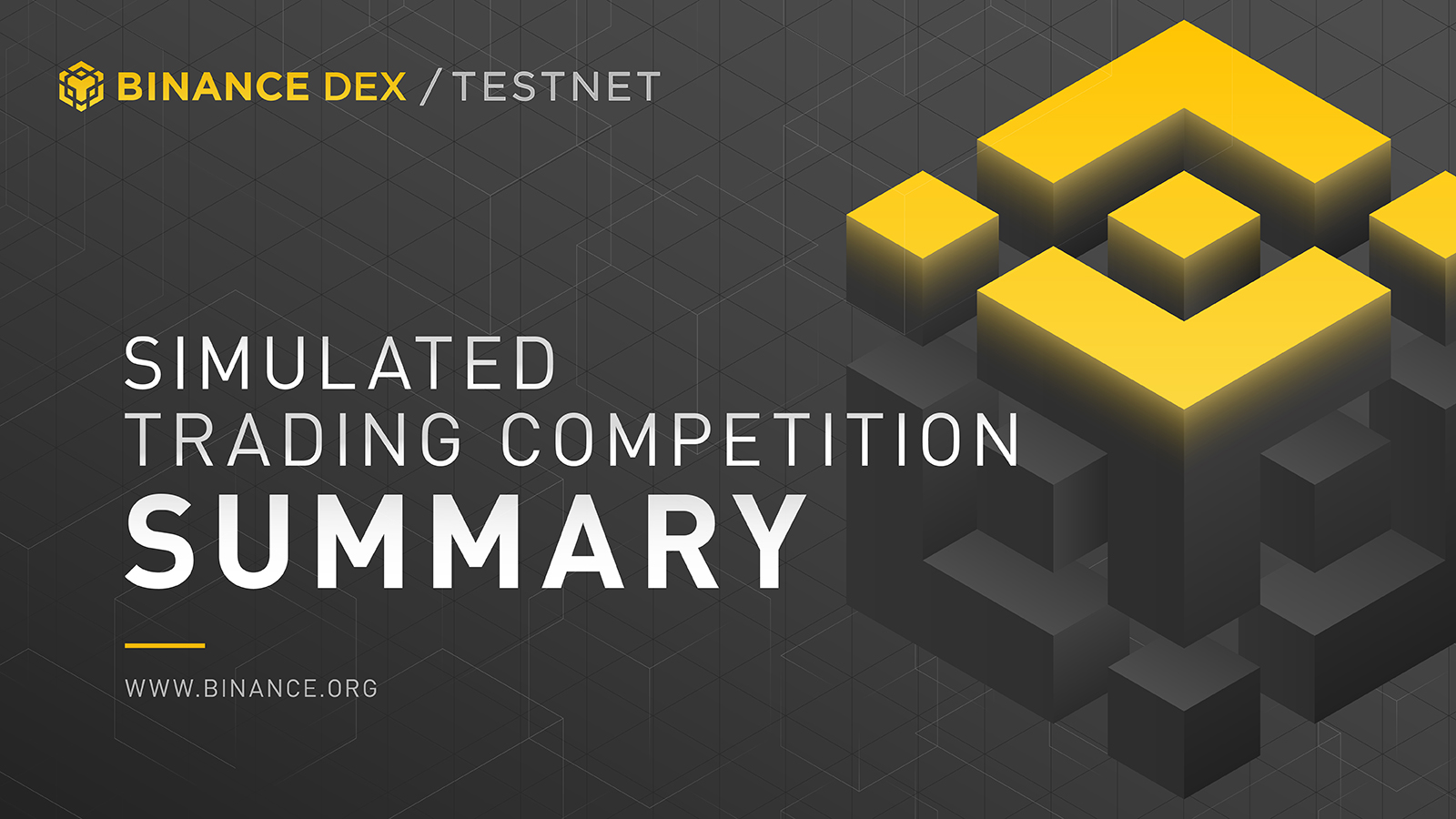 Binance DEX is the decentralized order-matching engine powered by Binance Chain technology. With near-instant transaction finality and one-second block times, Binance Chain is faster than a majority of other blockchains, and allows anyone to issue and exchange new tokens.
The Simulated Trading Competition on the Binance DEX testnet provided an opportunity for the community to fully test all of the chain's features. After several sleepless nights and working through weekends for the DEX developer community, here are some highlights:
In the first 16 hours of the simulated trading competition, there were: - More than 100K addresses activated
- More than 272K transactions on Binance Chain
- Nearly 100 coins issued and 40+ successfully listed
By March 11th, after an intensive weekend with DEX developers working late into the night to put out small fires here and there (both technical and non-technical), 1.42 million transactions had occurred on the testnet without any noticeable downtime, and most features had been efficiently explored and tested. 160 tokens had been issued by that point, and 150 pairs listed. The chain was still running sub-second block times––as fast as day 1.
We continued to see dedicated teams and traders designing strategies, sending orders, writing programs and testing features over the course of the two weeks, until block 3041611 was generated at 8:00 AM UTC on March 21st, marking the end of the competition.
Read the full Binance DEX Simulated Trading Competition - Summary for more. An excerpt:
More than 5000 Binance accounts registered their addresses to join, 320 tokens were issued, 258 pairs were listed, and the total trading volume amounted to $500 million USDT.B. All of this was done in 7.3 million transactions between 666 thousand activated addresses. The chain runs well and as fast as sub-second-level blocking along the way almost every minute, as there is still a large room for the chain to handle more transactions than this
Read the full post and others on the Binance Chain Community Forum.
See the winners of the Binance DEX Simulated Trading Competition: https://www.binance.com/en/dex/simulate/trading
Try the Binance DEX testnet: https://testnet.binance.org/
Visit the Binance Chain Explorer: https://testnet-explorer.binance.org/
See you on the mainnet!