​Binance Weekly Report: The Future(s) is Alive
1. Binance Futures is now live. Binance's new futures trading platform has officially launched. Following a testnet release last week and early access via referral, you can now use Binance Futures here and get a 50% discount on trading fees for 3 months, starting September 13! Learn how to use Binance Futures through this guide.
(Those who voted for Futures A during the Battle for Binance Futures contest will get a 75% trading fee discount for their first month of use and 50% for the succeeding 2 months)
We thank everyone for your support for the launch of Binance Futures. We encourage everyone to join us and keep up our strong start. (Thanks to @skew_markets on Twitter for this information)
Meanwhile, for those who preferred Futures B, you can see that interface on Binance JEX. You can now use your Binance account to access Binance JEX. Also, win free JEX tokens by signing up using your Binance account. Here's how.
2. Binance Launchpad completes Band Protocol token sale. More than 45% of the 35,579 token sale participants won in the lottery fo a portion of the 12,368,200 BAND tokens sold. We'll also distribute a total 631,800 BAND to those who did not win. Trading pairs BAND/BNB, BAND/BTC, and BAND/USDT open Sept. 18.
3. Prepare for Binance.US launch. Our fiat-to-crypto partner in the US announced that it will start account registration and deposits on Sept. 18.
4. BUSD is now on Binance. Binance now allows you to buy BUSD, our new US dollar stablecoin created in cooperation with Paxos, through our Buy & Sell Crypto page. Trading starts Sept. 19. BUSD is approved by the New York State Department of Financial Services (NYDFS).
Expect more in the way of stablecoins from Binance soon. During the Invest: Asia conference in Singapore a few days ago, Binance CFO Wei Zhou said, "We hope to launch more compliant stablecoins backed by fiat reserves in the future, introducing more stability to the cryptocurrency world."
5. New Lending products, now with privacy coins! Binance Lending just launched new 14-day fixed-term lending products for DASH, XMR, and ZEC.
This week, you can also use your BNB, BTC, ETH, ETC, or USDT on new lending products.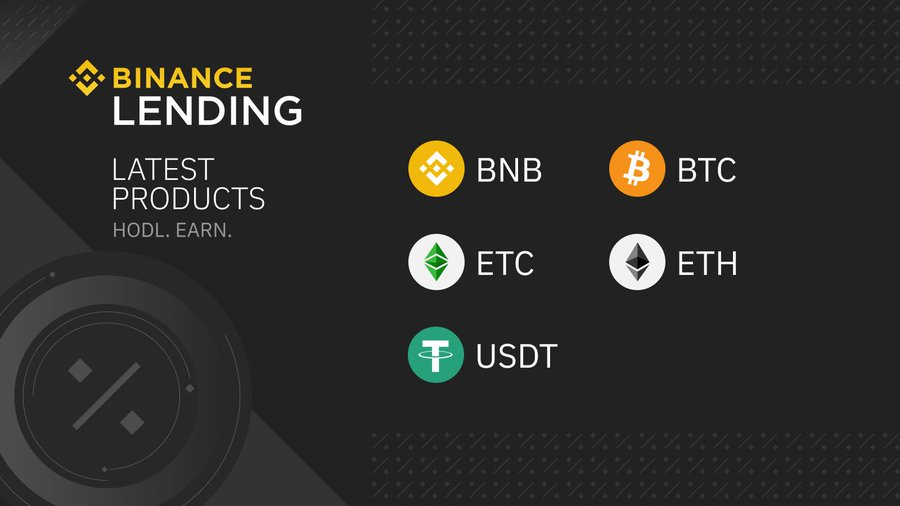 6. More updates from Binance:
* Margin Trading for ATOM. ATOM is now a margin and borrowable asset on Binance Margin. We've also added new margin pairs ATOM/BTC and ATOM/USDT
* Support for ETC hard fork. We suspended ETC deposits and withdrawals on September 12 to make way for the Atlantis hard fork.
* Optimized navigation and home page. 
7. Updates from BNB, BNB Chain, and Binance DEX:
* New #UseBNB roundup. Now at 163+ use cases, 3x more than 55+ from six months ago. See below.
* BNB quarterly burn rule update: Binance will include all future businesses and products (including Binance Futures) into the scope of each quarterly BNB burn
* BNB Chain completes testnet upgrade. The Archimedes upgrade included BEP3, which introduces support for atomic swaps between BNB Chain and other blockchains with smart-contract support.
* New listings: Rupiah Token (IDRTB), the first non-US stablecoin on Binance DEX, and GoWithMi (GMAT)
* New Trading Pair: BNB/IDRTB and GMAT/BNB
* New ratings for Binance DEX-listed projects, care of TokenInsight
For more details about the latest improvements from BNB Chain, read their latest Monthly Update.
8. Binance invests in Mars Finance. We joined a funding round for crypto data website Mars Finance, which is now valued at about $200 million. This is Binance's first strategic investment in China.
9. Binance Academy's new articles: Trend Lines Explained, How to Use a YubiKey on Binance [NEW VIDEO HERE], and What are Smart Contracts?
10. Binance global meetups:
* September 10: London, UK (Binance X meetup)
* September 12: Panama City, Panama
* September 14: Jakarta, Indonesia (Super Meetup)
* September 15: Tel Aviv, Israel (Binance X meetup)
11. Binance promos roundup:
* Band Protocol-related promos: #BandLottery promo on Twitter plus Band Protocol AMAs on different Binance Telegram communities: Russian (with prize pool of $1,500 in BAND tokens), Indian ($1,000), Filipino, Indonesian, Turkish, Spanish, Vietnamese ($600 each), and Ukrainian ($500).
* ONT Airdrop on Margin Accounts. Prize pool of 80,000 ONT for trading ONT on Binance Margin and 20,000 ONT for opening a margin account.
* Various Telegram AMAs (with prizes): Cashaa on Binance DEX (USD 5,000 in tokens), MATIC on Binance Korean Kakao ($200), and COTI on Binance DEX
BONUS: Article of the Week
"The future of money is being built in Asia" by Wong Joon Ian of The Business Times 
"Asia is setting the pace culturally as well. The cryptocurrency world's biggest star isn't a 20-something wunderkind in Silicon Valley, but a globetrotting 42-year-old Chinese Canadian named CZ." - excerpt from the article.
That's a wrap for last week! Please follow us on Twitter, Instagram, Facebook, and YouTube. Join our official Binance Telegram group to talk with our community. 
Happy Mid-Autumn Festival!