Binance Weekly Report: Faster APIs, Smarter Pools
2020-06-09
In this weekly report (June 1 to 7, 2020): Binance Pool launches a Smart Pool service, Binance Futures launches a new API that's 10x faster than its predecessor, and more.
Binance Exchange Updates
1. Binance Pool launches Smart Pool service. This will guarantee that the minimum BTC mining income is not lower than income from the FPPS payment method. The final income is subject to the actual settlement.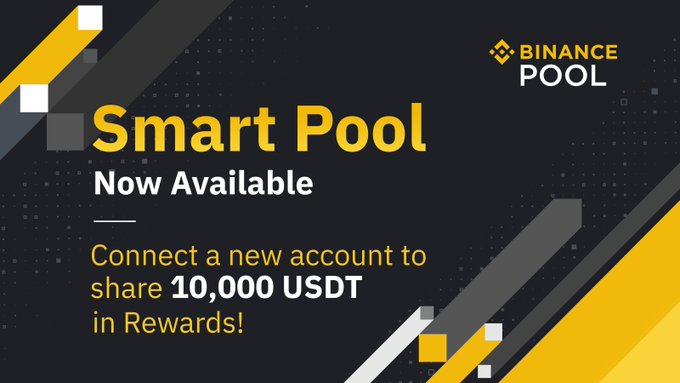 2. 10,000 USDT Smart Pool promo. All new KYC users who connect at least 50/TH/s hash rate in BTC, BCH, BSV, or Smart Pool products will equally split 10,000 USDT.  
3. Community Coin Vote Round 9 Winner: MDT. Users who voted for MDT receive an airdrop of 402.9685349 MDT to their Binance accounts for each vote they cast. Binance opened MDT/BNB, MDT/BTC, and MDT/USDT trading pairs.
4. Isolated margin mode for KAVA. With isolation margin mode now available for KAVA/BTC and KAVA/USDT, you can now use this feature on  37 trading pairs involving 20 tokens.
5. Supported blockchain activities: Kava mainnet upgrade and STORM smart contract and token swap to StormX (STMX).
6. Migration of FAQ and Announcement centers. We're moving these to the Binance Support website. We will no longer post content on Zendesk moving forward.
Binance Futures and Options Updates
7. New Binance Futures API endpoint features 10x performance. This new API version has 10x the speed and performance of the previous API. View the full changelog here.
8. Binance Futures For Institutions - Pioneering Performance & Technology. At Binance, we work with our institutional clients to understand their business objectives and develop solutions to help them achieve their goals.
9. May Trading Report: How Has Bitcoin Halving Impacted Markets and Miners? Following its third halving, Bitcoin miners suffered the full impact of the periodic block reward cut as revenue plunged 48%, according to the latest trading report from Binance Futures.
10. 50,000 USDT Binance Futures voucher promo for ETH, XRP options. All users with over 600 ETH or 600,000 XRP trading volume on ETH or XRP options contracts will equally share a prize pool of 50,000 USDT in Binance Futures vouchers. Promo runs until June 12.
BNB, Fiat, and Stablecoin Updates
11. BUSD launches on Harmony mainnet. Binance's USD-pegged stablecoin expands its use case, this time on Harmony.
12. BUSD zero maker fee promo extends to October 10. The promo was previously scheduled to end on June 6.
13. BNB, BUSD listed on Poloniex. 
14. 3 Stories of People Earning Money Through Binance P2P. We want to share some success stories about how Binance P2P users take advantage of the platform to increase their revenue and achieve their goals.
Binance Ecosystem Updates
15. Binance.US lists MATIC. The US exchange launched MATIC/USD and MATIC/BUSD trading pairs.
16. Binance.US adds ZIL, RVB to Buy Crypto page. Now, you have 18 cryptocurrencies to choose from on the page.
17.  Binance Chain testnet scheduled for Nightingale upgrade. On June 9, the testnet will include new features, such as support for BEP8 tokens accommodating small projects, as well as listing BUSD pairs, and more. 
18.  Binance Academy's newest article: 5 Common Cryptocurrency Scams and How to Avoid Them. Malicious actors have no shortage of techniques for siphoning funds from unsuspecting cryptocurrency users. 
19. Binance Research's new research reports: Measurable Data Token and ThunderCore. These are the two newest project-specific reports, now totaling 200.
From the Binance Team
20. #StaySAFU with Binance's Security Campaign. Follow our series of six articles that will help you #StaySAFU online and shielded against malicious attacks and scams. Made in collaboration with Binance Academy.
21. #StaySAFU: 8 Surprising Statistics About Phishing. The first article in our #StaySAFU campaign looks into how much money is lost in crypto scams daily, as well as who the most likely targets are.
22. When Remote Work Isn't Enough: Shifting Towards a Decentralized System Architecture. Here are the benefits of building a decentralized system architecture for your business amid the global COVID-19 pandemic. The full article by Binance CEO Changpeng Zhao (CZ) was first published on CoinTelegraph.
23. Ten Reasons Why You Should Be Using Trust Wallet. We list some of the things that make Trust Wallet a great choice for storing your crypto.  If you don't have Trust Wallet already, you can download it here. 
24. Binance CEO CZ on two podcasts. Catch Changpeng Zhao on the BlockSpeak podcast and the Breaking Banks and Crypto Capsule collaboration podcast
25. Binance.US CEO on two podcasts. Catch Catherine Coley's interviews on The O Show with Wendy O and Untold Stories with Charlie Shrem.
Promos and Community
26. ONGOING: Win a Tesla Cybertruck in the KAVA trading promo. The top KAVA trader during the promo period (until June 16) will win a Tesla Cybertruck worth 47,000 USD, while some of the top KAVA traders will split a total of 27,800 USD in KAVA.
27. ONGOING: #StaySAFU Promo on Twitter. Get a chance to win a share of a BNB prize pool worth 500 USD.
28. ONGOING: Team Binance shirt giveaway. We're giving these exclusive shirts to 10 giveaway participants.
29. DONE: Binance Community Coin Vote Round 9. Congratulations to the 10 winners who each won $300 in MDT tokens.
That's a wrap for last week! Follow us on Twitter, Instagram, Facebook, and YouTube, and join our official Binance Telegram group to talk more with our community.