News and updates from the world's leading cryptocurrency exchange
Binance Weekly Report: New Launchpad Project
Also in this weekly report (May 13 to 19, 2019): CZ and CFO Wei Zhou at Asian Leadership Forum, a comprehensive update from CZ about the recent security incident, and more Binance meetups.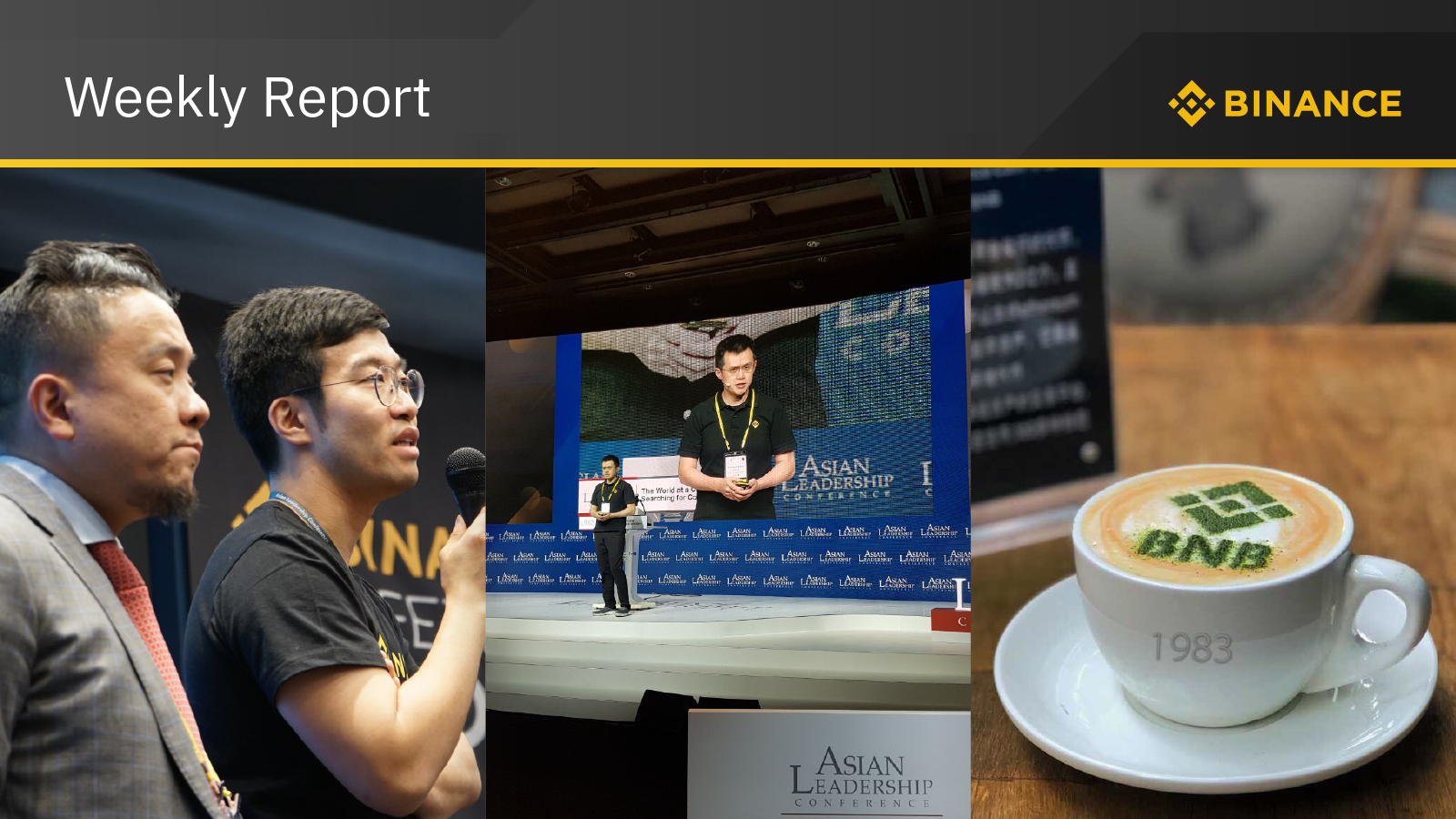 1. Binance Launchpad--the exclusive token launch platform for transformative blockchain projects of Binance--today announced support for its fifth project of the year, Harmony, a fully scalable and secure blockchain with key innovations in state sharding and peer-to-peer networking. Harmony's token sale will follow a lottery format and begin on May 28, 2019. Read here for more details.
Binance Research also published a comprehensive report on Harmony. Read it here.
2. Binance CEO Changpeng "CZ" Zhao represented the blockchain industry during his keynote presentation at the Asian Leadership Conference in Seoul, South Korea.
CFO Wei Zhou was also at the Asian Leadership Conference, taking part in a panel discussion on the trend of traditional finance institution entering blockchain space (while wearing Binance socks).
3. CZ recently shared a recap of what occurred in the past two weeks during the recent security incident. He pondered upon lessons learned, stress dealt with, and wisdom gained during the experience. Read his blog here.
4. Binance wants to make sure that the community is working together to keep our ecosystem SAFU. To help facilitate this, we've compiled 14 important security habits for everyone to practice and keep in mind.
5. In addition, Binance's educational arm Binance Academy, in collaboration with WhoTookMyCrypto.com, published a new article outlining how we can protect ourselves from common scams on mobile devices.
6. Binance Charity head Helen Hai was interviewed on Binance Info's Binance Podcast to discuss blockchain's role in shaping the future of charities. Follow the podcast for more insightful conversations here.
7. Trust Wallet, the official crypto wallet app of Binance and Binance DEX, has released support for four new blockchains: Viacoin, Qtum, Ontology, and Groestlcoin. Click here for more details.

8. Binance Research has released a comprehensive report on the development of stablecoins, including the highly anticipated moves by Facebook and Samsung into blockchain. Read the team's interesting insights in this report.
9. Binance held four meetups in the past week. The May 15 meetup in Seoul, South Korea, featured CFO Wei Zhou, who addressed various questions from the crowd about Binance.
On May 15, Binance Labs held a meetup for the 35 companies in its portfolio, including some of the blockchain world's BUIDLers. Special thanks to CertiK for hosting this meetup.
The May 17 meeting in Manila, Philippines, featured a lot of sharing within the community about their best practices when it comes to trading in Binance.

10. Binance's 22nd month was filled with milestones and challenges, but the best part of the past month is the way the community united in support of our ecosystem. We thank you all for your continued patronage. Here's the latest Binance Review.
Binance DEX also had an eventful month since it launched its mainnet in late April. Stay updated with the latest developments on the community-led decentralized exchange here on this Binance Chain May 2019 Update.
BONUS: Pic of the Week
#DrinkBNB. Courtesy of: 1983 Coffee Shop and He Yi
That's a wrap for last week! Please follow us on Twitter, Instagram, and Facebook to stay up-to-date with our latest announcements. Join our official Binance Telegram group to participate in discussions with our users, staff, and volunteers.