Video Tutorial
Spot trading involves buying or selling assets, such as cryptocurrencies, at the current market price (spot price). The asset delivery often takes place immediately once the order is fulfilled. Spot traders can also set a specific spot price for their order to be executed using
limit orders
.
Spot trading on the Binance App: A step-by-step guide
You can use different types of order to spot trade on the Binance App, such as a
market order
or a
limit order
. In this example, we'll use a limit order to buy BNB.
1. Log in to the Binance App and go to [Trade] - [Spot]. Select a trading pair, e.g., BNB/USDT.
What are trading pairs?
Trading pairs are assets that can be traded for each other on an exchange. A trading pair consists of a base asset and a quote asset. The base asset refers to the first cryptocurrency in the pair, the one you're buying or selling. The quote asset refers to the second cryptocurrency, in which prices are quoted. Taking the BNB/BTC trading pair as an example, BNB is the base asset and BTC is the quote asset.
2. Go to the [Buy] tab and choose [Limit].
3. Enter the price you wish to purchase BNB and enter the order amount. You can also use the percentage bar underneath to choose how much of your balance you want to use for the order. Tap [Buy BNB].
4. Confirm your order on the pop-up.
5. You'll see your limit order under [Open Orders].
Note:
The default order type is a limit order. If you want to trade instantly at the current market price, choose [Market].
Multiple Charts
The Multiple Charts feature lets you view several candlestick charts simultaneously, so you can visualize price movements and identify market trends.
1. Log in to your Binance App and go to [Markets] - [Spot]. Select a trading pair, e.g., BNB/USDT.
2. Tap [More] in the bottom left corner.
3. Select [Multiple Charts].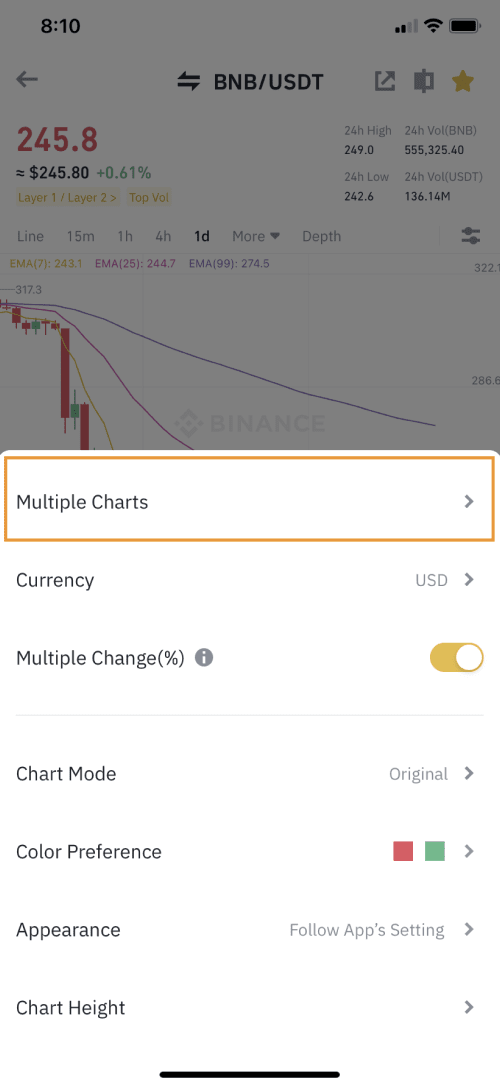 4. You'll be redirected to the Multiple Charts page, where you can choose up to 12 candlestick charts to display. It supports both Spot and Futures trading pairs.
To add a trading pair, tap the edit icon at the top right.
5. Tap [Add] and select the trading pairs to display.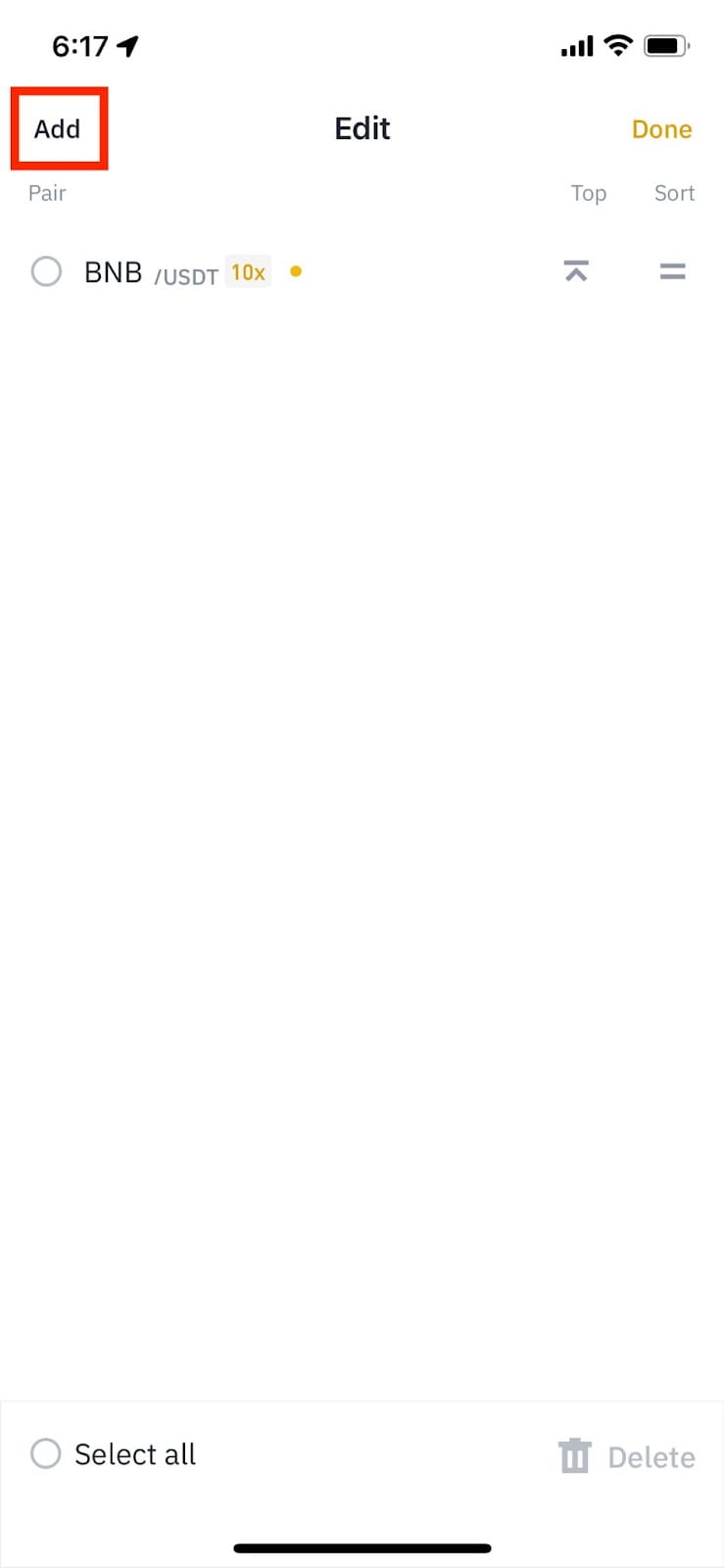 6. Tap the chart and you'll be redirected to the pair's trading page.
7. You can drag the pairs to rearrange the display order.
8. You may customize the chart by tapping the settings icon. It allows you to add indicators, change the indicators' style, and enable/disable other customization features.
Note: All charts will share the same time intervals and technical indicators. You can choose up to 1 main indicator and 2 sub indicators.
9. To change the time interval, tap [1d].
Order reminder
After enabling this order reminder, you'll receive notification when your order is filled.
1. Tap [Trade] and go to the [Spot] tab. Next, tap the [...] icon in the upper right corner.
2. Tap [Preferences].
3. Toggle the button next to [Spot/Margin Trading] to enable or disable this function.