The 'Newbie Walkthrough' By Binance: Learn The Basics To Buy, Sell, Trade and Invest in Crypto
2022-09-06
You have probably signed onto Binance by now and would like to learn how to get started investing in the fastest emerging technology- blockchain.  As the financial system changes before our very eyes, it is imperative to TAKE ACTION NOW.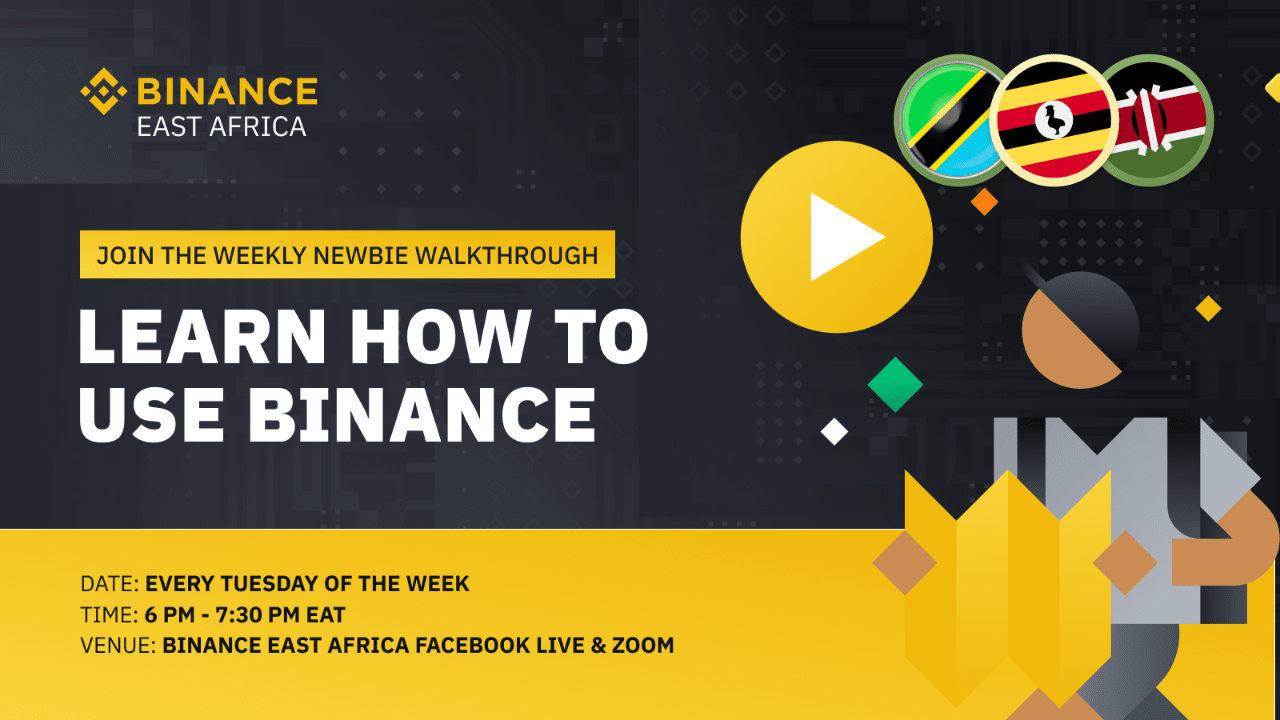 Binance East Africa recently launched a Weekly Newbies Walkthrough webinar series for newbies which will cover major topics that will make the learning phase for a beginner in the cryptocurrency world fun and engaging.
With its vast growth within the East African market; the Binance newbie walkthrough sessions remain a vital step in educating new users on practical tutorials on how to set up a Binance account - and buy & sell crypto, technical analysis, and avoiding scams. 
Every Tuesday at 6PM EAT (GMT +3), attendees will be provided with on-the-spot assistance by the Binance team on P2P Trading, Spot Trading, Passive income with Binance earn, NFTs, Margin trading, futures trading, BLVTs (leveraged tokens) and much more. 
Register HERE 

Dates: Every Tuesday

Time: 6 PM EAT (GMT+3)

Venue: ZOOM/ YOUTUBE 
What to expect:
Each week, the Binance team will cover the following topics 
Binance Exchange (How to open, verify and secure your account)

Making Your First Crypto Purchase, P2P Trading

Spot Trading and Using the convert Feature.

Binance Earn - How to earn passive income

How to use leverage when trading using Binance Margin trading

Mitigating liquidation risk using Binance Leverage tokens

How to trade futures and risk management

Understanding how NFTs work and how you can Participate in WEB 3.0

Learn and Win at the Same Time
To further engage attendees during this event, ten new users stand the chance to win gift cards. In addition, a number of people will also get a chance to win more gift cards each during the event Q&A session.
Your time to start investing in Crypto, starts now: 
Create a Binance account or download the Binance app, and then verify your account. Once your account is successfully verified, you can start your crypto journey with zero fees on Binance P2P.
Want to stay updated on the Binance ecosystem in  East Africa? Join our Telegram community and follow our Facebook Page.