How to Buy Bitcoin in Nigeria Using P2P on the Binance App
With millions of users across the globe, the Binance Peer-to-peer(P2P) marketplace is a great platform to buy bitcoin in Nigeria. You can convert your NGN into BTC in a fast, easy, and secure way with zero fees.

In this blog, we will show you a step-by-step process to buy Bitcoins in Nigeria using Binance P2P. Before starting your trade, it is vital to add at least one payment method.
Step 1. Create a Binance account and log into your account. If you don't have a Binance account yet, sign up here to get a Binance account for free today.
Step 2. On the Binance app home page, click "P2P".
If you can't find this on your home page, click "More" to access the full app service page.
Once on this page, you can find "P2P" in the "Trade" section.
Step 3. Now on the P2P page, make sure your currency is set to NGN (Naira).
Step 4. Go to the BTC section of the page.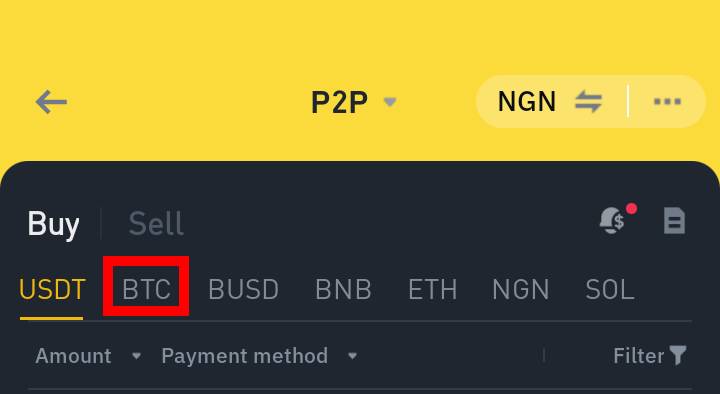 Step 5. Click the "Filter" icon to set the parameters for your transaction.
Step 6. On this page, input the amount of Bitcoin you want to buy (in Naira).
Step 7. Next, choose your preferred payment method.
Step 8. You can select sellers from a specific country or region. If you only want Nigerian sellers, choose Nigeria. Then, swipe back to the main P2P page.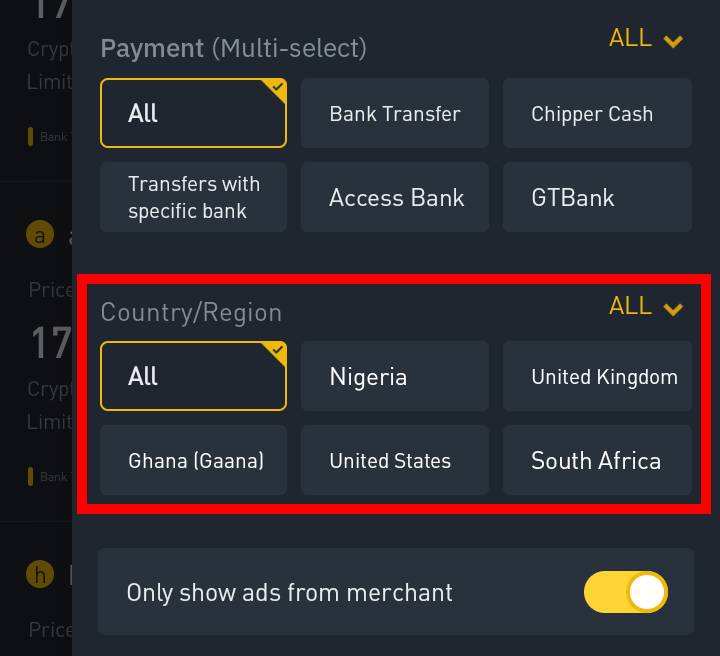 Step 9. The list of sellers will be generated based on your filters. You can now choose any seller by clicking the "Buy" button.
Step 10. Next, you will see the seller's page. Make sure you are ok with their terms before going any further. If you don't agree with the current seller's terms, please go back to the main page and select another seller.
Step 11. Once you have agreed with a seller's terms, input the amount of Bitcoin you want to buy (in Naira). The system will automatically provide the quantity in BTC. Click "Buy with 0 Fee" to proceed.
Step 12. Next, you will see the details of your order. Click "Make a Payment" to get the seller's payment information.
You can also contact the seller using the "Chat" Button.
Step 13. Here, you will find the seller's payment information, depending on the payment method you chose. After completing the payment, click "Transferred, notify seller".
Step 14. The seller will be notified about the payment and should release your Bitcoin after confirming the payment. If you run into issues, you can try to contact the seller via the "Chat" button.
If there isn't a resolution to your issues, you can request an "Appeal" to officially launch a dispute. A Binance agent will intervene after some time.
Step 15. After the seller releases your Bitcoin, it will be in your "Funding" wallet, which can be accessed in the Funding tab of your Binance wallet. You can also transfer the funds from your Funding wallet to your Spot wallet by following this guide.
Yes! It is so easy to buy BTC in Nigeria. To view other methods of buying Bitcoin in Nigeria, check out this page.