1. Can I change my preferred payment cryptocurrencies for a particular payment?
Yes, you can change your preferred cryptocurrency payment order for a transaction during your payment checkout. The system will only use this payment order for that particular transaction and will not impact the default payment priority order you chose. For more details, please refer to
How to Set Your Payment Priority Order in Binance Pay
.
2. What happens when my Spot/Funding Wallet balance cannot cover the transaction currency amount?
Binance Pay uses an aggregate value of all your cryptocurrencies in your Spot/Funding Wallet to check if you have sufficient funds to cover the payment amount. For example, you want to transfer 10 USDT but only have 5 USDT in your Funding Wallet. Binance Pay will utilize the 5 USDT by default, then use other cryptocurrencies in your Spot/Funding Wallet according to the payment priority order you've set in your Binance Pay. You may also change your preferred cryptocurrency payment order for this transaction during checkout.
You can reconfigure your payment priority order by visiting the Binance Pay Settings page. Simply add and drag the cryptocurrencies to rearrange them in your desired order.
Alternatively, if you wish to change your payment cryptocurrency order for a particular transaction, you can do it during the payment process on the payment checkout page.
3. What cryptocurrency will I receive for payment refunds?
Refunds will be credited to your Funding Wallet in the cryptocurrency the merchant accepted for the payment.
4. How to view my Binance Pay transaction history?
On the Binance App homepage, go to [Profile] - [Pay].
You can view your payment history by tapping the [History] icon. You will also be able to view the cryptocurrencies used for each payment.
5. What are the Binance Pay transaction limits?
Your Binance Pay limits are dependent on your
Binance VIP level
. Please see the below table for more details.
| | |
| --- | --- |
| VIP Level | Daily Pay Limit (BUSD) |
| VIP 0 | 8,000,000 |
| VIP 1 | 8,000,000 |
| VIP 2 | 8,000,000 |
| VIP 3 | 8,000,000 |
| VIP 4 | 16,000,000 |
| VIP 5 | 24,000,000 |
| VIP 6 | 40,000,000 |
| VIP 7 | 64,000,000 |
| VIP 8 | 80,000,000 |
| VIP 9 | 96,000,000 |
6. Can you reverse a payment transaction?
Sorry, you cannot reverse a Binance Pay transaction. Please check the payment details carefully before you confirm payment.
7. Is Binance Pay available for all Binance users?
Yes, all Binance users who have completed Identity Verification can use Binance Pay. Please use the [Pro] mode on your Binance App for easier access.
8. What is the difference between a locked Pay PIN and a locked Pay account?
Your Pay PIN will be locked when you exceed the maximum number of incorrect PIN attempts (5 attempts). You can try again after the time-out period displayed on the App. You do not need to request for your Pay PIN to be unlocked.
A locked Pay account could be due to various reasons. Before making another payment, you must unlock your Binance Pay in your Binance App.
9. How do I unlock my Binance Pay?
Open your Binance App and tap the [Pay] icon in the top right corner of the homepage.
Next, tap the [Settings] icon and select [Change Pay PIN].
Enter your current Pay PIN. Please note that if your Pay PIN/Pay account is locked, you must complete a 2FA verification before proceeding.
Enter your new Pay PIN.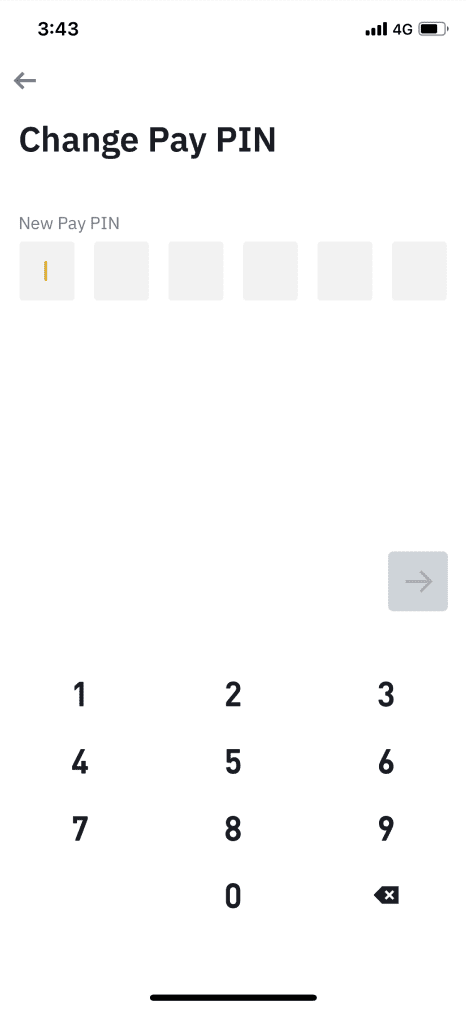 You have successfully changed your Pay PIN.