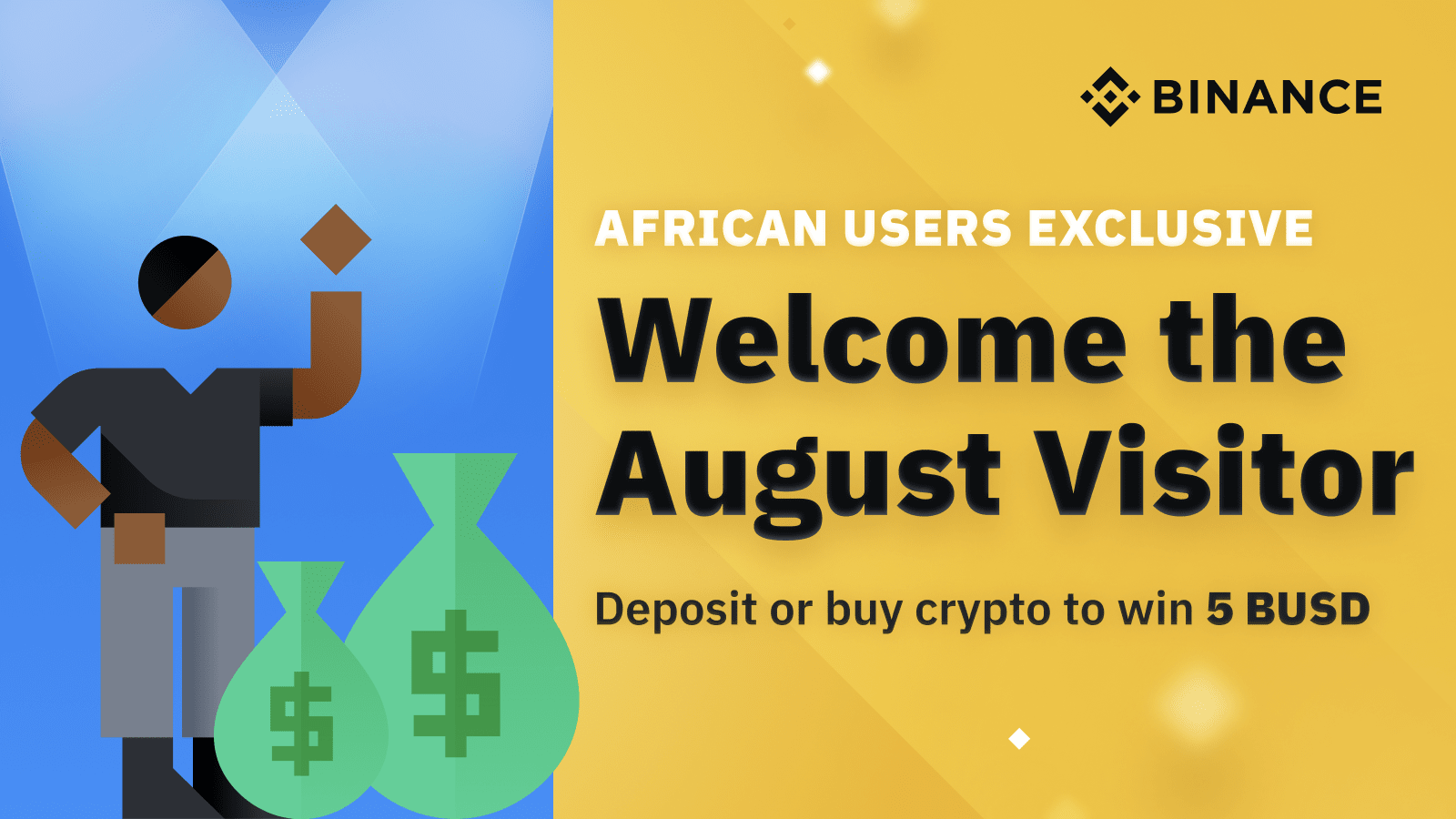 Happy new month, Binancians! Starting today, as an August visitor, you can deposit or buy crypto using your local currencies and stand a chance to share a prize pool of 6,000 BUSD.
Promotion Period: 2021-08-02 09:00 AM (UTC) to 2021-08-15 11:59 PM (UTC)
All users who complete either of the tasks below will be eligible to enter the Challenge, where 1,200 winners will be selected based on the
Challenge rules
to win 5 BUSD each:
Complete a successful crypto purchase of $20 or above in your local currency via Buy Crypto >

Credit/Debit Card

, OR

Deposit at least $20 or above in your local currency via Buy Crypto >

Mobile money

(For Ugandan Users Only)
How to get started:
Earn More by Staking
You can earn more by staking your tokens or stablecoins (e.g. BUSD) through
Binance Earn
. You will earn up to 6.2% APY for ETH 2.0 Staking and up to 10.26% APY for BNB Staking.
Note: The APY is adjusted daily based on the on-chain staking rewards and the specific APY is subject to the page display on the day.
Terms & Conditions:
This promotion only applies to users from Africa (Egypt, Mauritius, Morocco, Nigeria, Seychelles, South Africa, Tanzania and Uganda).

Local currencies that are eligible for this promotion are EGP, MUR, MAD, NGN, SCR, ZAR, TZS and UGX. Please note that certain fiat currencies are not available for deposit or card transactions for now.

The promotion is valid only for users that have completed

Intermediate Identity Verification

.

Users who have completed the given tasks prior to the promotion period will not be eligible for the reward.

Binance will use the local currency to USD foreign exchange rate at 2021-08-15 11:59 PM (UTC) for the calculation of the $20 deposit and buy crypto purchase requirements.

The BUSD rewards will be allocated to recipients' Binance Wallets within 2 weeks after the promotion ends.

Users can see their rewards by selecting the Account Center > Wallet >

Distribution

.

Eligible users are limited to one reward per Binance account.

Binance reserves the right to disqualify any participants or transactions that are showing signs of fraudulent behavior immediately.

Binance reserves the right at any time in its sole and absolute discretion to determine and/or amend or vary these terms and conditions without prior notice, including but not limited to cancelling, extending, terminating or suspending this Promotion, the eligibility terms and criteria, the selection and number of winners, and the timing of any act to be done, and all Participants shall be bound by these amendments.
Risk Warning: Trading cryptocurrencies involves significant risk and can result in the loss of your capital. You should not invest more than you can afford to lose and you should ensure that you fully understand the risks involved. Before trading, please take into consideration your level of experience, purchase objectives, and seek independent financial advice if necessary. It is your responsibility to ascertain whether you are permitted to use the services of Binance based on the legal requirements in your country of residence.
For South Africa only: Binance users are advised to familiarise themselves with the South African Reserve Banks (SARBs) policies and treatment of cryptocurrencies as well as the Exchange Control Regulations in South Africa. Details can be found
here
.
Binance reserves the right in its sole discretion to amend or change or cancel this announcement at any time and for any reasons without prior notice.