This article currently does not support your language. Auto-translator is recommended for English.
#Cheers2BinanceP2P: Binance P2P Turns 2!
2021-10-11 08:10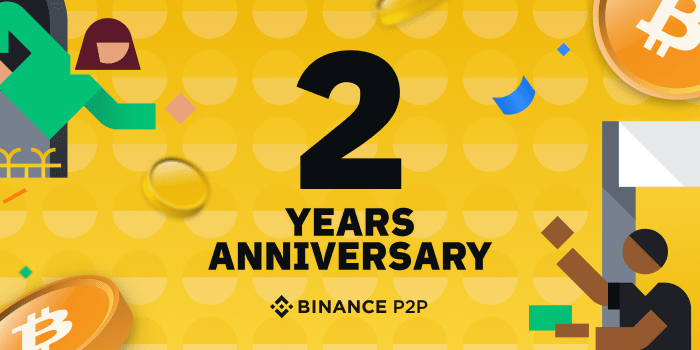 Fellow Binancians,
Binance P2P Turns 2! Celebrate with us and win up to $60,000 in giveaways!
To thank all our users for their support in the past 2 years and as a way to give back to our users, we are launching a series of activities, with exclusive prizes such as a P2P mystery box, limited edition NFT, Gift Cards, iPhone 12 Pro to be won.
Celebration Period: 2021-10-11 08:00 AM (UTC) to 2021-10-29 08:00 AM (UTC)
Check out what we have in store for our users Worldwide:
Take this quiz for a chance to win from our $2,000 prize pool. Find out if you have what it takes to be a Binance P2P pro-trader and stand a chance to win 100 BUSD!
Promotion from 2021-10-11 08:00 AM (UTC) to 2021-10-22 08:00 AM (UTC).
Trade to attain exclusive badges and rewards as a merchant to celebrate Binance P2P Anniversary. Rewards include an iPhone 12 Pro, VIP level upgrade, and a 6 BNB prize pool.
Promotion from 2021-10-11 08:00 AM (UTC) to 2021-10-29 08:00 AM (UTC).
3. Binance P2P 2nd Anniversary Live Streams
Join us for a series of LIVE webinars conducted in 6 different languages (EN/ES/VN/RU/AR/PH) for a chance to win Gift Cards worth up to 500 BUSD. Check out our announcement on
Twitter
,
Facebook
and
Instagram
to find out more!
Live Streams will take place from 2021-10-14 (UTC) to 2021-10-22 (UTC).
4. Collect and Win - Be a Part of our Mega Giveaway!
Get ready for Binance P2P's 2 Years Anniversary Challenge for one of our BIGGEST giveaways, with 10,000 P2P Mystery Rewards, 100 Limited Edition NFTs and a 30 BNB prize pool to be won! More details will be announced soon.
Promotion from 2021-10-14 08:00 AM (UTC) to 2021-10-22 08:00 AM (UTC).
Disclaimer: Your use of the Binance P2P services and all information and other content (including that of third parties) included in or accessible from the Binance P2P services is at your sole risk. Our only responsibility is to handle crypto transactions. All payments are final upon completion unless otherwise required by law. Binance P2P platform has neither the rights nor the obligations to resolve any disputes arising from a completed payment. Neither the Binance P2P platform nor merchants shall be responsible for your loss in a completed payment.
Binance reserves the right in its sole discretion to amend or change or cancel this announcement at any time and for any reasons without prior notice.